Liquidweb is one of the leaders in providing higher web hosting solutions.Liquidweb is founded on 1997 which makes this company very experienced in web hosting world and since then it supports more than 30,000 clients worldwide.

Now today in this review article we are going to review Liquidweb hosting and tell you it's overview, hosting features, advantages and other things related to Liquidweb. Liquidweb owns three data centres around the globe to make sure their customer get the best service anywhere in the world which is why they are successful in providing 100% network and power uptime guaranteed.

Liquidweb proudly host some of the biggest brand website like Ducati, VOLT, Hitachi, Red Bull, MTV, Porshe, Motorola etc now you can image their expertise in web hosting and customer support. Liquidweb currently offers managed WordPress hosting, dedicated servers, VPS hosting, cloud dedicated hosting and cloud sites and also their are some advanced web hosting solutions of bigger users who wants a personalised web hosting and other advanced features.

Now let's start the review of Liquidweb hosting.
Liquidweb Products/Services Overview :-
Manage WordPress Hosting
Liquidweb manage WordPress hosting is one of the best WordPress hosting in the world. All of their Managed WordPress hosting plans are optimized for performance and great features like lightning fast page load speed that will help to explore more by your visitor, automatic updates so that you keep up to date with latest features and security, you can access SSH and use WP-CLI with their WP cPanel, free migration service so that you can move your WordPress site to them from your old host with free of cost.

Forget about data lose Liquidweb will take care of it they provide automatic backups by doing a complete snapshot of your WordPress sites. Now let's discuss some of the features of Liquidweb managed WordPress hosting.

No Pageview/Traffic Limits : With Liquidweb managed WordPress hosting you did not get any limits of your website pageview and traffic limits.

Full Server Access : This feature is not provided by most of the web hosting provider but Liquidweb provided the full server access where you can customize the server and database as per your needs and in that way Liquidweb gives you much more freedom then most of the popular web hosting services.

Automatic Daily Backups : Liquidweb automatically do daily backups of your entire website including database in their own different servers so that you can easily restore your previous data whenever you want in just 1 click.

Staging Site : This feature is very good to test your website before going live, Liquidweb offers staging site where you can do any kind of testing on your website before making any changes to your live website.

Secure Infrastructure : Security is one of the biggest concern for any user before choosing web hosting but in Liquidweb you don't have to worry about security each and every datacenter Liquidweb is owned and managed by their own people which are highly dedicated in their work and apart from this you will also get some other security features like Globalsign SSL and Let's Encrypt SSLs and many more.

Blazing fast Speed : Their system is created using modern technology like PHP7, SSL and Nginx and other caching technology which helps you to increase your website speed.

Fully Managed WordPress : With managed WordPress hosting you don't have to do anything they will take of everything from updating the system to latest WordPress and other features that needs to updated they will do all the task regularly.

Developer Tools : Liquidweb also offer some features for developers like SSH, Git, and WP-CLI which is why Liquidweb hosting is also good for developers.

Now let's discuss some Liquidweb managed WordPress hosting plans and pricing, currently Liquidweb offers 5 plans Personal, Professional, Business, Agency and Enterprise.

Personal Plan : Personal plan includes offer only 1 site with 30GB SSD space, 5TB of bandwidth and iThemes Sync not included and this plan cost you $69/mo.

Professional Plan : This plan includes 10 sites with 50GB of SSD storage space, 5TB bandwidth and iThemes Sync are included in this plan and all these features cost you $99/mo.

Business Plan : This is recommend plan by Liquidweb it offers 25 sites, 100Gb SSD storage, 5TB bandwidth with iThemes Sync in $149/mo.

Agency Plan : Agency plan cost you $289/mo with 50 sites, 200GB SSD storage, 5TB bandwidth and iThemes Sync included

Enterprise Plan : If you have 100 sites to host then this plan is for you and this plan cost you $699 per month.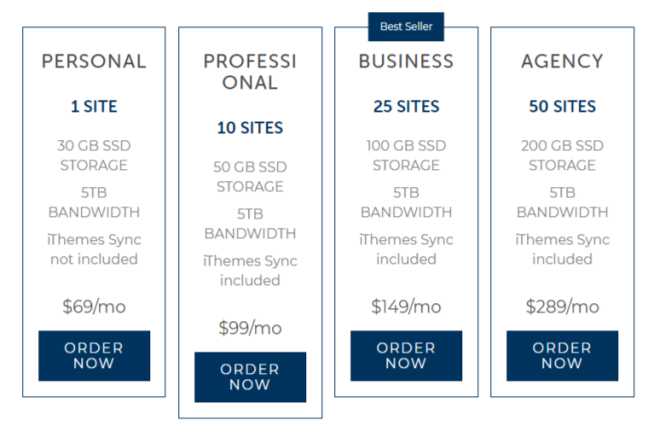 Managed Cloud VPS Hosting
VPS hosting is always one of the best option to choose if you have high traffic website becuase high traffic website need a lot of resources which obviously shared hosting cannot provide which is why VPS hosting came into action and serve you better.

Liquidweb combines two kinds of hosting VPS and Cloud and the result is Cloud VPS hosting you will definitely get insane performance and speed on your website because you will get the resources and advantage of VPS and Cloud hosting and both this combines give the the fastest managed VPS hosting on the Planet.

There are many benefits of using Liquidweb managed Cloud VPS hosting like you will get best possible speed, uptime, resources and apart from these you can always easily scale your sever resources which getting any downtime and all these things in managed way.

Let's discuss some of the great features of Liquidweb managed Cloud VPS hosting.

Built-In Backups : Just like in Liquidweb managed WordPress hosting this hosting will also offers automatically backups of your website data and restore facility anytime.

Unlimited Sites : With their Cloud VPS hosting you can host unlimited website on your plan so if you want to host multiple website in Cloud VPS hosting environment then Liquidweb is best option for you.

CloudFlare CDN : Liquidweb uses CloudFlare CDN technology in this web hosting because it is one of the best caching technology which is why your website becomes super fast.

Highly Secure : Liquidweb also uses advanced technology to secure your website and their servers by using integrated firewalls and DDos attack protection technology.

Easily Scalable Hosting : With Liquidweb you can easily upgrade your web hosting plan if you think your website needs more resources and also you can downgrade your plan if you think your website does not need too many features or resources.

Addons : Like other Liquidweb hosting they also some Addons on their Cloud VPS hosting you can choose and add from a variety of Addons like Load Balancers, VPN, CDN, Integrated Backups, Block Storage, Object Storage, Firewalls etc.

Now let's discuss Liquidweb managed Cloud VPS hosting plans and pricing and which features you will get, currently Liquidweb offers 3 plans in this web hosting like 2GB RAM, 4GB RAM and 8GB RAM.

2GB RAM : This plan offers 2vCPU, 40 GB SSD Disk Space, 10TB Bandwidth and Linux only server it cost you $59/mo you can also have an option of higher disk space which 100 GB SSD Disk Space and this cost you $79/mo.

4GB RAM : This plan cost you $139/mo and offers higher core CPU 4vCPU, 150GB SSD Disk Space, 10TB Bandwidth and Linux or Windows server option.

8GB RAM : In this plan you will get 8vCPU, 300GB SSD Disk Space, 10TB Bandwidth and Linux or Windows server option and the cost is $219/mo.
Managed Dedicated Hosting
Dedicated hosting is the highest kind of web hosting you will get the best possible web hosting experience and resources as compared to other type of web hosting shared hosting and VPS hosting.

Liquidweb dedicated hosting is one step higher then other dedicated web hosting services offered by other companies because it is managed dedicated hosting you don't need to do anything related to server management like updates and other task and the thing will be handle by Liquidweb team.

With Liquidweb dedicated hosting you will get the highest level of performance and security features and apart from performance and security by proving single-tenant servers which gives highest level of performance, fully customizable Linux or Windows server and real-time monitoring features with 100% power and network uptime.

Apart from performance and security features you will get tons of other quality and advanced features like standard DDOS protection, CloudFlare CDN, root access, dedicated IP address and may others in each and and every plan of dedicated hosting.

No let's talk about Liquidweb dedicated web hosting plans and pricing, there are two main plans of dedicated web hosting of Liquidweb are single processor server and dual processor server.

Single Processor Server : This plan offers many features like INTEL XEON E3-1230 v5 sever, 4 cores CPU and many others their are 4 different plans start from $199/mo.

Dual Processor Server : This plan also offers all the main features and some advanced features like INTEL XEON E5-2620 v4 sever, 16 cores CPU and many others their are also 4 different plans starting from $399/mo.
What's Good About Liquidweb :-
Uptime
Liquidweb hosting provide great uptime they promise 100% uptime if there is any downtime you will get the credit of 10x the amount of time your website down isn't this amazing thing.
Fast Speed
Liquidweb hosting uses SSD storage to boost up your website loading time which is the main reason of website loading time and they also uses other top-notch technology to decrease your website page loading time as low as possible.
Trust
Trust factor is most important in any business and this business is not different. Liquidweb is trusted by many big global brands like TechSmith, BOLT, National Geographic, PRI, D&B etc. So now you can understand their service and deliver the best product possible to their customers.
WordPress Hosting Experience
With Liquidweb WordPress Hosting you get the best WordPress hosting experience ever they with iThemes Sync Pro to deliver the best experience you get a high-level overview of Google Analytics, you can monitor your site's uptime, downtime, and performance to get immediate notifications when there is a problem and many more cool features.
Customer Support
Liquidweb offers one of the best customer support in the web hosting industry 24/7/365 via Phone, chat and helpdesk ticket. Liquidweb hosting provide 58 seconds initial response guarantee via phone, 30 minutes initial response guarantee via HelpDesk and 59 seconds initial response guarantee.
What's Bad About Liquidweb :-
No Shared Hosting
One of the most disappointed thing is Liquidweb does not offers shared web hosting which is one of the most popular web hosting this makes it just for only professional not for beginners who have small websites.
Final Verdict About Liquidweb :-
Yes we definitely recommend Liquidweb web hosting it is one of the best managed hosting whatever managed web hosting you choose from Liquidweb you will get great performance, highly advanced features and secure servers and highly reliable and trusted web hosting with super friendly and responsive customer support.