In this Kinsta review article will give a detailed insight into the hosting solution that KINSTA offers, an ultimate WordPress hosting experience. When you have a website, you will definitely need a web host to design and configure your website and to create a smooth interface.

A blogger needs a WordPress host to start blogging. Kinsta is one of the best option for a you. Kinsta is a premium WordPress hosting company founded in the year 2013.

Kinsta was the first web hosting company to be powered by Google Cloud Platform and it uses Google Cloud's premium tier global network to achieve the fastest load times.

Kinsta is a fully managed WordPress hosting solution preferably recommended by Google Cloud. The cutting-edge technology used by Kinsta makes it's faster.

They always get the reviews of their customer as a positive aspect to improve the platform and provide and better service to its customer. Kinsta has been always a customer-oriented service provider, which makes the quality relationship with its customer. They listen to their customers carefully to provide the better service in long-term.

Kinsta has its offices in Los Angeles, London, and Budapest, with its dynamic WordPress developers. Its workplace gives its employees a friendly environment to work in.

It has some of the best engineers, support staffs and management in their corporate house. One can get services by its dedicated 24/7 customer service executives. By taking customer focused submission, Kinsta has become the swift blooming WordPress hosting solution in the world.
Kinsta Products/Services Overview :-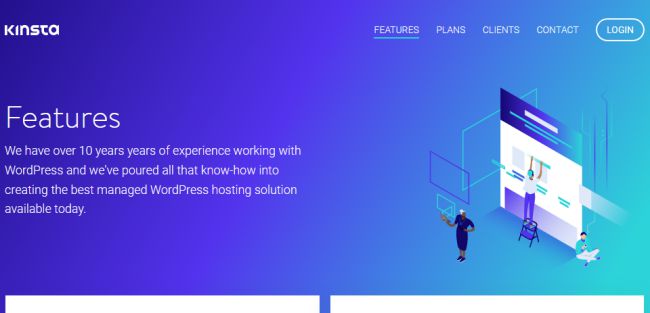 Managed Wordpress Hosting
Kinsta is a deemed managed WordPress host, which is powered by Google Cloud Platform. They manage the server side of your website to give you more time to focus on other works.

Maybe the pricing of this website is little expensive for the beginners but it is reliable for entrepreneurs, individuals, and multiple website holders.

There are so many other websites will give you affordable pricing system but Kinsta makes itself different from others by providing the fastest service and expert WordPress support.
WooCommerce Hosting
WooCommerce is the most widely used free Ecommerce solution for WordPress. It powers 42% of all online stores. Kinsta has experienced WordPress experts who have a vast knowledge of WooCommerce from usage to code.

WooCommerce site scaling is the skill of Kinsta. SSL and HTTP/2 support. A+ rated on SSL Labs. Their infrastructure is highly optimized for WooCommerce. Supporting the latest Nginx, PHP7, LXD containers, MARIA DB, one-click staging environment, WP-CLI, SSH, GITHUB and much more.

The WordPress experts of Kinsta optimize high traffic WooCommerce sites on a regular basis. They provide the ability to systematically purge individual URLs using the Kinsta cache/purge list filter. You can dramatically increase your sales by using Kinsta and WooCommerce combined.
Enterprise Wordpress Hosting
As Kinsta is powered by Google Cloud it has the features of auto-scaling, multi-regional deployment, and state of the art security. Kinsta's support system and actions are relatively high than others.

They handle with a huge amount and high-demanding sites with ease. Kinsta works for their clients according to their needs whether it is traffic surge, peak times or increased downloads. Kinsta deals with 7 billion HTTP requests every month which is a lot.

Kinsta has assembled all-in-one managed hosting solution designed for enterprise. State-of-the-art technology on Google Cloud Platform takes the infrastructure to the next level. The 24/7 support team works exclusively with WordPress. The high security of Kinsta acts protectively for DDOS attacks as they take place.
Reliable and Secure
Today's market security is a much necessary element in every sector. It is really essential to make your website secure form various types of attackers.

Its uptime monitoring always monitors your website to provide the best security. It detects the attacks and safely protects your website from malicious attacks.

Your WordPress website is always scanned and secured 24/7. It supports extra security by giving two-factor authentication. It continuously runs malware scans and automatically bans suspected IPs. If the site is compromised then they will fix it for free.

Kinsta only supports encrypted SFTP and SSH connections to access your WordPress sites directly. It offers free lets Encrypt certificates to enable HTTPs. Kinsta provides 14 days or 30 days automatic backups to all users depending on your plan.

Kinsta uses the latest technology. It uses Linux containers and LXD to arrange them. Since it uses Google Cloud Platform, it enables Kinsta to completely isolate each WordPress site.
Free Website Migration
Kinsta has a divergent feature that some other WordPress hosts don't have. WordPress migration allows you to transfer your site to Kinsta's server.

After selecting one of the Kinsta's accounts you will be allowed to request a hands-off migration from the dashboard. Then the support team will take care of the entire migration process. After all the process you will be notified of your migration status, and then you can track the status.

Kinsta provides cutting-edge server framework for all its users. It uses PHP7, HHVM and LXD technology on Google Cloud servers to attain velocity. It also gives you the high degree of developer sovereignty by offering great tools like SSH, WP-CLI and GIT Integration. All this provides the highly secured environment.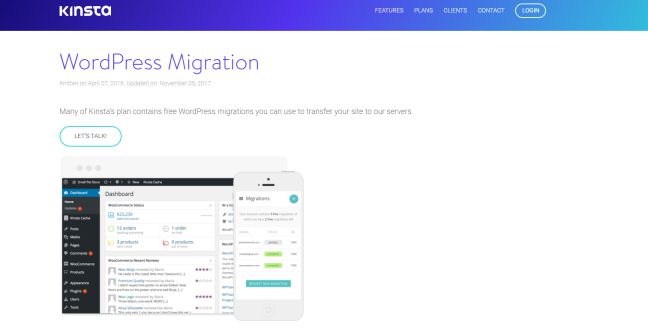 The Serenity of Work
Kinsta provides a clear and easy to use interface that allows you to grow your business by giving more time to it and less time to worrying about your website.

They have automatic scaling feature like none else. The infrastructure is built on top of Google Cloud which puts the potential of Google's hardware for your convenience. And the power is always there at your service. Kinsta is always ready for arbitrary traffic rush.

Kinsta is always awakening for the uncertain. It takes preventive actions against the hackers, malware, keeping all its server software up to date and repeatedly monitor events network-wide. Distrustful activity will be investigated and extemporize immediately.

They always give priority to its customer's problem. If your website is hacked they fix the problem as soon as possible. The experienced WordPress technicians will sort any kind of WordPress issues and restore your site easily and quickly.
What is My Kinsta?
They built their own site management dashboard to handle their client's sites more efficiently. Backup and site restore management. 24/7 chat support. Easy-to-use staging areas.

Free SSL integration. Premium DNS management, detailed site analytics and much more.MyKinsta Dashboard
Plans And Pricing:-
Kinsta's plans and pricing are different for individuals as per their needs.
Starter Plan
It costs $30/mo. Under this plan, you will get 1 WordPress install, 20,000 visits, 3 GB disk space, free SSL and CDN, 14 days backup retention and much more. It is a good option for starters.
Pro Plan
It priced $60/mo. You will get 2 WordPress installs, 40,000 visits, 6 GB disk space, free SSL and CDN, site cloning, 14 days backup retention and a lot more.
Business1 Plan
It priced $100/mo. It includes 3 WordPress installs, 100,000 visits, 10 GB disk space, free SSL and CDN, site cloning, 14 days backup retention and there are so many other benefits.
Business2 Plan
You have to pay $200 for this plan. This will give you 10 WordPress installs, 250,000 visits, 20 GB disk space, free SSL and CDN, site cloning, 14 days backup retention and there are so many other benefits.
Business3 Plan
If you want to go for the Business3 plan, you have to pay $300/mo. You can use lots of benefits in this plan. Some of them are 20 WordPress installs, 400,000 visits, 30 GB disk space, free SSL and CDN, site cloning, 20 days backup retention Etc.
Business4 Plan
This plan cost $400/mo. You will get 40 WordPress installs, 600,000 visits, 40 GB disk space, free SSL and CDN, site cloning, 20 days backup retention Etc.
Enterprise1 Plan
This plan costs you $600/mo. It includes 60 WordPress installs, 1,000,000 visits, 80 GB disk space, free SSL and CDN, site cloning, 30 days backup retention and a lot more.
Enterprise2 Plan
It priced $900/mo. 80 WordPress installs, 1,500,000 visits, 120 GB disk space, free SSL and CDN, site cloning, 30 days backup retention and a lot more. Apart from these plans if you will pay yearly instead of paying monthly you will get 2 months of service for free.
What's Good About Kinsta:-
Top speed
As it is powered by Google Cloud it works at high speed. The pages load fast always. It uses state-of-art technology, NGINX, PHP7, LXD containers Etc. all high tech technologies which makes it perform better and faster.
High Security
uptime monitoring of Kinsta makes your website secured. The experts always monitor all the angles like DDOs attack detection, malware scanning, hardware firewall etc.
24/7 Supports
Kinsta has clients from all over the world. That means the support team is always available to serve your needs. They handle the issues very efficiently. If someone has any query or any issue then the team will act very fast to resolve the problem.
Automatic Backup
Kinsta gives its users the auto backup system, which means the system creates daily automatic backups of your sites.
Staging Area
It is only one click away to duplicate your website when you want to test a new plugin, theme or code modification.
User Friendly
Whether you want to add new site, view detailed site analytics or want to make some changes on your site, it gives you a user friendly interface to work on. It provides you tools like PHP MyAdmin, redirects, error logs, SFTP and backups which makes it easier for you to develop your website.
What's Bad About Kinsta:-
It is expensive than traditional budget hosts, but you know you always get what you pay for.
Final Verdict About Kinsta:-
Kinsta is definitely the best platform to choose for your self hosted WordPress site. Kinsta is a powerful managed WordPress host powered by Google Cloud Platform. Although it's quite high in price, you will get the perks at the same time.I hope this detailed Kinsta review article will provide you all the details.