Let's talk about speed. We live in a fast-paced world where everything is supposed to be done quickly. We love fast cars, we praise fast people, we only buy fast gadgets and demand the fastest internet connection.

Why? Because we crave speed! If we want everything to be superfast, why choose sluggish hosting? A slow web hosting significantly hinders your growth.

No one wants to use a website that takes ages to load. People expect to find answers to their questions quickly and if a website fails to do so they can always move to a different one.

Speed is so important that even Google has made it a ranking signal. In a study, Google found that half of the users abandon the website if the loading time is more than 3 seconds.

John Mueller, a Webmaster trend analyst at Google, confirmed that slow loading time can affect the ranking of a website.

A slow website can have a deteriorating effect especially if you sell products or provide services. Studies show that the longer a website takes to load the more consumers it loses. Even a 1-second increase in loading time can increase the bounce by 32%.

A fast website can sharply increase the traffic and also the conversion rates. Speed is the key here and WPX hosting is all about speed. It is the world's fastest WordPress host (No kidding).

In this article, I will be reviewing WPX hosting to help you choose the best host for your website!
WPX Hosting Overview :-
WPX hosting was created in 2013. Back in 2013, the hosting market was pretty bad, companies lacked speed and were providing extremely poor customer service frustrated by all this, the founders of WPX decided to create a Hosting that is fast and offers quality customer support.

The company is known for its best-in-class performance, quality customer support, and lightning-fast speed.

WPX's speed is amazing. WPX won all global speed-tested categories in independent 2021 testing. It gives a 100% technical guarantee and complete dedication in terms of secured, stable, and fulfilling service around the world.

They provide high-quality & impressive web hosting service to a large number of customers all over the world. They give quality servers for a good and affordable price. In 2019 and 2020, WPX achieved Top Tier status, which is the highest possible award.
Is It Really As Fast As They Claim?
You must be wondering if WPX Hosting is actually fast or is it just All talk no action like other Hosting companies.

The answer is Yes. WPX is the world's fastest WordPress hosting and the independent tests conducted by Kevin Ohashi and Matthew Woodward confirm this.

Kevin Ohashi is the founder of reviewsignal.com, the largest hosting review site and recently he also founded wphostingbenchmarks.com.

Every year he conducts tests to check the performance of different hosting companies. His tests are completely independent and unbiased.

More than 20 hosting providers are tested from small companies to big brand names such as GoDaddy, Bluehost, Siteground, Eco Webhosting etc you can check more details about the test here.
WPX's Super Fast Hosting Plans For Your Wordpress Website :-
WPX Hosting Monthly Plans
1. BUSINESS ($24.99/month)
2 months FREE if you pay yearly
Up to 5 Websites
10 GB Storage
100 GB Bandwidth
Free Malware Removal
30 sec Average Support Response
Free Fixes If Site Offline
Free Site Speed Optimization
30-day Money-Back Guarantee
99.95% Uptime
2. PROFESSIONAL(MOST POPULAR) ($49.99/month)
2 months FREE if you pay yearly
Up to 15 Websites
20 GB Storage
200 GB Bandwidth
Free Malware Removal
30 sec Average Support Response
Free Fixes If Site Offline
Free Site Speed Optimization
30-day Money-Back Guarantee
99.95% Uptime
3. ELITE ($99.00/month)
2 months FREE if you pay yearly
Up to 35 Websites
40 GB Storage ∞ GB Bandwidth
Free Malware Removal
30 sec Average Support Response
Free Fixes If Site Offline
Free Site Speed Optimization
30-day Money-Back Guarantee
99.95% Uptime
WPX Hosting Yearly Plans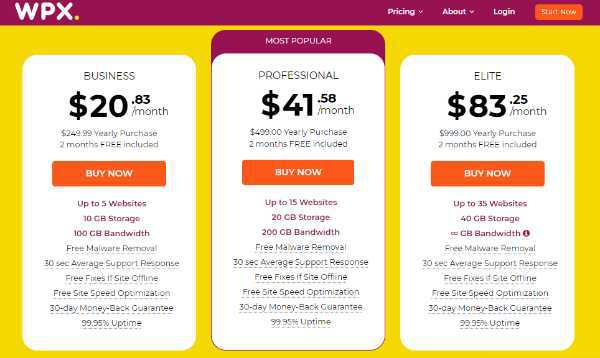 1. BUSINESS ($20.83/month)
$249.99 Yearly Purchase
2 months FREE included
2. PROFESSIONAL ($41.58/month)
$499.00 Yearly Purchase
2 months FREE included
3. ELITE ($83.25/month)
$999.00 Yearly Purchase
2 months FREE included
All these Plans include Free
1-Click WordPress Installs
Datacenter Locations In USA, UK & Australia
High-Speed Custom CDN with 26 Global Edge Locations
Superfast SSD Storage
Unlimited Site Migrations To WPX
Unlimited SSL Certificates
DDoS Protection
28 Days Automatic Backups
Staging Area
Unlimited Email Boxes
Unlimited FTP Users & File Manager
Unlimited MySQL & phpMyAdmin Access
LiteSpeed Server + LiteSpeed Cache + OpCache
PHP 7.x & PHP 8.0
HTTP/2 Enabled Servers
Two-Factor Authentication
Advanced Account Security
Multi-User Access
For more details about their plans and pricing please visit their WPX website.
Why Would You Choose WPX As Your Web Hosting Provider?
WPX provides the best value for money. With them, your audience receives not only fast WordPress hosting, but also many FREE features which are mentioned below.
Free Site Speed Optimization
If you are anxious about the speed of your website, however you measure that, firstly, the research articles by the WPX CEO, Terry Kyle, can help you understand common issues with the main testing tools.

Once anyone has gone through those articles of Terry Kyle and if you are still concerned about your website loading speed, WPX has an Optimization team who can analyze your site and recommend suggestions for improving speed, then implement them if you agree to those changes.

This is a free-of-cost service for all WPX customers. But it is only available Monday-Friday and there can be a substantial queue for that work.
FREE Unlimited Site Transfers To WPX
The biggest problem while moving from one hosting service to another is the technical job of transferring your beloved sites.

WPX got that and that's why the company always offered free site transfers from any other host to WPX.

This work is done manually by WordPress experts at WPX, it includes email and is usually completed within 24 hours. It is also unlimited, provided that you have enough empty website slots in your WPX account for them to move them to.

The only service that is not free at WPX is a type of site migration that is when the domain requires changing e.g., the site, denielsblog.com, is moving to WPX and being changed to denielsgreatblog.com.

It is because this needs considerable extra time in database editing and checking which means a $98 charge for that (fairly unusual) type of site migration.
Free Lightning Fast CDN
WPX is the ONLY hosting company with its OWN custom, high-speed Content Delivery Network. WPX has its own CDN for added flexibility, speed optimization, and integration with its own WordPress hosting platform.

WPX's CDN currently has 26 global edge locations, is completely free for all WPX customers, and gave us an unbeatable speed advantage in these WP hosting speed tests with Pingdom and GTMetrix.
28 Day Automatic Backups & Free Malware Detection & Removal
Nowadays, quite a few hosts do offer free malware scanning. The big problem though is having the expertise and experience to SAFELY remove that malware from a website without breaking the site. Hosts can charge hundreds of dollars for this work.

But when you're at WPX, you don't have to worry about scanning your sites for malware, removing that malware, or about the expense of malware cleaning.

WPX's Security team continually keeps scanning and cleaning all servers of malware, at no expense to its customers.
FREE Technical Fixes If A Site Goes Down Of Offline
In the case when your site goes down or offline, there could be many reasons for it, ranging from a WordPress update to a plugin update, network issue, or any other problem.

They who quickly found the problem and diagnose the issue in minimum possible time.

In simple words, if your site goes offline for any reason, you can get in touch with WPX's Support Team via live chat, where you usually get an answer within 30 seconds, and it will get your site back online, fast and free.
Superfast SSD Storage
SSDs are insanely fast with sequential read and write speeds. WPX provides the superfast SSD storage so the client doesn't have to face any problem and can get greater performance and good site speed.
LiteSpeed Server + LiteSpeed Cache + OpCache
WPX provides the LiteSpeed server to the clients to get the fastest loading speed. It also provides LiteSpeed Cache which is all in one site acceleration plugin, featuring an exclusive server-level cache and a collection of optimization features.

LiteSpeed Cache for WordPress is compatible with CClassicPress. It also uses OpCache which is used to increase the performance of websites. It provides fastest loading times, high traffic loads, better stability and scalability.
Amazing Support
WPX provides amazing and incredible support which goes far beyond expectations and that's because its customer support team consists of experts available 24/7(365 days) via live chat.

Its customer support doesn't include bot answers, each answer is from a real expert who is dedicated to the clients and tries to solve the client's problem.

They are always available to help, so the clients can focus on what's important for their success and business. These fascinating qualities of WPX prove it as the best web hosting service provider.
30-Second Average Support Response Time On Live Chat
A lot of companies claim that they have great customer support service. But the reality is that it isn't what companies say about themselves that matters, it's what other credible and reputable authorities or individuals say about a service.

It is a better customer experience for you if a human being responds to your problem in real-time rather than sending a ticket or email and waiting/hoping for a reply to a frustrating technical issue.

WPX uses live chat as primary support channel rather than tickets, emails, or phone support.

WPX customer support responds in around 30 seconds or less via Live Chat, according to the INDEPENDENT software platform that it uses, and is probably the fastest in the hosting industry and is independently verified by the 3rd party chat software. You can check Trustpilot.com for reviews from the customers.
WPX's Every Dog Matters Non-Profit Foundation :-
WPX believes in people and businesses aiming to solve big problems. Thus, the company focuses on hugely improving the lives of shelter, homeless and disabled dogs in Eastern Europe.

They have founded the "Every Dog Matters" non-profit foundation through which they create initiatives that aim to eliminate the problem entirely.

Usually, on the streets, homeless dogs are often beaten, kicked, poisoned, shot at, or run over by cars. Several serious diseases such as distemper are also common.

The main aim of this long-term mission of WPX is to create safe environments like the first sanctuary across the entire region for all vulnerable animals.

A big part of the mission of Every Dog Matters EU is to permanently end this kind of tiny-cage suffering for dogs everywhere.

In these types of shelters, dogs live their entire lives alone in small cages or are in hopelessly overcrowded small group cages, deprived of everything they need for a full, healthy life.

They created a 27,000 m2 no-cage, open-yard sanctuary where the rescue dogs live and play happily until find their loving forever homes.

They take care of the rescued dogs very well with social interaction, quality food, quality medical care, huge no-cage open yards, regular petting & walks, and a chance for a better life. For more details, you can visit their website.
Conclusion :-
WPX, indeed, is the best and fastest WordPress Host Company in the world because of the quality of work it provides to its clients in a very friendly manner.

Its 30-second average support response time on Live Chat tells everything about its awesome customer support service.

Here, you get many free services with Plans which are mentioned above. So, with keeping all its services, features, plans in mind, WPX is arguably the fastest and leading Web Hosting Service Provider Company.

WPX undoubtedly plays a leading role in the list of fastest managed WordPress web hosting services. It was launched in 2013.

WPX is increasing customer engagement & interaction day by day because of the qualities of its services. They have a very strong technical team that helps the user achieve high-speed and stability on a high-quality WordPress web hosting service.

So, if you are worried about the slow page loading speed of your website and want to speed up your website, and are looking for the fastest WordPress host, WPX could be the best place for you because it has won speed tests whenever the independent test is performed.