To successfully generate local leads from search engines like Bing or Google when consumers are looking for your brand, your company needs to have an online internet presence.

You must build a quality website that can turn visitors into consumers because your company website is typically the first stop for anyone looking to acquire your goods or services.

Although, in order to create a great website, more than just content is needed. You need good web hosting services. However, with so many options in the market, how do you determine which web host is best suited for your website? \

And so, in this post, we will be reviewing eUKhost, a UK-based hosting company, to make things a little easier for you. We believe they could meet your every web hosting need.
About eUKhost :-
eUKhost, established in 2001, has been a player in the hosting sector for more than two decades. True to its name, eUKhost is a UK-based web hosting company, with data centres all around the world. Their data centres are located in Wakefield, Maidenhead, and Nottingham, with the head office in Leeds.

A fully managed web hosting company and a member of the Hyperslice Group, this hosting company offers shared, cloud, VPS, and dedicated web hosting. In addition, they offer a wide selection of website security services and registration of domain names.

They claim to host over 600,000 websites and have more than 35,000 satisfied clienteles across the globe. They have over 3,000 reviews on Trust Pilot and are often rated with 5 stars on Google Review.
Features of eUKhost :-
cPanel
eUKhost offers the well-liked cPanel as a choice of control panel. They provide you with cPanel on your dashboard to make your hosting experience easier. cPanel offers a simple user interface for controlling several elements of a website, including databases, files, domains, email accounts, and backups, making it an ideal solution for startups and new beginners.
Business Hosting
eUKhost offers a business hosting solution that is customised specifically for firms that need superb hosting services to handle critical tasks and applications. You get the perfect blend of the simplicity of a shared hosting environment and the superior performance of a cloud server.
24/7 Expert Assistance
One of the most underrated features a web hosting plan must have, is customer support. Imagine a scenario, wherein due to certain circumstances, you are not able to access your website. What will you do? The best solution is to contact customer support.

eUKhost understands the importance of expert assistance. They offer customer support 24/7. You can contact them through phone, ticketing system, or live chat. Their customer support team is trained and qualified enough to handle any and every query or issue.
30-Day Money-back Guarantee
eUKhost offers a 30-day money-back guarantee with no questions asked. If you are unhappy with their services, then you can easily cancel the subscription and claim a refund.
Free Migration
It is pretty easy to switch web hosts with eUKhost's free migration services. Their technical team will handle the process of transiting your website and data from another web host to theirs without any hassle. Most likely, your website will be up and running in less than 24 hours.
Free SSL Certificates
Due to the sensitive information a website contains and the increased risk of harm that comes with having connections to other websites on the internet, you must take security precautions for your website.

eUKhost offers a free SSL certificate in order to encrypt the connections the website makes over the internet and also to let the browsers know that it is safe to use, therefore increasing the number of users who may access the website.
Unlimited Domains
eUKhost enables you to host unlimited domains for a low price and with no additional charge. These domains, also known as add-on domains or subdomains, can be added to your cPanel account.
1-Click Application Installer
With just one click, you can install numerous applications. You can access hundreds of files like WordPress, WooCommerce, Drupal, Joomla, and a lot more. With this feature, it becomes easy to handle any task with minimum hassle.
Free Backups
You are already aware of how crucial data security is. Nonetheless, there may be regrettable occasions when security safeguards fail to shield your data from outside threats. In such cases, your data can be destroyed, and you would have to start the process over from scratch.

However, with eUKhost, none of these circumstances are a concern because a free backup has already been provided. You can easily recover your last backup and start building from there.
eUKhost Hosting Plans :-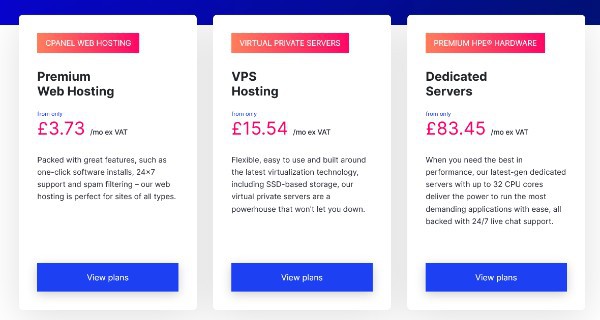 Premium Web Hosting
With the efficiency and simplicity of a cPanel interface, experience the performance and dependability of cloud-based web hosting. cPanel web hosting offers three different plans: cPanel Basic, cPanel Intermediate, and cPanel Advanced.

Each plan comes with free migration, free SSL, daily backups, superfast SSD storage, and unlimited hosting of websites. They also offer skilled 24x7 support and a 30-day money-back guarantee.

Their email services help you to create auto responders and user-level filters. The filters also enable you to stop spam and malware, and their webmail client lets you manage your email from anywhere.

They also have an Easy File Management service that allows you to safely upload, download, and handle your files. You do not need a complex FTP manager to set up.
VPS Hosting
You can have your own dedicated resources, hosting environment, virtual server, and complete root access to the virtual server with VPS (Virtual Private Server) hosting. This makes VPS hosting an excellent option when you need more flexibility and resources or if you have outgrown the shared hosting limitations.

They offer VPS hosting solutions for both Windows and Linux-based operating systems. So, it is at the user's discretion to make the choice. Their VPS hosting platform is built for enterprise-level use.

Their managed VPS hosting services come with SSD storage, Intel Xeon Processors, a firewall, complete root access, 24x7 support, a choice of an operating system, a choice of a control panel, and advanced backup.

They also have a unique feature called as Snapshot, which takes three days' worth of snapshots that are thereafter stored on each Hyperslice server to safeguard your important data. If anything goes wrong, you can easily recover your data through the snapshots.
Dedicated Servers
As the name suggests, a dedicated server is a server dedicated solely to you, making it an ideal choice for websites that are expecting heavy traffic or eCommerce businesses. eUKhost's managed dedicated servers provide you with the performance, safety, and availability you require to propel your organisation to achieve.

Their dedicated servers come with Intel Xeon processors that are designed for businesses. Your data is kept secure by their backup and duplication services, encryption, and other measures.

You can choose from the most recent releases of Windows, Linux, CentOS, Ubuntu, or Debian server as your choice of the operating system. They also offer a FortiGate firewall, allowing you to get cutting-edge security features for your dedicated server.
Cloud Servers
When dependability, performance, scalability, and support are essential for your business, eUKhost's Hyperslice-managed cloud server is the best choice.

They allow servers to move between physical hardware locations and provide isolation between storage and computing, allowing them to be utilised to increase resources or preserve availability in the event of a network failure.

They are, therefore, perfect for clients hosting vital websites or programs. eUKhost Managed cloud hosting is the best option for expanding businesses since it offers a 100% uptime SLA, dependability, round-the-clock support, and simple expansion.
eUKhost Pricing :-
All hosting services offered by eUKhost, including shared hosting, cloud hosting, VPS hosting, reseller hosting, and dedicated server hosting, include "the highest quality hardware from Intel, Dell, and HP."

At £3.73 per month, you can purchase a basic shared hosting plan with cPanel that offers unlimited sites, unrestricted bandwidth, 10 GB of SSD storage space, one free domain (applicable only for annual plans), 10 MySQL databases, an infinite number of email addresses, a free SSL certificate, 1-click app installer, daily backups, and spam filtering.

Storage capacity and the quantity of MySQL databases are increased as you scale higher through the plans.

Additionally, all services from eUKhost come with a 30-day money-back guarantee, except for dedicated servers and licensed add-ons.
eUKhost Pros & Cons :-
Here are the main advantages of eUKhost:
Pros
A page loads on average in 1.1 seconds.
The average uptime for eUKhost is 99.9%, which is a good metric.
The dashboard's user interface is simple. On the dashboard, you can also manage your subscription and view your support tickets.
Hosting plans are fairly inexpensive. They offer all types of hosting solutions along with add-on security services.
Money-back guarantee of 30 days. You can get your money back if hosting does not live up to your expectations.
Professional assistance is available 24/7/365.
Cons
Basic shared hosting plans have storage limitations.
It offers fewer services in its base plans.
Conclusion :-
In numerous ways, eUKhost is distinctive from other hosting companies. The plans are constructed for a variety of specialised objectives, offer a wide range of features, and have no cap on any particular characteristics. It is located in the UK & guarantees complete transparency. This makes it unique compared to other hosting options because you can obtain all of these for a fairly low cost.

The web hosting company provides many budget-friendly plans, making it the perfect option for a new beginner. They also offer a free migration solution, enabling you to smoothly switch web hosts, if your website is hosted with another hosting firm. Their technical support team is available 24x7, thus ensuring that whatever issue you are facing will be resolved in no time.

To conclude, if you are considering choosing eUKhost as your web hosting provider, then you can go for it, as this customer-centric web host will ensure that your needs are met.