Do you also want to make money online through blogging?

Let me clear this things that making money online is not an easy task many people thought.

It's like any other way to earn money but in this the medium is through blogging.

No doubt earning money from your blog is little bit easy quick than any other but you have to pay a lot of time and energy just like you we have to with any other business.

There are two kind of bloggers in the world one is people who blog for passion and other's who only blog for money.

Most of the poeple in second category fail because they start and do blogging just only money and it's very tough to earn money right from the beginning until and unless you have some great idea and already have an audience.

But if you have passion for blogging and you are consistent with your blog then their are very high chances that you will start make money through blogging.

I will tell right now when you create made your first earning from your it will create an addiction to earn more and more it is one of the best feeling that any blogger ever feel.

I remember when i got my first earning through good adsense i was on cloud nine and feeling super duper motivated to grow my blog and i am motivated till now only because of people who love my blogs and also for money.

Frankly speaking you have to earn money from whatever you do specially when you do for your living and it's the truth.

Money is an important factor is an work you do but obviously passion becomes first atleast in my opinion.

So let's start our article and discuss some of the way to make money online through with blogging.
5 Easy Ways To Earn Money From Your Blog:-
#1 Advertising
For most of the people advertising is one of the best way to earn money from your blog and i also feel the same it's a sure shot method to earn fixed money from your blog.

It is also a widely used method to make money through your blog many big and popular website is depend on advertising.

In advertising you sell some space on your website to the advertiser and they will provide you the ads which you put in your website to earn money simple.

There are many methods of advertising like PPC, PPA, PPI and many others, but these three are the biggest methods of advertising.
Methods Of Advertising:-
PPC (Pay Per Click)
PPC or Pay Per Click is where you put advertisement and earn money in per click basis whenever someone clicks on your ad you will get money.
PPA (Pay Per Action)
PPA or Pay Per Action is where you get money when an action is done like you put advertisement for signup whenever visitors signup using your ad you will get money otherwise no money, it is not as easy as PPC but it is more rewarding means you get more money as compared to other advertising methods.
PPI (Pay Per Impression)
PPI or Pay Per Impression is when you put advertisement in your website and get's money from how much impression it shows to the user, it is the easiest method but not widely used because of very low income as compared to PPC and PPA.
Now you know what are the methods of advertising let's talk about different types of advertising.

There are many types of advertising Banner Advertising, Text Advertising, Video Advertising and many others again these types are the best and used by mojority of the bloggers.
Types Of Advertising:-
Banner Advertising
Banner Advertising are the image based advertising it is one of the highly used type of advertising in this type of advertising you put ads in the form of images can be moving or not.
Text Advertising
Text Advertising is also very popular and be the majority of ad revenue source for many popular websites in this type of advertising the ads are in the form of text which you have to put anywhere in your webpage.
Video Advertising
Video Advertising are so popular as compared to Banner and Text advertising in this you have to place a video in your webpage which is provided by the advertiser.
Way Of Advertising:-
Ad Networks
Ad Network are the advertisement website where you get ads for your website.

Ad Network website are both for advertisers and publishers if you have to advertise your content then you are an advertiser and if you want ads for your blog then you are publishers.

It's one of the best and easy way to monetize blog or website with ads.

The process of getting ads from any Ad Network is very simple you just have to create an account with the website you want advertisment then creating ads for your website and then put them wherever you want and the ads will be live instantly manytimes.

There are many good Ad Networks for you to monetize your blog like Google Adsense, Media.net, Revcontent, Infolinks etc and many more.

But my personal favourite is Google Adsense it is one of the best ad network in the world but it is tough to get approval.
Direct Ads
Direct ads is also a good way to monetize your blog or website in direct ads you have to find and contact the advertiser and convince the advertiser to put ads on your blog.

This is a direct method where you have to do all the works and there is no one which get's percentage in your ad revenue which is a good things.

But i don't recommend this way to monetize your blog for those who just started their blog or the blog is not getting huge amount of traffic.

Because if you have don't have good website traffic or if your blog is new then it become impossible to convince advertiser and getting good ad money so for those i recommend you to go some Ad Network to monetize your blog.

But if your blog get very good amount of traffic more than 500k then you definitely try to sell your ad space directly and approach advertisers for ads.
#2 Affiliate Marketing
Affiliate marketing is one of the best way to earn money online through your blog.

Many affiliate marketers earning millons every year from just affiliate marketing alone.

I am sure now you also wondering what is affiliate marketing.

Affiliate marketing is a way to promote someone else product in your website or blog.

Let's consider my example i have this blog and here i write about internet marketing and blogging and i promote someone else products BlueHost, SEMrush etc because i am affiliated to these compaines to promote their product on my blog, this is called affiliate marketing.

Affiliate marketing may or may be not useful for everyone it's an art to promote and sell product on your blog not everyone can be successful in affiliate marketing.

Their is a very thin line in between simply promoting products and helping your readers with affiliate products and once you know the line you will be making hell lot of money like most of the other successful affiliate marketers like John Chow, Mathew Woodward, Harsh Agarwal and many others.

You have to promote your affiliate products very carefully without irritating your readers just help your readers with your affiliate products and they will definitely end up buying the product.

And once you sell your first affiliate product it becomes an addiction to help more and more readers with your affiliate products, it feels amazing when you did your first sell and got paid.
How To Choose Affiliate Products To Promote:-
Choosing affiliate product is easy if you know your blog audience very well but if you don't then understand your readers first like what they want, how you can help them with your products and then choose perfect products for your audience.

There are many places where you find products for affiliate marketing no matter what kind of niche you are in.

You can find hundreds and thousands of product to promote on your blog.

There are many affiliate marketplace like CJ Affiliate, ClickBank, Share A Sale, Amazon Associates and lots of where you can find affiliate products for your blog.

There are many products which offer affiliate services directly so you can join their affiliate program directly from their website
How To Promote Affiliate Products On Your Blog:-
Now you got the affiliate products to promote on your blog, it's time to figure out how to promote products on your blog and in social media.

To be successful in affiliate marketing totally depends on how you promote your affiliate products on your blog.

If you promote your them in right way you can earn lot's of money and if you don't not a single product will be sold it's all about promoting like i said earlier.

There are many ways you can promote your affiliate products on your blog like creating review article on affiliate products, write complete comparison articles on your affiliate products, write articles related to your affiliate products and link your products in your articles which are related.
Things To Remember In Affiliate Marketing:-
Always choose products which are related to your website niche otherwise your readers will not buy your products no matter how good your affiliate products are or how well you promote products on your blog.
Only choose few but high quality products which are very good in terms of everything like support, usability etc otherwise you will not make good amount of money.
I recommend you to choose only lifeftime commisions products it means you will get paid everytime your reader pay's to use that product whenever possible.
Study the product completely before promoting otherwise you will not confident about the product and it does not give you good sales.
Do not overpromote your affiliate products this will give very bad impression to your readers and you will most probably loose your readers trust which you do not want at any cost.
Do not promote affiliate products right from the starting of your blog this will hardly create any sale spend some time in building your blog audience and loyal readers then promote your affiliate products on your blog.
#3 Sponsored Post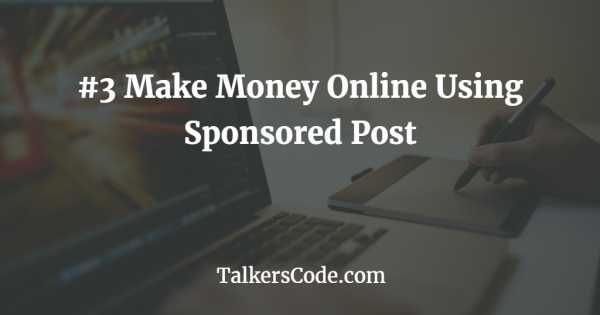 Sponsored post is also referred as paid post in simple way you get paid for publishing a post on your blog it could be anything like, article, tutorial, review, offer or anything that your advertiser's want to promote.

Sponsored post is good alternative to affiliate marketing if you do not want to promote affiliate products you can take sponsored post.

Many bloggers do sponsored post to earn some good amount of money online.

Frankly speaking sponsored post offers totally depends on your blog popularity if your blog is getting good amount of traffic then advertisers will automatically reach out to you for sponsored post and if your blog is not so good in terms of traffic then you have to do lot's of struggle to get sponsored post.

Writing a sponsored post is similar as writing any other article or review article.

You have to first use the product or services on which you have to write sponsored post on and then write about the product honestly and write all the things like what the product is all about, pros and cons etc.
How To Get Sponsored Post For Your Blog:-
There are three ways you can get sponsored post for your blog first when advertiser appoaches you directly, second you approach the advertiser and the third is by using sponsored marketplace but i don't think the 3rd option is good for most of the bloggers because i use this method to get sponsored post but not got any single post for my blog.

So it's not recommended to go for the third option however you can try the third option by joining some sponsored post marketplace and try your luck.

But you should try the first two option to get sponsored review.

If your blog is not so popular and getting enough organic traffic then it's hard to get approached by any advertiser's directly because obviously they want good return on investment if your blog is not matching with their advertising criteria then will not approach you.

But if your blog is popular and get good amount of traffic like around 200k-500k then chances are many advertiser's will appoach you for sponsored post.

You can also appoach advertisers by contacting them and ask for a sponsored review and if they found your blog good you will definitely get sponsored post for your blog.
Things To Remember In Sponsored Post:-
Always collect all the performance data of your website like your website traffic report, visitors locations and many more of previous month before asking for sponsored review this will give very good impression in front of the advertiser.
Always approach the advertiser via email this is one fo the best way but do not irritate the advertiser for sponsored post.
Always take sponsored post which are related to your blog otherwise this will leave a negative impact on your blog and you will definitely loose your blog visitors.
Always use the products or service completey or atleast study them before writing the sponsored review this will help you to write a good sponsored post which will be beneficial for long run for you and the advertiser.
Never published the sponsored post frequently take 1 or 2 week to publish sponsored post this will also impact negatively to your blog.
#4 Paid Guest Blogging
Guest blogging is always be the first choice of most the writers to earn money online no matter you have your own blog or not.

This is very similar to sponsored pot bu in this you do not have to write paid post on your blog but on someone else blog and you get paid for this.

Many people like guest blogging and many don't like this way of making money through blogging because they think why they do not want to write high quality content for someone else for the sake of money rather than publishing on their own blog.

Honestly speaking i also feel the same that is why i did not accept paid guest blogging offer till now and forever.

But for most the blogger paid guest blogging is the most effective way to make money online.

There are many big websites who offer paid guest blogging facilities where you can earn from $10 to $1000 for a single guest post this also depends on your writing quality also and your previous guest posts.

And once you become and experienced writer then you can make thousands of dollars every month from just guest blogging alone.

There are many ways you contact website owners for paid guest blogging and you can also look on their website if they offer paid guest post or not and then contact them.

I recommend you to gain some writing experience first then try for guest blogging on big blogs or website otherwise your offer will be turn down most of the times.

I have seen many bloggers who instantly jump into paid guest blogging in though of making quick money online but unfortunately they fail due to the lack of writing experience so it's recommended to gain some writing knowledge first then try for guest blogging.
#5 Selling Your Own Products/Services:-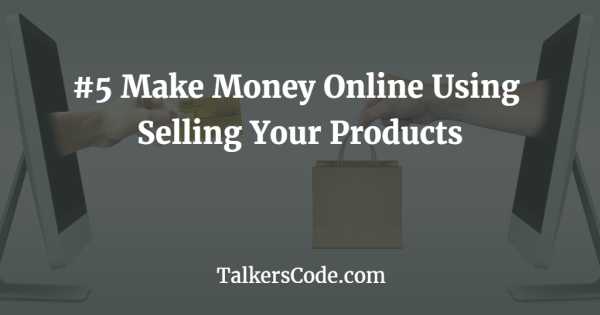 Selling you own products and service on your blog is exactly similar to affiliate marketing the only difference is that you promote and sell your own product instead of someone else.

If you have your own product or offers some services which are related to your blog and think that your blog readers can get benefits from your products or services then you must have to promote them on your blog.

There are many benefits in promoting your product or service on your blog like you don't have to give sale percentage to anyone all the money you earn after selling your products and services are your's, you will get many loyal customers for lifetime which helps to sell more and more products to them.

You can promote any products on your blog whether it's digital or physical as long as it is beneficial and related to your blog otherwise their is no point to promote them.

Like if you talk obout this blog then it is good to promote products or service which are related to web developers and bloggers like online cources, coding softwares, themes, plugins, SEO software and many other things and in this blog i can also promote service like web development services, SEO services etc. if i offer any.

Selling products or service on your blog also helps to create a brand name for your products and services which helps you in long run so if you have a popular and have products or offer services related to your blog they you must promote your products and service on your blog.

If you have any products and do not want to promote your products on your blog then you can try any online marketplace where you can list your products and earn money through but in that case you have to give some share on sale to the website.
#Final Thought
Make money online through your blog is not as easy as every beginner thinks you should have to work hard even more if you are a beginner and once the money starts flowing then it can be very easy to scale up your earnings.

And it is true that if you are passionate about your blog and love to help others through your blog then you will definitely earn good amount of money but it takes some time so have some patience don't loose hope do your blogging honestly and help your readers through your blog like most of the successful bloggers do.

Hope you like this article on how to make money online through your blog there are many ways exist but these are the main ways to earn money from your blog.

If you like this article then share this article with your friends and others via social media and email.

Thanks for reading.