Web hosting is no longer an option if you want to have a solid online presence. It is a necessity and your business needs to have a reliable and accessible website that potential clients can find. Even a basic web page with brief details of your company is invaluable.

The days when businesses were listed on yellow pages are gone. In the digital era if your business is not found on the search engines then it is close to being non-existent.

Thus, businesses should have a shareable website to build a strong online presence. When you do not have a website then your business lacks online visibility.

So, it is not discovered by the customers and earns less revenue. Web hosting is not an exclusive business investment but it is valuable if you wish to host a blog, personal site or a project.

So, in this review article we are going review one such hosting provider Stromonic web hosting.

Stromonic is a web hosting provider powered by the fast and stable Google cloud infrastructure. They serve their clients with passion and dedication and take care of client websites.

So far they have consistently delivered outstanding services with solutions that competing hosting providers can't provide.

At Stromonic one can get value packed premium hosting plans that can be accessed anywhere around the globe.

With their help, businesses earn more profits, and use the internet for earning better revenue. They deliver exceptional performance with 99.99% uptime and a 24*7 support from experts. With them clients get access to an easy to navigate dashboard and a vast knowledge base.
Stromonic Features And Services Overview :-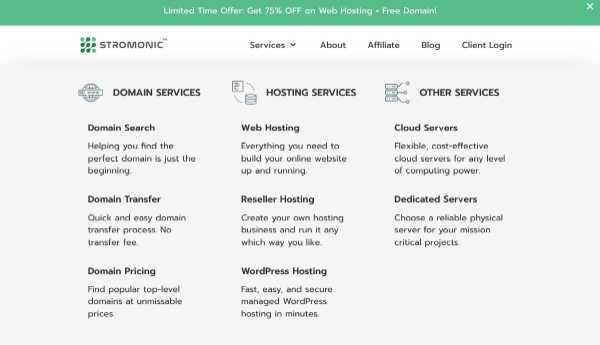 Stromonic is an award-winning company that provides numerous services including Hosting, Domain services and other services.
Hosting
1. Website hosting: It includes all the features that a business might need to build their online website and have it running.

The technical features of the plan includes:
Built in cache.
Redis and Memcached.
Google premium network.
MariaDB 10.3 server.
Google QUIC, HTTP/3.
Brotli compression.
Google cloud DNS.
Distributed Cache.
Real Time cloud scan.
Free wildcard SSL.
SSH with WP-CLI.
AI Anti-Bot system.
2. Reseller hosting: With it you can create your own hosting business and run it however you want. The technical features includes:
Built in cache.
Redis and Memcached.
Google premium network.
MariaDB 10.3 server.
Google QUIC, HTTP/3.
Brotli compression.
Google cloud DNS.
Distributed Cache.
Real Time cloud scan.
Free wildcard SSL.
SSH with WP-CLI.
AI Anti-Bot system.
3. WordPress hosting: Through this service clients get fast, easy, and securely managed Wordpress hosting services in a matter of minutes. The technical feature for this service includes:
Built in cache.
Redis and Memcached.
Google premium network.
MariaDB 10.3 server.
Google QUIC, HTTP/3.
Brotli compression.
Google cloud DNS.
Distributed Cache.
Real Time cloud scan.
Free wildcard SSL.
SSH with WP-CLI.
AI Anti-Bot system.
Domains
1. Domain search: With Stomonic you can register a domain name and get discovered on the web. It is just the beginning of a long journey on the web.

2. Domain Transfer: Clients can easily tracer domain in no time without a transfer fee.

3. Domain pricing: Stromonic provides popular top-level domains at an affordable rate.

There are many advantages of registering a Domain with Stormonic.
Access to free privacy protection: Many hosting platforms charge extra money for privacy protection. But at Stromonic clients get a free privacy plan for all eligible domains. It helps protect from spam emails and phone calls.
DNS management: It allows you to refer to computers by names instead of IP addresses. Thus you can easily update your name server information.
Domain forwarding: It allows you to automatically redirect your website visitors to another domain name. It helps in easier content management.
Customized namesaver: With it one can create professional looking nameservers branded with domain. It is required to respond to DNS requests for domains.
Auto renewals: With Stromonic domain services one can set their own auto renew responses on a regular basis.
Optional domain locking: With Stromonic one can lock their domain name for free to protect against any unauthorized changes like transfer requested and it also keeps scammers at bay.
Other Services
1. Cloud servers: Get it for any level of computing power with a flexible, cost effective cloud server. One can choose different configuration for this service. It is a simple powerful and reliable service with:
solid state drives.
Intel xeon CPUs.
OS Re-install.
Full Root access.
Dedicated IPv4.
IPv6 suport.
1 Gbps.
Cloud Console.
Monthly Billing.
2. Dedicated servers: Choose a reliable physical server for critical projects. There are around 8 configurations available for this. With this you get the following features:
Certified data center.
Premium network.
KVM over IP.
DDR4 ECC RAM.
DDoS protection.
Monitoring services.
99.99% uptime SLA.
24*7*365 Support.
SSD & SATA Disks.
Stromonic Plans And Packages :-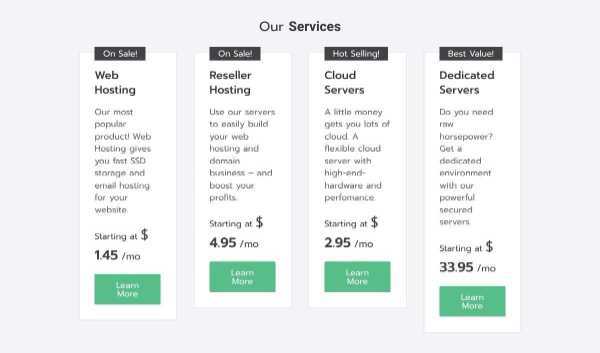 Stromonic provides their services at a reasonable rate. With them you get quality service that helps the business grow. But the best way to subscribe to some of their top plans is now. They are running their seasonal sales plan so those services can be subscribed to at a lower cost.

1. Web hosting: It is one of their most popular products. With web hosting one can get fast SSD storage and email hosting features for websites. The plan starts at 1.45 dollars per month.

2. Reseller hosting: With it you can easily build web hosting and domain business and boost the profits of your business. This plan is available for just 4.95 dollars per month.

3. Cloud servers: One of the fastest selling services of Stromonic. With a limited amount of money you can access a lot of cloud. It gives a flexible cloud server with high end performance and good hardware.

4. Dedicated servers: Get the best value deal with a powerful secure server in a dedicated environment. This service is available for just 33.95 dollar per month.
Advantages Of Choosing Stromonic Hosting :-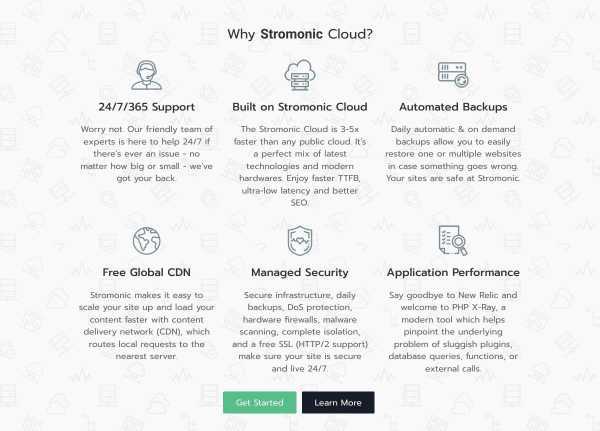 1. 24*7 support: The friendly team of experts at Stromonic help clients 24/7/365 days with any kind of queries. The size of the issue doesn't determine our priority level. They are always present for the clients and provide quick professional solutions.

2. Stromonic Cloud: As compared to any public cloud, the stromonic cloud is around 3-5x faster. It is a perfect mix of the latest technology with modern hardware. With it one gets faster TTFB, ultra low latency and better SEO.

3. Automated Backups: Daily automated and on demand backups allows one to restore either one or multiple websites if something goes wrong. With Stromonic it can be assured the sites stay safe.

4. Free CDN globally: Scale up the website and load content faster with a CDN that routes local requests to the nearest router.

5. Managed security: Stromonic ensures that their client websites stay safe with daily backups, secure infrastructure, hardware firewalls and many other security measures.

6. Application performance: With PHP X-Ray, one can pinpoint the problems of sluggish plug-ins, database queries, functions or external calls. It is a modern tool that has easily replaced New Relic and provides a better experience.
Conclusion :-
Stromonic is a one click flexible hosting platform that is flexible and easy to use. With the company their clients get access to a series of powerful tools and terrific service. They have numerous addons and WordPress enhancing tools that bring flexibility in their services. You can count on them to take your business online with ease.

With Stromonic you can get access to numerous features that satisfy every web hosting needs.

They have a multitude of hosting types with excellent customer service, 99.99% uptime and some premium policies that give clients a beneficial service. It meets the personal as well as business hosting needs.

The packages and price of their service is also reasonably set so anyone can afford it even with a limited budget. Choose the plans that you need to and if you want to shift to some other package then it is also made possible by the company.

They have a consumer-oriented approach and ensure that all the needs of their clients are taken care of if it is within the limit of their service.

The security features of Stromonic are also good. They have ensured that clients trust them with the level of security that they provide.

One can rest assured that they won't lose any data or get disturbed by spam and fraudsters when they use the hosting, Domain or any other services of Stromonic.

They understand the importance of privacy and security and thus provide clients with the best available service.

If you want website hosting services for your business then Stromonic is the best company for that.

They have emerged as an industry leader with their quality of service and features. Companies across the globe have successfully used their services to get ahead and reach a global audience.

Not many companies in the hosting industry can provide the kind of service that Stromonic does. Thus, it is worth it to check out their service and see for yourself how effective they are at providing the best web hosting service globally.