How to start a blog? This is the most asked question in blogging field. So do you want to start a blog? Ask these simple questions before jumping to the below article.

Do you have a passion for what you will do on your blog? Or Do you want to make money online and starting your blog only for money?

If you have passion and want to help others using your blog then you should start blogging but if you only do it for money trust me it takes a lot of time and hardwork to earn money from a blog. So if you are not passionate you will quit.

I hope you will get your answers now jump to your main question of how to start a blog. Starting a blog is easy and not a time consuming task.
There are two ways you can create a blog:-
1. By YourSelf
Are you a web developer? if yes then creating a blog by yourself using coding is the best options for creating a blog i personally like and this will give you complete freedom of everything starting from designing to content managment.

I am a web developer and i created this blog by using my skills of web development and i can control everything on this blog I can design my blog the way i want and place the content anywhere i want and many things.

If you have to create your blog through coding just like i did you have to have a good knowledge on HTML, CSS, jQuery, JavsScript, PHP, MySQL these are the must languages that you have to know and good at these if you want to learn web development we have created more than 500 tutorials on web development you can learn from there.
2. By using WordPress or other blogging platforms
The second option for creating a blog is by using blogging platforms like WordPress, BlogSpot or any other platforms and I personally does not like this option because i know coding.

But anyway for non coders this is the best option you did not need any single code to create a blog by using blogging platforms you just have to signup with blogging platforms and start building your blog this is the easiest way to create a blog.
5 Steps To Start A Blog:-
So now are you ready to start a blog. Excited, in this we tell your 5 basic steps which are necessary to start a blog.
#1. Decide Your Niche
Deciding your niche is the most important thing for any blog.

This is the ctaegory of the content you will write on your blog.

So always choose your blog niche wisely because this will play a major role in your blog success

Select niche that you love or have a good knowledge.

Like i used to write on web development and blogging in this blog because i love those niche and have a good knowledge also.

So if you are about to start your blog on blogging then write articles on blogging, SEO, content marketing etc.

If you are going to start your blog on cooking then write recipes, cooking methods etc.

You can find lots of content ideas in every niche.

Write more than 50 post ideas just title and ask yourself that can you write more than 50 quality post on that niche if yes then start the blog on that niche.

Otherwise a big no from myself and if you are not create 50 blog post on your blog means you cannot scale your blog to much higher level.

I said this because i always ask this question before starting every blog and i cannot write more than 50 quality post on a particular niche i am starting i drop the idea.

If you want to start your blog on not very popular niche like fishing, gardening then don't worry you will get success every early.

Remember one thing more competitive niche == more times it takes to rank your blog and its content.

Always remeber choose your blog niche very carefully if do not enjoy to write on your niche then it's hard to write content overtime.
#2. Get Domain Name For Your Blog
So you decided what niche you want to write on your blog.

Then get a domain name for your blog.

Domain name is the identity of any blog just like your name is your identity like TalkersCode.com this is the domain name of this blog.

Domain names are also called as website address or blog address through which people are going to visit your blog or website.
Things To Remember Before Choosing Domain Name For Your Blog:-
Always choose domain which is related to your niche for eg like TalkersCode anyone can easily get idea of the content that this blog is related to coding.
Always choose small domain name like 5-6 words name wherever possible but nowadays it's very hard to get related and small word domain name for your website or blog.So if you found the domain name which small and related go grab it immediately without wasting any time.
If you did not find any good domain name you can also but your own name domain like if i want to buy domain of my name so i can register mudit.com, muditjain.com etc.This will help you to create your own brand name on internet.
Always get .com domain name wherever possible because it helps to rank your website or blog much faster as compared to other domain names like .in, .org, .net etc.
Do not register similar name domains like for eg. i registered TalkersCode.com and you also want to register your domain with same name so you register your domain like TalkersCodes.com then chances are you were lossing traffic by confusion and mistyping.
Do not register domain names having numbers like happy4u.com or number1.com because they rank very slow in search engines.
Do not get exact domain name with different domain extensions like example.com and example.in this will confuse your website visitors most of the time.
How To Register Your Domain Name For Your Blog:-
Registering the domain name is a very easy process there are many good companies which you can used to register the domain by my personal favourite is BlueHost which is also one of the best in domain registration.

Go to BlueHost.com domain section and check the domain that you want to register for your blog and if it is already registered or not.

If your domain name is not registered means you can register your domain then simply click on buy button and then clikc on checkout button.

They will give you the option for web hosting but don't buy their website they are good but not the best in web hosting. I will tell which web hosting you should choose for your blog or website.
#3. Buy Web Hosting For Your Blog
Web Hosting is again a major part of starting and running your blog successfully.

You have to carefully choose a good web hosting which fits perfectly according to your requirements.

Web Hosting is a server renting service which is provided by companies and you have to pay every year or every month depending on your web hosting plan for the things you used on their servers.

Servers are used to store your website data along with other features like security, bandwidth etc,

There are many web hosting service which are good and you can used to host your website or blog.

If you are starting your new blog or website then i think Shared Web Hosting will be the best option for you.

See there are two types of Shared Hosting - Simple Shared Hosting and WordPress Shared Hosting.

In my case i choose simple web hosting to host this blog because i created this blog myself not on any blogging platforms like WordPress.

So i recommend you to choose different web hosting for different blogs.

And if you want to create your blog, you should and recommended to choose WordPress Hosting which will benefit you and your blog for long run.

There are many good web hosting services available on internet but i personally recommend you to choose BlueHost Web Hosting it is the best web hosting for no matter what kind of web hosting you choose whether you choose shared hosting or WordPress hosting they are the best.
How To SignUp With BlueHost Web Hosting:-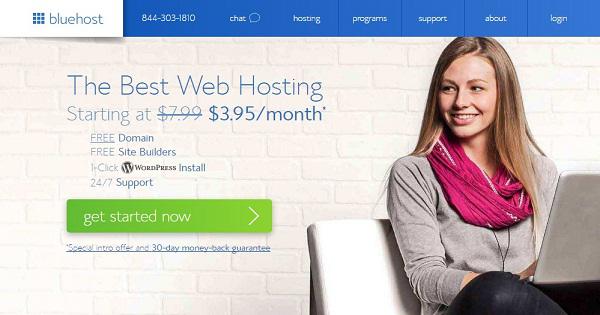 BlueHost plans and pricing are very good they offer 3 different plans and pricing

Basic - $2.95/month
Plus - $4.95/month
Prime - $5.95/month
Go Pro - $13.95/month

You can find more details here.

Choose any plan as per your server requirement and then click on Select Button and if you already registered domain for your blog then simply fill the 2nd options and click next button

Fill all the account details carefully and click on submit option after filling payment information that's it you are done read BlueHost review for more complete process.
How To SignUp With BlueHost WordPress Hosting:-
BlueHost is also very good and highly affordable in terms of WordPress hosting they offfer great WordPress service is highly affordable price as compared to other web hosting providers you will get more than you pay. BlueHost WordPress hosting has 4 different plans and pricing

WP Standard - $19.99/month
WP Enhanced - $29.99/month
WP Premium - $39.99/month
WP Ultimate - $49.99/month

Choose any plan as per your blog requirments and then click on Host My Website button.

After selecting the plan you have to follow the same procedure as we have written above for BlueHost shared hosting and there you have to either purchase a new domain or add your existing domain to which you want hosting for.
Tips to Choose Perfect Web Hosting:-
First identify your blog's requirements like web hosting space, bandwidth, security features etc then choose web hosting accordingly.
Always choose web hosting which have multiple plans just like BlueHost in this way you have many options which definitely fits in your requirement
Before choosing any web hosting see their payment return policy and support service they are as important as others things.
Always try any web hosting for upto and year and if you are with their service then continue with them otherwise switch to other web hosting service.
Always but web hosting which have SSD in their plans because they are much better and faster then regular web hosting
#4. Design Your Blog
Now hopefully you did all the works regarding your blog.

It's time to design your blog.

Website or blog designing is one of the most enjoyable thing i feel.

I am sure you feel that same when you will going to design your blog.

Web designing is different for different type of users here i mean those who self created their blog and those who use blogging platforms like WordPress.
Design Self Created Blog:-
For Self Created Blog Users web designing is little bit tough you have to have good designing and markup skills for that you need to learn and should be good in HTML, CSS, jQuery and so on but the three languages are must to give good design to your website.

If you are ready to start your blog or website that most probably know how the above languages work and how to use them to create a blog.

If you don't know about the languages i will tell you little bit about them.

HTML is a simple markup languages or in simple way a 'Tag Language' which is used to hold your content systematically on your blog.

CSS is a designing language which is obviously used to design your website or blog and you must have to be good in this in order to give a good design to your blog.

Next is jQuery is also a relevant language and is also used for designing but in higher designing like you have to0 give very complex animations and other effect etc then only you can use jQuery.
Design WordPress Blog:-
Designing your WordPress blog is very easy and quick process you just have to install right themes/templates on your blog and that's it, your blog will be designed automatically in backend no need to write any single code.
Where To Find WordPress Themes
There are plenty of places where you can find good WordPress Theme for your blog but i precisely recommend you to look in either Elegant Themes or in MyThemeShop

These are the best wordpress theme websites where you can get a perfect theme for your wordpress blog.

They have plenty of beautifully designed themes for your blog from which you can choose a perfect theme for your blog.

They also have themes for other categories also like business, news, portfolio etc.
How To Install WordPress Theme On Your Blog
To install wordpress theme on your blog you first have to download wordpress theme in zip file.

Then login to your WordPress admin panel and go to the apearance section where you will find themes tab.

Click on 'Add New' button then a screen will appear where you find 'Upload Theme' button click on this button and select your downloaded zip file of your theme and then click on 'Install Now' and your theme will be installed.
Few Things To Remember Before Choosing WordPress Theme
Your blog theme should be fit in your niche because If you started your blog suppose on blogging and you use some entertainment theme then is does not looks good.
Always Use professional designed theme because your theme will attract your blog visitor and give pleasant experience to your visitor.
Make sure before buying the theme that your theme must be compatible with the latest version of WordPress. Otherwise if you update your WordPress version you need to change the theme and that's not good.
The theme you buy should be responsive means your theme will appear good and pleasnt in every screen size just like a mobile site design works.
#5. Publish Your First Blog Post
Are you ready with your blog and excited to write and publish your first blog post.

Writing your first blog post is always a challenging task because this is the first pillar on which your blog success depends so it should be good and perfect.

Many new bloggers get confused what should they write and how long will be the content and so on.

Don't worry you don't have to worry much about your first post.

First post is always be the learning post for everyone you will start learning from your first post onwards.

This is not a fixed post which is not edited after publishing you can always edit any of your post and correct, delete and add any kind of content you want so don't worry.
Few Things To Remember Before Writing Your First Blog Post:-
It is recommended to study first on which you are going to write on your blog no matter if it is your first post or the last post.

Always study the topic first and then start writing your blog post. For eg:-

Suppose you are going to write let's say how to increase blog traffic then you should have to search this topic and read few blog post so that you get some idea how others will write and what kind should be necessary and the way people write.

I recommended this strategy because i used to do this step every time whenever i am going to write new blog post and trust me i generally get good response from my readers most of the time.
Always search on internet about post ideas and write 10-15 topics in advance on which you have to write your blog posts.
Always remember that write your blog post on a particular niche do not write blog posts on multiple niche.If you always write blog post which are related to your niche then more and more visitors will came to your blog automatically and you can easily maintain you visitors interest.
Always write your blog post on global language that is in English because this is the most spoken and understaning language in the world.So if you write your blog post in English then your blog will easily get more visitors day by day and also search engines rank your blog and it's blog post quickly and easily.
Always check the content of your blog post before publishing on internet so that you can find content errors or any spelling mistakes or grammer mistake.
I recommend you to use Grammerly to correct any spelling and grammer mistakes and lot more things, it is the best content correction tool everyone should use.

Remember one thing always be consistent in terms of writing your blog post.

Once you develop a good and loyal audience on your blog you should and must publish blog post regularly because your blog visitors are always waiting for the new blog post to get more knowledge and if don't provide them knoledge they will definitely stop visiting your blog slowly slowly.

We all know that regular posting takes time and a lot of efforts but you have to do this for 2-3 months so that you blog have dozens of blog post to read.

I recommend you to write and publish 6-7 blog post every week that is 1 blog post every day because i use this strategy on this blog and got some initial success.

So this is highly recommended to every blogger no matter you are new or advanced.

So now you will get everything from registering your domain and hosting to publishing your first blog post.

Now in next section i will tell how to run your blog successfully and things you required for blogging.
Tools Needed To Run Your Blog Successfully:-
Now you created your blog and sucessfully published your first blog post.

Now what else is needed?

Ans. A lot of things.

Just Creating and publishing your blog post is not enough you have to promote your blog and its blog post on various mediums to get quality visitors on your blog and track your blog success using some special and best tools.

So in this section i will tell you and highly recommend you to use these tools to create better blog post, measure your blog performance and promote your blog post.
#1. Google Search Console
Google Search Console is a free tool offered by Google to keep track of your website performance.

Google Search Console is a must have tool for every blog.

It is highly recommended to use this tool as soon as you created your blog.

Google Search Console gives you and your blog many benefits for eg. you can track your blog performance, you can keep watch on your blog backlinks, you can submit your blog sitemap so that Google Crawler will crawl and rank your blog quickly and easily, you can get warnings and messages about your blog and other things from Google which will help you to improve your blog and many other things.

In order to get all the benefits from Google Search Console first you must have to submit your blog to Google Search Console and then after 1-2 days you can keep track of all the things.
#2. Google Analytics
Google Analytics is also used to measure and keep track of your blog performance but in more depth way.

Google Analytics is only meant for your blog traffic analysis.

You can easily track your blog visitors, from which country they used to visit your blog and on what device they used and other things.

You can get almost everything of your visitors which is required to measure your blog performance like country, device, what pages your visitor visit, how much time your visitors stay on your blog and etc.

You can get very indepth analytics of your visitors which will help you to improve your website more.
#3. SEMrush For Keyword Research
Keyword research is as important as writing a good blog post.

Every blog post is incomplete and ineffective without using proper keyword research.

Do you know most of the post that are ranking in search engine's first page are highly rich in keywords.

So it's necessary to have a keyword research tool and for this purpose i recommend you to use SEMrush it is the best keyword research tools i have every use.

I used to research for keywords before writing any blog post and this helps my blog post to rank in search engines and increases my website organic traffic.

SEMrush allows you to search for keywords related to your topic so you that you can get the idea of how valuable the keyword is.

SEMrush displays all the data about the keywords like CPC, no of searches, trend etc.

SEMrush also gives you long tail keywords so that you can rank easily in search engines without taking much time.

It also provides many other data related to keywords and your blog or website.

So again it is highly recommended to use SEMrush as a keyword research tool for your blog.
#4. Aweber Email Marketing
Email marketing is one of the best and very simple way to promote your blog post.

Imagine you created a new blog post and want ten's of thousanads of your visitors visit your blog post immediately as soon as you publish your blog post in only a few clicks.

This can be done only with the help of email marketing.

Email marketing for blogs is a process to convert your first time visitor to your blog email subscriber so that you can send email to your visitor anytime everytime and for anything that you want to show your blog visitors.

For email marketing i recommend you to use Aweber it is the best email marketing service i used for my other blogs to send email to my subscribers.

Aweber email marketing service is very easy to use from adding signup form to sending email to your blog subscribers i had written a detailed review of aweber you can read for more details.

Aweber provides many kinds of signup form that you can used in your blog and for your blog visitors and you can easily create beautiful emails by using their drag and drop email builder and finally you can send email to your visitors in few clicks this can also helps to get more social media traffic to your blog.
#5. PushEngage Web Push Notification Tool
Web Push Notification is a kind of new way to promote your blog.

This is a kind of simple notification which appear on your visitor browsers who subscribed for your blog's push notification service.

Push Notification is also very easy and quick way to send alerts to your notification subscribers you can send any kind of notification i generally used to share my new blog post with my blog's subscribers but the choice is yours you can send type of alert you want and this wil also increase's your website traffic.

You just have to write the message and link and then click on send button and boom all your blog notification subscribers will get alerts read pushengage review for more details.

For Push Notification Tool i recommend you to use PushEngage it is the best tool to send push notifications and i said this in my PushEngage review.

PushEngage is extremely easy to use you just have to signup and add the code on your blog and after that your blog will automatically small sidebar alert for subscribe notification to every visitor.

You can send sending push notification as soon as you got subscribers but remeber on thing please don't send multiple notification in short span of time.

I recommend you to max 2 notifications in a day so that your subscribers cannot feel irritated.
#Final Thought
These are my personal tips and experiences that i shared in this post and strategies i have mention in this post is used by me on my various blogs.

So don't worry 'Go ahead break rules but don't stop' blogging is all about learning from our own experiences.

So i hope you will now going to start your blog and if you like this post please share this on social media and comment if you want any help or have any query.