iPage is one of the oldest and cheapest hosting provider.iPage was established in 1998 and from then onwards they have been hosting business, personal, social, and non-profit websites.

Web hosting is a very complicated subject and a highly-technical industry. At iPage, they pride themselves on eliminating the complications and simply providing you with a great experience. As for all that technical stuff, don't worry about it they have got it handled for you. They have got the tools, process, and expertise to help you take your idea online today and host your website without any problem.

They powered over 1 millions websites since there establishment, they have very good 24/7 customer support, they provide tons of free themes and templates and best thing is they provide 30 day money back gurantee.
iPage Products/Services Overview :-
Web Hosting
iPage web hosting is one of the most features rich hosting it provides many features like Free drag and drop iPage Website Builder, Hundreds of mobile-friendly templates, SEO marketing tools, Freedom to upload files with FTP and Flexibility to create a blog, online store, or website.

Hosting your website with iPage goes beyond unlimited disk space, a free domain name and unlimited email addresses. There comprehensive tools and training help you to launch your entire web presence above your competition.They offer FREE domain registration, Unlimited domain names allowed, Unlimited disk space, Unlimited email accounts and Unlimited MySQL databases all this comes under a price of $1.99/month*.

Currently they provide only one plan that is there Essential Plan which is of $1.99/month*
WordPress Hosting
iPage offers very good plans and features in its WordPress hosting.They have large collection of the best and popular WordPress themes that will make your website different and beautiful.

For every website owner website loading speed is always be one of the biggest important metrics specially for WordPress website owners because of the use of heavy plugins and themes on their website now forget about all these issues with iPage you will find your website loading time speeds upto 2.5 times just because of there low-density servers, CDN, and multiple caching layers.

They also take security very seriously they teamed up with one of the biggest web security platform SiteLock to provide the safest enviroment for your website and your users by catching and eliminating malwares and they also include a firewall to prevent various spam like comment span which is very popular in nowadays.

You will also get very good 24x7 support from highly trained iPage teams that will solve your problem as soon as possible.

Currently iPage has two plans for their WordPress Hosting platform - WP Starter and WP Essential which starts at $3.75/month* and $6.95/month* respectively.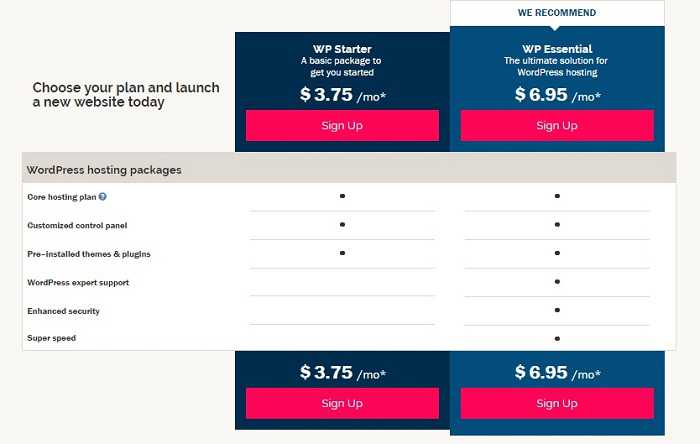 What's Good About iPage :-
Price
iPage is most probably the cheapest web hosting provider there plans starts from just $1.99/month* which makes it the cheapest web hosting provider and you can renew your website on this price for three years after that the regular pricing will be applied.

If your are not satisfied with them ask for a refund they have 30 day money back policy which makes iPage an ideal web hosting provider to try and host a new brand new website.
Security
If you concern about your website security than this will be going to free you from all your concers regarding security of your website they use SiteLock security suite in all there plans which handle and solve all the security related issues itself and make you free like a bird.

This is the additional features only iPage provide without any cost unlike some other web hosting provider.
Marketing
If you just start your website or your established website need any kind of paid marketing like paid ads then you are in right place because iPage provides $100 Google Adwords credit and $100 Bing Ad Credits and free 1GB storage on JustCloud and One toll-free phone number also.
Support
iPage offers a very good support in case you get any problem they offer you 24/7 phone and chat support where you can easily tell your problem and they will solve it as fast as possible.

They also provide step by step tutorials for any kind of task user generally needs and if you need to leave there web hosting platform tell for a refund they provide 30-day money-back guarantee.
What's Bad About iPage :-
Average Uptime
Website is one of the biggest asset every website owner has and they have to make sure that there website should have good or more than good uptime. We found a slightly lower uptime of 99.10% than the average uptime of 99.77% in our study of iPage web hosting.
Expensive Renewal Costs
iPage is considered as the well known cheapest web hosting provider but this is not the case in long term they provide $1.99/month* of web hosting plans for 3 years but after that you have to pay them on a regular price which is currently $10.95/month.
Not A Proper Control Panel
Honestly speaking there control panel is good and simple but nowadays every web hosting provider provides a feature rich control panel that will make you learn more every time you use.Don't worry it is pretty good for beginners.
Final Verdict About iPage :-
Yes we recommend iPage Web Hosting.Honestly telling if anyone needs cheap and feature rich web hosting provider which will handle all your task whether it's your marketing or your website security and a good support then don't go anywhere try iPage web hosting it's definitely worth a try.