Bluehost is one of the most prestigious web hosting provider in the world it is founded in 2003 since then it becomes everyone's first choice to host there website.

Bluehost offer shared hosting, cloud hosting, wordpress hosting, woocommerce hosting, vps hosting and dedicated hosting Bluehost fullfils everyone needs with there best hosting plans and great customer support.

Bluehost powers more than 2 million websites and give support to more than thousand websites every day. Bluehost wordpress hosting is also recommended by WordPress.org and it's a big achievement. Bluehost also provides Google marketing offers which is worth more than $150 included free in some there web hosting plans.
Bluehost Products/Services Overview :-
Web Hosting
Starting a new website then your are in the right place Bluehost provides best web hosting plans that will give you the best features in very affordable price.

With Bluehost web hosting plans you get features like free domain registration, unlimited email accounts, auto backup of your entire account regularly, best in class cPanel that save your time and make your life easier in managing your account.

They also provide additional features like CloudFlare content delivery network which is considered as one of the best CDN which will the performance of your website and various other options services like SSL certificates, SiteLock protection and Spam protection etc.

Currently Bluehost provides three shared web hosting plans Basic ($3.95/mo*), Plus ($5.95/mo*) and Prime ($5.95/mo*).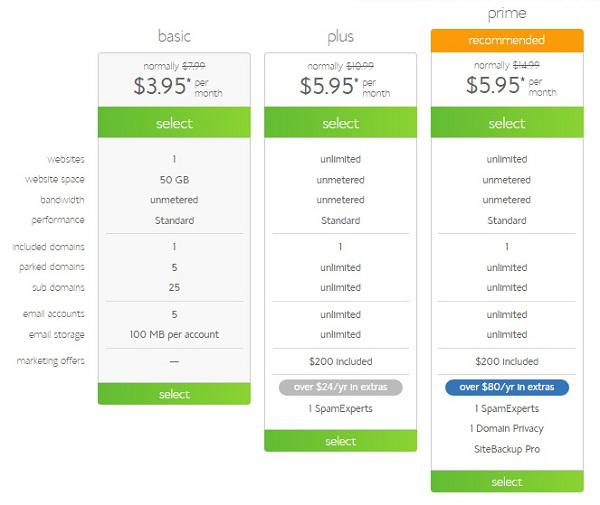 WordPress Hosting
Bluehost is recommended wordpress hosting provider by WordPress.org since 2005 just because of its excellent wordpress hosting, technology and customer support. With there wordpress hosting plans you can get almost everything you need to make your wordpress site a world class website.

Starting from the technology they have engineered the premier WordPress solution, all built on there revolutionary VPS technology. They will make the whole process of starting and running your wordpress site super simple by integrating some cool features and built-in tools to save your time.

They also intergrated the MOJO marketplace where you can find plugins, scripts, and more to enhance your site in just one click. In terms of website security Bluehost takes it very seriously they intergrated some the best security features like SiteLock Security, Advanced CDN and SiteLock WAF in there wordpress hosting plans.

Currently Bluehost provides 4 wordpress hosting plans WP Standard ($19.99/mo*), WP Enhanced ($29.99/mo*), WP Premium ($39.99/mo*) and WP Ultimate ($49.99/mo*).
What's Good About Bluehost :-
WordPress Hosting
WordPress Hosting is one of the biggest trump card of Bluehost as they provide endless features and services in every wordpress hosting plans they included almost every big feature in there plans like 100/million visits, 30GB storage capacity and SiteLock security and many more.
Control Panel
Bluehost provides an excellent control panel that not only saves your time for doing some major task but also keep up to date with all the latest features and offers so that you never miss any oppurtunity in making your website more better.
Security
Bluehost add ultimate security features in there plans whether it is there shared hosting or there wordpress hosting you can secuity features like SiteLock security and SSL certificates you can also get features like SpamAssassin, Spam Experts, and Spam Hammer to prevent from spamming and for DDoS attacks you can use CloudFlare.
Application Support
Bluehost supports tons of applications that will add more functionality to your website. Application such as CloudFlare and SiteLock which are used to stop or prevent DDoS attacks and malwares, Advanced CDN to make your website super fast and MOJO marketplace to find plugins and scripts.
Ecommerce Hosting
Bluehost offers very good plans to host an ecommerce website they support WooCommerce which is an ecommerce platform for wordpress and it is very easy to set up and you can get 24/7 customer support and secure payment.
Good Support
Bluehost provides very good customer support by providing 24/7 phone and chat support and in-depth articles for every task.
What's Bad About Bluehost :-
Website Migration
Website migration is a complimentary service some of the most popular web hosting provider does not charge any money for this service but in case of Bluehost they charge $149.99 to transfer your website from your past web hosting provider to there hosting.

So if you already have a website and willing to try Bluehost you have to pay an additional $149.99 to tranfer your wbesite to there systems.
Final Verdict About Bluehost :-
Yes we recommend Bluehost both Web Hosting and WordPress Hosting.If you want to start new website then it is recommended to try Bluehost because it is one of the most reliable and trust worthy web hosting provider with good hosting plans, tons of features, very tight security, best wordpress hosting and good customer support.