Here we are going to review about the Web Host Face, a reliable web hosting service for all website holders. Although it's a new web hosting company, they proved themselves in the web hosting industry as a strong contender in this field.

This company was established by Valentin Sharlanov in 2013. Valentin comes from web design background. This young hosting company creates new and exciting products according to customer satisfaction.

They provide fast web hosting, secure servers. The supports are very impressive and approachable. You can get service 24/7. They assist you whatever questions you may facing with your server. It is highly recommended by their customer, who gets full satisfaction from its services.

WebHostFace hosting provides services like shared hosting, Reseller Hosting, VPS Hosting, Dedicated servers, Managed WP Hosting, Domain Services, SSL Certificates. They have also special hosting like Wordpress Hosting, Joomla Hosting, Drupal Hosting, E-Commerce Hosting, Laravel Hosting, Phalcon Hosting.

WebHostFace is among few hosting company which allows user to get shell access and many other things like Git integration in their web hosting account.

WebHostFace uses four data centers to power their hosting services in the US, Germany and Singapore. With these data centers the company tries to provide their services in as many as country possible.

During past years WebHostFace has been doing a great job in server response speed. The response time is around 500ms, which is good and considered as above the average in shared hosting industry which is a good thing.
WebHostFace Web Hosting Products/Services Overview :-
Shared Web Hosting
In shared web hosting platform, WebHostFace offers three plans which are different in the amount of disk space, the number of allowed sites, the number of free website transfer and several other features.

Under share hosting plans you can get 3 different plans like Face Standard, Face Extra and Face Ultima.

Face Standard:- Face standard is perfect for starters. Regular price $6.90/month, now with 90% OFF for only $0.69 per month, or $180 for lifetime subscriptions. It has 15 web space, unmetered bandwidth, one domain hosted, free let's Encrypt SSLs, R1 soft daily Backup, SSD powered Servers, Weebly Sitebuilder, free CDN.

Face Extra:- Face Extra is designed for expanding projects. Regular price $10.90/month, now with 90% OFF for only $1.09 per month or $360 for lifetime subscriptions. It provides 20 GB Web Space, Unmetered Bandwidth, Multiple Domain Hosted, free let's Encrypt SSLs, R1 soft daily Backup, Free SSH, SEO Boost.

Face Ultima:- Face Ultima is designed for business sites. Regular price $19.90/month, now with 90% OFF for only $1.99 per month or $600 for lifetime subscription. It has 30 GB web space, Unmetered Bandwidth, Multiple Domain Hosted, free let's Encrypt SSLs, R1 soft daily Backup, Premium Support, Free Merchant Account.

Some Additional Features are: cPannel, an advanced Linux control Panel, and Softaculous insteller. PHP, Ruby on Rails, Python, Perl, Custom PHP.ini, CURL, CGI and more.

Check the shared hosting plans and pricing and compare it:
Managed WordPress Hosting
During your research, you probably came across so many managed WP Hosting, but this is affordable, secure, WebHostFace provides the uniquely best expertise service which makes your website success. Its Wordpress Hosting is highly recommended by the experienced personnel. WebHostFace WP Hosting has benefits as under:-

Dedicated Human Support:- This is the only managed Wordpress Hosting Company, that gives you a personal Wordpress assistant, which is more reliable. The trained expert helps with SEO, security and performance audit and many more. This will help to experience the highly managed website host.

Wordpress Speed and Performance:- Untainted SSD hosting, WP optimized servers, PHP 7 and Google page speed and the 5+ years of polished experience will lead you to the needed speed and performance for your WordPress website and business growth.

WordPress Uptime and Reliability:- As a managed WordPress host, the company ensure beyond expected uptime and security for WordPress websites. You get the best SSD servers and customized setup using NGINX and HTTP/2, live server monitoring and daily backups of your WordPress websites.

WordPress Security and Technology:- It provides multiple-layer server protection, complete security account isolation, regular security scans, implementation of patches for known vulnerabilities, free SSL and many more guarantee utmost WP security.

Developer Friendly WordPress Environment:- The managed WP hosting packages come with free SSH, automated R1 soft backup and restore, WP-CLI, Git, Clone website tool, customizable PHP options, multiple PHP versions and more dev oriented features.

Custom WordPress Themes and Plugin Deals:- The partners of WebHostFace can offer you up to 50% discount for premium Wordpress Theme, SEO plugin, cache plugin, Security plugin or any plugin to develop your website.

Plans And Pricing:- In managed WordPress Hosting platform WebHostFace provides two different packages like Wordpress Artist and WorPress Master

WordPress Artist:- it is Priced at 19.95/mo and it provides up to 3 WP websites, 20 GB pure SSD storage, unlimited data transfer, 150,000 visits/Month, 3 times faster than regular hosting, free top level domain name, free CDNs and SSls with HTTP/2. These are the major points you can find in this. Apart from this, you get NGINX, PHP 7 and Google page speed and many more.

WordPress Master:- it is priced at 36.95/mo and it provides up to 5 WP websites, 50 GB pure SSD storage, unlimited data transfer, 150,000 visits/Month, 3 times faster than regular hosting, free top level domain name, free CDNs and SSls with HTTP/2 and many more.
VPS Hosting
WebHostFace gives the best Linux VPS hosting solutions for professionals. The ascendible VPS hosting packages gives you space to customize everything to your own choice.

WebHostFace gives the facility to add more storage space to your server if you're VPS stores more amount of data. If you use huge amount of data storage and memory then VPS allows more RAM to the server.

If you want to build up more processing units to the server for auxiliary computing power, WebHostFace provides the facility to do so.

Flexibility:- Every online project is distinctive from one another and requires a specific combination of resources. WebHostFace VPS Hosting gives you the best experience by providing the specific component according to your particular aim.

This means pay only for what you are using. VPS Hosting solution can be used by corporate websites, resellers, network community websites, online communication tools, streaming, storage and any other projects, which require server resources according to their needs.

VPS is ready use, no further configuration required. Different types of management control allow you to easily and efficiently steward all your programs. WebHostFace use OpenVZ-leading server Virtualization and hypervisor management platform, which end up with the best interpretation.

Data storage is reproduced by RAID Virtualization technology which reduces the menace of disk failures and unrecoverable sectors.

Plans And Pricing:- Choose a dime-store and authenticate server platform to scale your demands. The plans are like Face VPS 1, Face VPS 2, Face VPS 3 and Face VPS 4.

Face VPS 1:- you have pay $9.95/mo, which is fixed. It assigns 20 GB of space, 1024 of RAM, 1TB traffic, 1 CPU cores, free domain, Free private SSL, and 1 free dedicated IP.

Face VPS 2:- For this you will pay $19.95/mo, and it is rated as best seller by the users. It will give you 40 GB of space, 2048 of RAM, 2TB traffic, 2 CPU cores, Free domain, Free private SSL, and 1 free dedicated IP.

Face VPS 3:- It is big plan to ensure. It costs $39.95/mo. It provides 80 GB of space, 4096 of RAM, 3TB traffic, 4 CPU cores, free domain, Free private SSL, and 1 free dedicated IP.

Face VPS 4:- it's the huge plan from other 3 plans. You will pay $79.95/mo, which is a fixed price. It will assign you 120 GB of space, 8192 of RAM, 4TB traffic, 6 CPU cores, Free domain, Free private SSL, and 1 free dedicated IP.

The ascendible VPS Hosting packages give individual to cut the cost and make it more users friendly.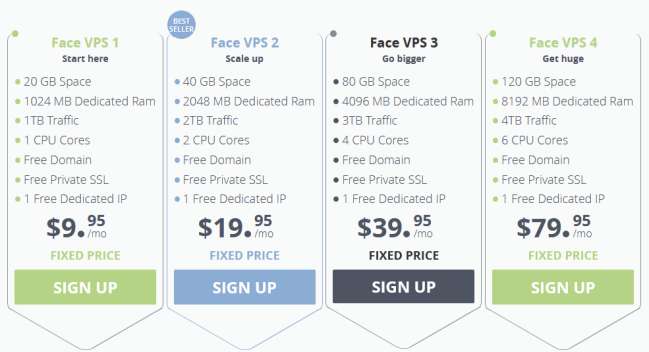 What's Good About WebHostFace Hosting:-
Top speed
The combination hardware and software makes the flawless speed. Enjoy a fleet-footed performance assemble by the cutting edge technology, catalyst and cachers.
Optimum Security
Cutting edge technology and newfangled execution makes the servers bulletproof against all threats. Rely on advanced security groundwork and latest security patches for a fully protected website.
24/7 Support
Trained and professional customer service executives provide you the best solution to your any kind of query by chat, social media and ticketing system. They resolve your problem efficiently observing the problem.
Compound Locations
Your web project is organized in a data center near to you with 100% uptime assurance, no matter in which corner in the world you are located.
Plans and Pricing
There different types of plans are available to fulfill the requirement of the personnel. One can avail the advantages of ready to use hosting services by paying the required amount of price according to his needs. No hidden charges are there to drag one user in to the difficulties and dissatisfaction.
Top Notch Hardware
All of the servers are Linux based and pre-installed with latest versions of Apache, PHP and Kernel. These things allow the company to affordable services to a wide range of users to any places in the world. And makes the server unimpeachable.
The Free Bees
Apart from all above you will get some free bees which will give you the more comfortable to design your website like free icons and free vectors which is really a very thing