Today we are going to review about an emerging ad network AdPixo. AdPixo is a premium ad network for both advertisers and publishers.

Online advertisement is one of the best options to maximize your profit. Online advertisement is a necessary part for E-commerce and blogs. Business which wishes to grow better, advertisement is the essential step for them to make it more profitable.

Now days there are so many ways to promote advertisement on internet world and Pop Under advertisement service is one of the most popular ad services to promote sales.

AdPixo provides a good quality of Pop-under ad service and it is an unconventional pop-under advertising network committed to work exclusively with premium pop-under ads. AdPixo provides clean and high quality of ads having 100% fill rate across all GEOs. Although it's new in web world, they provide perfect features to attract advertisers and publishers.

AdPixo has a very well designed and user friendly dashboard, real time stats, dedicated support and referral system where publishers or advertisers can convert the traffic into profit.

Many conventional ad networks allow the user to use pop-under ad network with some limits. But with AdPixo you can take the advantage of its unique features and can generate the profit from same old traffic.

They have structured their own ad server technology. They use innovative technology to increase your revenue. They have high CPC and affordable premium worldwide.
AdPixo Ad Network Features Overview :-
AdPixo has some excellent features which help advertisers and publishers to work with.

Real-Time Stats : AdPixo delivers the data immediately after collection. Which makes you aware about activities done by the viewer upon your pop-under advertisement?

Dedicated Account Manager : AdPixo has dedicated account manager who are always at your service. They handle all your pop-under ad activities and other issues very efficiently.

24/7 Support : They have experienced and qualified executives who are really dedicated to solve your issues anytime. You can chat, email them.

Referral System : AdPixo provides its clients the referral system by which publishers can acquire customers deliberately.

Faster Payout : AdPixo process its payments within few hours after payment request.

Two Factor Authentications : AdPixo gives two factors authentication which is really helpful for its users. It increases security of users account, free from spam. With two factors authentication your account will be much safer.

Own Ad Server Solution : AdPixo has its own created server which creates a good user friendly dashboard, more effective pop-under ad, safety Etc. by this they gives you guaranteed success to your business by the pop-under ad service.
AdPixo For publishers :-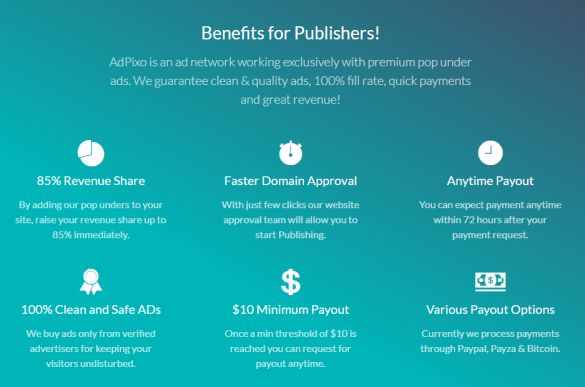 By working with AdPixo publishers will get some benefits. There is no restriction for traffic to join AdPixo. They run on new technologies that accepts new publishers who are generally repudiate by other ad networks. This gives new publishers an opportunity to monetize their website with quality and high-converting offers and maximize their revenue.

Also, AdPixo does not require particular website language and has optimized their technology to run the best conversion process. So, even if you have a new site, you can go ahead and start working with AdPixo and monetizing your traffic with AdPixo. Here are the basic publisher site requirements, which are quite open, and are beneficial for new sites.

85% Revenue Share : Publishers will get 85% revenue share by AdPixo. Publishers can monetize their quality traffic more efficiently with pop-under ads with this extra benefit.

Quick Domain Approval : It is really beneficial when publishers get faster domain approval, AdPixo always do the same. AdPixo provides instant approval to publishers. There is no restriction upon content. If any publisher is having adult content then he will also get approval by AdPixo.

Clean And Safe Ads : quality is main factor for every business to achieve success. Low quality ads will decrease the site visitors. AdPixo provides you clean and safe ads to sites for visitor's convenience.

Easy Payment : AdPixo has range of payment options. They use PayPal, Payza or bitcoin to give you the payment. There is no restriction for payment time. You will be able paid when you have minimum of $10 on your account.
Some Points For Publishers :-
AdPixo is very friendly with their clients. They don't have any specific requirements to get started with. They accept all types of websites. They don't support illegal content and child pornography. But they do accept adult websites.

New websites who has lower traffic can also join AdPixo. They have some minimal requirements like no minimum traffic requirement, no site language requirement, they accept almost all languages and they do accept adult websites.
AdPixo For Advertisers :-
Every ad network is designed its features according to the needs of advertisers and publishers. When advertiser uses pop-under ad for their business they will get the benefits of customer's trust, bring them back in to the business, offers quality ads to the viewer.

AdPixo always checks the quality of its publisher to ensure that a safe and a clean advertising is maintained. Here are some points highlights which advertisers might take a look at before getting started with AdPixo. This pop-under ad network has its own advanced S2S conversion tracking system, so there is no need for any external traffic.

AdPixo has some quality features for the advertisers as under:

Traffic From Direct Publishers : It is beneficial for advertisers to get quality traffic, which will maximize their profit. AdPixo generates quality traffic directly from publishers. Some other ad networks buy traffic from other networks.

Conversion Tracking : Advertisers needs various options to track their progress. You can track by categories. Countries, operating systems, browsers with AdPixo. Dashboard of AdPixo provides every detail you want to track the conversion.

Control Your Campaigns : You can control your campaigns by AdPixo directly, which helps to increase the quality of your pop-under ads, increase your profit and you will be more aware about customer's needs and wants.

Fraud Traffic Detection : AdPixo is using great and advanced technologies for their service, which helps malware detection, spam control and most important fraud traffic. AdPixo detects fraud traffic and block them, which makes better conversion and ROI. For this purpose they work directly with publishers.
Some Points for Advertisers :-
As an advertiser, one should need some important features by which the advertiser can get with the help of an ad network. AdPixo provides some unique features to the users.

AdPixo utilize top quality ad server technology in order to help the advertisers to reach maximum targeting audience. If you are willing to advertise on publisher network of AdPixo, then you need to sign up first.

AdPixo allows you to easily promote your products. AdPixo keeps no limits to give the facility to promotion. AdPixo provides 100% virus free advertisement and in case any advertiser's website is found malicious then AdPixo solves the problem effectively.

AdPixo network is specialized in pop-under ad service. It gives its clients high conversion ratio, outstanding exposure, no blindness effect, reasonable rates.
How to get started with AdPixo :-
You can replace AdPixo with Adsense. It's like Adsense dashboard. There some steps to get started with AdPixo:

First you need to sign-up with AdPixo. Then you are ready to go with AdPixo. You need to add the website details from the dashboard of your network.

They don't take much time for the confirmation. Once you are verified by AdPixo, the control is on your hand. Use the javascript code provided by AdPixo on your website and start earning.

This is really simple to get started with AdPixo. If you face some difficulties then you can contact with the support team.
What's Good About AdPixo Ad Network :-
AdPixo is delivering millions of pop-under ads across the web with the powerful ad serving platform
High CPV and affordable premium world-wide traffic.
In built S2S conversion tracking system
On time payment
User friendly Dashboard
Flexible Payments Options
Faster domain Approval
Final Verdict About AdPixo Ad Network :-
There are many pop-under ad networks available today on the advertising world. Not every network is trustworthy, affordable and reliable. There are many networks where you get so many requirements, so many restrictions and they even don't pay on time. In advertising world AdPixo is quite reliable pop-under ad network.

AdPixo works like very effectively for advertiser and publisher. Many new advertisers and publishers are joining due to the quality of ads, payment options, quick approval, and revenue share.

The advertisers attracts due to its main features faster campaign approval and more control, good conversion tracking system with fraud detection enabled. Join them now either as a publisher or as an advertiser to take your online marketing journey to next level and make more profit.