EVADAV is a leading Push notifications network that offers one integrated platform for both Advertiser and Publishers at one place.

With huge database EVADAV has reached 60+ million subscribers who decided to take their services along with satisfactory results. For being a leading Push notifications advertising network provider, EVADAV claims they have Daily Impressions: 1B+, Active Advertisers: 10K+, Active Publishers: 20K+ and Campaigns Daily: 100K

EVADAV serves better ways to monetize your traffic and higher chance to advertise effectively. With EVADAV you get the cheapest quality leads with less CPC. Advertise with Push notifications boost sales, increase ROI. EVADAV helps to reach your customer easily in any GEO.
For Publishers
EVADAV- a native advertising network that serves a new way to monetize your traffic with a new format of monetization of websites that is "Push notifications". With the facilities of fast integration, highest eCPM rate and high quality content EVADAV becomes the most attractive option for a publisher
For Advertisers
EVADAV provides great opportunities for advertisers. Get top performance with push notifications. Join EVADAV Ads network with high conversion rate, complete brand safety and extensive approach for targeted advertising campaigns. Their experts developed anti-fraud systems along with the effective algorithm that helps to predict the behaviour of the audience.
About EVADAV
EVADAV is a group of companies having more than 11 years of great experience in development and ad tech integration of their advertising products. EVADAV is an advertising technology network that mainly focuses on technological advantage in the field of push-notifications.

Their expertise in the field of advertising markets permits them to create technological solutions for both the advertiser and the publisher so that they can achieve high standards for business intelligence products for advertising platforms.

EVADAV has a great mission of establishing a way to unite publisher and advertiser platforms in a single place that help to develop ad technology based on push-notification.

If we talk about the values they have decided is to make all the technology and advertising tools they employ for all users must be consolidated and transparent. They place the utmost importance specially on 100% brand safety and hyper-efficiency
What is Push notification Ad Network?
If you have website, blog, landing page then you will definitely like to monetize your website through real and genuine traffic, Isn't it? Web push notifications advertising provider helps advertiser reach their audiences more efficiently to earn more and more without adding any extra stuff like banners or images. Push notifications is a new and best way to monetize your website.

According to a survey more than 70% publishers are not happy with the traditional way of monetizing the websites. They always approach for push notification ad network to get higher eCPC or eCPM.

A platform of advertising network mainly focuses on monetizing the website and providing push notification services. Push notifications are designed to pop up on your phone, computer, tablet, laptop and they display the message even when these devices are not currently open.
Top Ad Format PopUnder
This is their new format-Premium Popunder that adds some effective and valuable features in popunder ads and these popunder ads can be amazing money generator and it is an awesome way to increase your profits.

Popunders ads or pops generally are ad formats, these ads format have become popular over the last years and now various ad networks providers are working with this type of online advertising and huge numbers of advertisers are approaching for popunders to increase their traffic and profits.
Advertise with Pops?
Pops are used to generate the genuine leads. There are two ways to advertise with pops, one is leading to advertisers 's page with an attractive offer and another one is a sort of landing page with a call to action button that is known as CTA.
Set up a campaign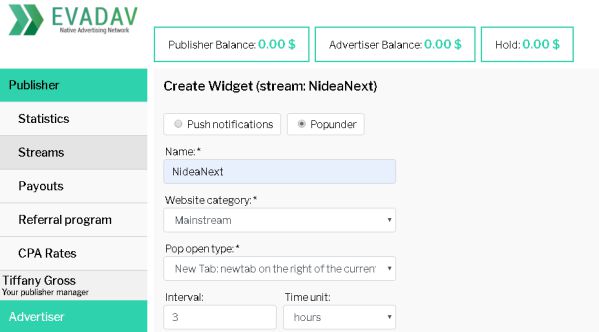 While creating a widget or stream you will be asked to fill required detail such as ; campaign name or website name, select the category of the website (Adult or Mainstream), and choose the pop open type from the drop-down list with 4 different options-
A-New Tab: New tab on the right of the current tab
B-New Tab Replace: new tab on the left of the current tab
C-Pop in page: redirect to the ad on the same pages
D-Pop up: popup window on top of the current window
You may choose any on the option that is more convenient for your ad. You can choose the Interval and Time unit of your ads. Here Interval shows how many times the ad will be displayed, while Time unit defines the period of impressions.
Here is the PopUnder's key features for Publishers
Easily integration with any website and landing page.
Optimized and compatible with all devices (Mobile, laptop, tablet)
You will be surely paid for every impression you get
Helps to stop letting push notifications ruin your web designs
Show ads as you want with 1 per min - up to 1h. intervals.
Supports with other advertising formats
PopUnder's key features for Advertisers
Users now can visit to the advertiser's site without any interruption.
Cheaper pay per impressions than other formats, since payment is made using the PPI model
Real time and large amount genuine traffic
Simple process and access
Helps to reach a targeted and wide audience.
Both, publishers and advertisers are approaching popunders ad networks in order to generate genuine leads and enhance the brand awareness.
Create a stream or widget Set Up?
The installation and registration process is very simple and users can be done it in just a few moments.

You can easily set up an account on EVADAV. As you click on Sign up you will have to select your role; Advertiser or Publisher. Now fill the information such as; as a publisher or advertiser, email-id, password and choose one of the options Skype or telegram which one you think is more convenient for you to contact.

Here I selected as a publisher's account and a widget
A verification link will come to your registered email id and you have to verify that.
As you click on verify link you will be redirected to the dashboard of EVADAV and now you can add your first stream and widget to start earning on push notifications.

EVADAV (Publisher) dashboard or cabinet offers different options such as Statistics, Streams, Payouts, Referral programs, CPA rates and Tiffany Gross (This option allows users to directly contact your publisher manager through mail, skype and telegram).
If you have registered as an Advertiser then you will get the options like; Statistics, Campaigns, Audiences, Funds and Volumes of traffic. While creating Widget (Stream) you need to fill required details for Push notifications OR Popunder (This is a premium new format ). In Push notifications you have 3 Top Ad Formats ; Native Push, Popup Push and In page Push.
For Native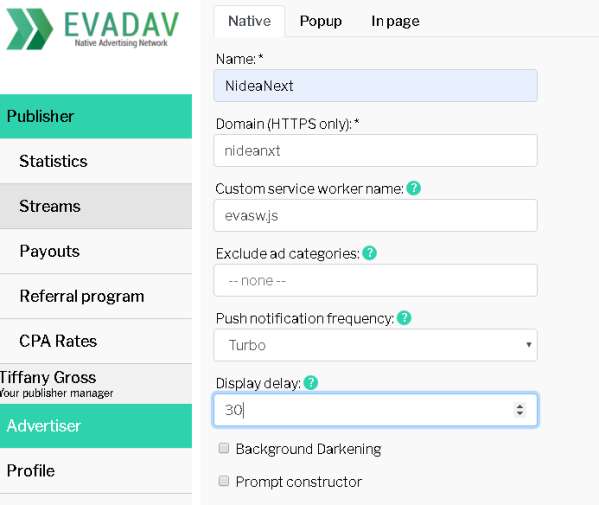 For PopUp
In order to create a pop-up widget, press on Popup, write the name of your stream, test popup widget. You can set up a Postback pixel in link so that you can track your traffic more effectively.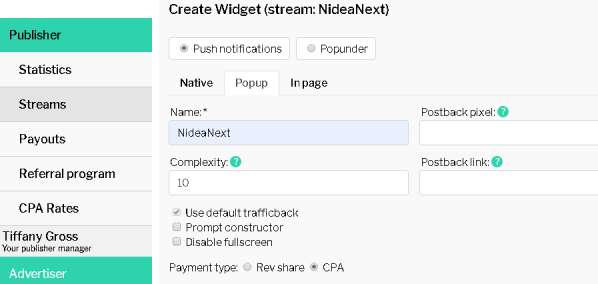 If you want to earn additional income from traffic back function then you have to turn on the Use default traffic back option. Turn on the Prompt constructor you will get the opportunity to construct your own custom pop widget. If you disable full screen option, your pop up will appear smaller on the website.

There are various templates available that you can select and use them.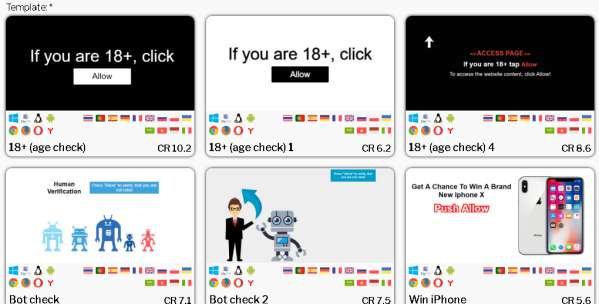 For In Page
Once the status of your widgets goes active, click on get code and choose the option you need. For creating a stream or widget you will have to fill all the required details that will help to optimize your stream or widget with full statistics of payout, traffic and earning and so on.

So with these simple steps-
Set up delivery interval
Apply in single click
Choose display format and
Set up code to ALL the website pages in the <body> </body&t; tag you can easily set up your account and successfully run the campaign and start monetize your website through Push notifications.
Why Choose EVADAV?
EVADAV is a one-stop push notification service provider and is committed to helping its clients (Advertisers/Publishers) reach their goals. Here we listed top reasons why you should choose EVADAV?
From the top publishers they use Tier 1 & Tier 2 traffic , ad network, exchanges, and fastest growing subscriptions with millions of new subscribers each week.
For advertisers EVADAV offers worthwhile advertising opportunities in push notifications with the high rate of conversation, premium inventory along with 100% brand safety features.
They have developed anti-fraud system for preventing fraudulent activity on users accounts.
EVADAV uses effective algorithm that helps to predict the behavior of the audiences.
Key Features
After creating an account in EVADAV system, users will be able to use many of the features of the EVADAV services-
EVADAV has it's own unique subscriber database
High CTR(Click Through Ratio) for less CPC and improves ad rank
Referral-program-You receive 5% of the revenues made by referred publishers and extra bonuses as well.
100% transparency and viewability. While running any campaign, you may see and check each impression viewed by a user.
EVADAV offers low and competitive CPC (Cost Per Click) starts at 0.001$
Safe and secure payments with most popular payment systems are available.
24/7 technical support with an expert personal manager for the solution of all your queries.
Cross channel advertising platform
Payment Method
With the EVADAV, users get the wide selection of supported payment systems that are safe and secure. These are; Wire, PayPal, WebMoney, ePayments, Skrill, Paxum, Payoneer, Bank Transfer, etc.


Final Thoughts
I hope this comprehensive review will help you to understand the working process and advantage of push notifications ad services for both the publishers and advertisers with EVADAV's network and We will strongly recommend register for EVADAV's services once and go ahead if you are satisfy with what they committed.