In the modern market, it is important to have a well-planned and proper performance marketing and digital advertising strategy. The customers notice the companies and products with the most interesting strategy.

It leaves a mark on the customers and helps in leveling up the marketing efforts of the company. Thereby, business owners pay a lot of money to implement these services for their products/services.

Adsterra, which is one of the best ad networks for advertisers, provides the same service at an affordable cost. So, there is a demand for their service in the market and the company has therefore grown over the years.

Without any access to unique publishers and advertisers, it is not possible to put the best strategies in place.

There are not many good AdTech companies in the market. But Adsterra has established itself as one of the best and trustworthy AdTech companies.
What Is Adsterra?
Adsterra is a company founded by professional webmasters and affiliate marketers with more than 20+ years of experience.

The company was founded in 2013 by a group of friends who had a shared interest in technology and marketing along with a desire to attain self-realization and success in the best way.

They identified the lack of proper technology and high entry barriers that many webmasters and affiliates encounter. So, they went ahead and found a solution to the problem and created something new for themselves and the market.

The company works with the core values of teamwork, transparency, commitment, consistency, quality, and the readiness to support both the employees and the customers.

They have an efficient IT department, an experienced accounts manager, a risk management team, and a policy team along with other employees of the company.

Adsterra has successfully provided a unique combination of innovative technology and human intelligence. It has made the company one of the best and trustworthy in the market.
What Are The Features Of Adsterra?
Adsterra provides many unique features for its clients. The company proved to provide many different services to its clients.

They have different formats of high converting ads and all of them have different features. The formats and their features are as follow: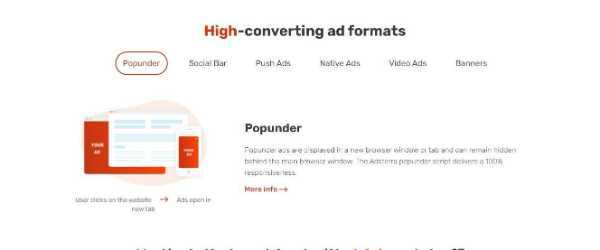 Popunder
hese ads are displayed in a new browser window or tab and are hidden behind the main browser windows. The popunder script has so far delivered 100% responsiveness.
Social Bar
It is a UX-friendly ad format that runs on all operating systems. It helps publishers achieve high CPMs and advertisers reach up to 30x higher CTRs than Web Push ads. It is fully customizable with animated icons, videos, customer banners, and countdowns that attract many clicks and prompt conversation.
Push Ads
They are the most advanced replacement to Web Push notifications with ready-use templates that have proved to convert potential clients. In-Page Push Ads provided by Adsterra do not require opt-ins and run on all OS and browsers. One can either use built-in animated templates or design their own customized ads.
Native Ads
They are consumed like editorial content. With the help of Adsterra, advertisers AdBlock resistant and cost-effective CPM, CPC, and CPA native ads campaigns. There is more than 1 BN banner weekly allowing native banners to blend in web and mobile content that drives up to 8x higher CTRs as compared to classic ads display.
Video Ads
It is a short video that appears before the main content and the ones provided by Adsterra, runs on all players. The company either uses VAST/VPAID tag or hosts the videos. These kinds of advertisements are great for creating visual impacts.
Banners
Online banner campaigns have delivered unprecedented performance. Advertisers can access reliable traffic sources from 18k publishers and reach conscious customers who will readily buy the product or service. Publishers enjoy having 100% fill rates and higher payouts.
Along with extremely client-oriented features and services, Adsterra provides many advantages. It attracts people to choose their services and make them loyal to the brand.
Advantages Of Adsterra :-
There are various advantages of Adsterra and they are listed below as follow.
Security
Adsterra uses an effective combination of innovative in-house and third-party fraud detection systems. They also ensure proper human checks and provide the safest experience possible.
Self-Serve Platform
An easy-to-use experience is provided for people who do not prefer working with managers. Every process is automated to allow people to understand everything intuitively.
Customer Care
Adsterra has a unique Partner Care approach. It provides 24/7 multilingual chats and analyzes specific cases to help their clients choose the most effective ad format/settings.
Multiple Ad Formats
They provide many different formats for their clients to choose from. It ensures that there is a solution for all the needs of the clients.
Payment Options
It is easy to be a part of the company without any hassle. Adsterra has integrated onboarding materials into the account of clients so as to familiarize them quicker with the site. With lightning-fast moderation, one can get started in no time.
Anti-AdBlock
The in-house developed anti-AdBlock solution helps in increasing the revenue by 20%. The users who use AdBlock are not accustomed to ads so seeing one easily gets their attention. It leads to high CTRs.
Free Resources
Adsterra provides many free resources for their clients that help them gain more knowledge and apply it to their business. The free resources provided include blogs, case studies, and guides.
Partner Satisfaction
People who use Adsterra have 100% customer satisfaction. The company provides unique solutions based on client needs and they also have a good response time for their problems. They provide premium services at affordable costs for their partners.
Plans And Pricing Overview Of Adsterra :-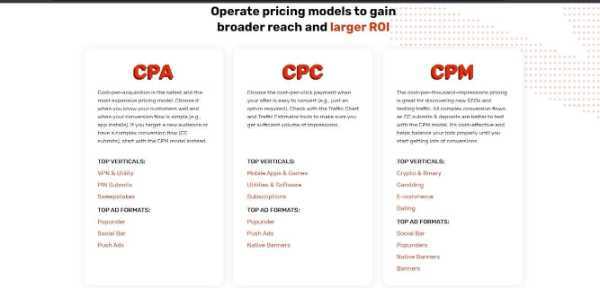 Adsterra provides one of the most competitive pricing models in the AdTech sector. They do not charge an unexpectedly high amount and also provide a lot of perks for the clients who partner with them.

There is a pricing models section on the company website. One can get all the price details there regarding different products.

Adsterra also allows its clients to test their services so as to choose the right one for themselves. For some formats like Push Ads and Social Bar, one can test up to 15 creatives to pick the most beneficial for their campaign.

There are numerous campaigns provided by Adsterra that one can choose based on their need. The pricing is dependent on the package that one chooses and they also have the best-in-class payout policy.

One should properly go through the pricing details and the plans available before signing up for Adsterra. It will help in better decision-making and selection of the right plan.
Conclusion :-
In conclusion, Adsterra is an exceptional company that has grown over the years from its establishment. With the increase in demand of the AdTech world, Adsterra will further grow and enjoy success in the market.

Their uniqueness and the ability to provide a variety of solutions, make them stand out to their clients. The company has held its own worth with the help of satisfied clients and their own innovativeness.

There will be no shortage of publishers and advertisers in the future. They would most definitely be part of Adsterra and increase the client base of the company. The guidance provided along with the simplicity of solutions, helps both novice and experts use their services. Adsterra has the potential of reaching new heights in the AdTech sector.

Adsterra connects many advertisers and publishers of all sizes across the globe and helps them grow their business, develop their skills and improve as professionals.

It ensures a successful present and future for the partners involved with the company. The company has set up high traffic and service quality standards in the AdTech market.

They have introduced innovative products and shared their expertise and knowledge with the community. Adsterra also releases blogs and case studies along with guides. It helps in driving in more traffic and in also guiding users on various topics.

The thoughtfulness and the effort put in by the Adsterra team into this is commendable. It has helped many clients understand the services needed and also let them gain better knowledge.

The CPA affiliate program by Adsterra also provides some of their clients with unique offers with increased payouts and great CR. The client just needs to test the best selection of Dating, VPN, utility, and sweepstake offers.

Adsterra is a great place to learn and earn at the same time. They provide their clients with unique experiences and have correctly identified the requirements of the market. It has helped the company grow and become one of the best in the market.

The determination and the enthusiasm to provide a solution for the preexisting market problems have made the company achieve its level of success.

It is undoubtedly a trustworthy company with great customer satisfaction and high quality of service. One can seek out the company's services and get the best return on their investment in Adsterra.