You have a website (or a mobile app) that receives daily traffic, and you're thinking about making money off those visitors.

Let me simply start by congratulating you! You are at the beginning of a very exciting period, and there are a ton of alternatives for you to monetize your digital asset as effectively and efficiently as possible, and one of them is Adtelligent.
Adtelligent Header Bidding Platform :-
A monetization platform like Adtelligent assists publishers in maximizing their advertising revenue by simultaneously making its ad inventory available to many SSPs / DSPs / Ad Exchanges.

For their services, monetization platforms typically take a fee from the publishers' overall ad revenue.

The majority of publishers need more resources and direct access to premium purchasers to develop good monetization strategies.

Publishers can use both technology and the marketplace from monetization platforms like Adtelligent all under one roof.

This has an open platform for managing header bidding connections that enables publishers to increase yield and shorten integration times.

Everyone has a question "How is that done?"

"The secret is header bidding, which is easy to grasp but difficult to implement inside."
What is Header Bidding?
Header bidding is a sophisticated programmatic advertising technology in which multiple premium demand partners (SSPs/DSPs) make simultaneous bids on the publisher's ad inventory.

The goal of header bidding is to make demand partners more competitive so that every ad impression can be sold for its highest possible price.

Since 2014, there has been header bidding; earlier, there was a waterfall solution.

According to the most recent data, header bidding was being used by 69% of the top 10K US publications as of Q4 2021.

The use of header bidding technology can increase a website's income by 40% for Tier 1 GEOs and up to 120% for Tier 3 GEOs.
About Adtelligent :-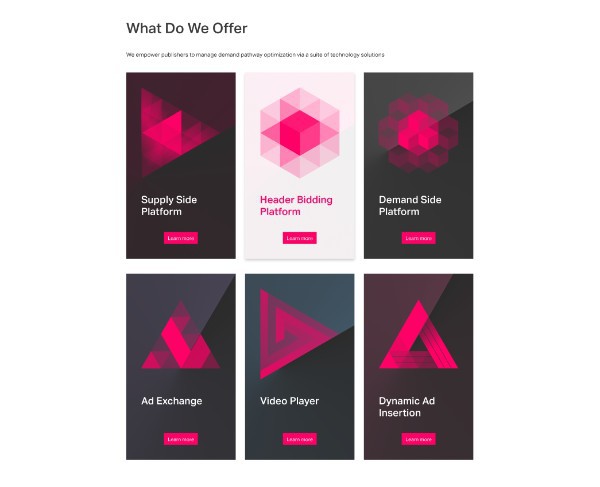 The company is based in the United States and offers worldwide support in multiple languages.

Adtelligent develops all of its technology in-house and has been recognized by Deloitte 2022 Technology Fast 500™ Winner and Inc. Best in Business 2022 list in the Software as a Service Category.

Although it has been extremely expensive for media owners, the programmatic and data revolution has inaugurated a new era of advertising efficiency.

Through a web of complex technology alliances with demand partners and intermediaries, many publishers have compromised their independence to increase revenue.

Publishers, who traditionally controlled selling their audience to purchasers as the cornerstone of their business model, have lost that power as a result.

With the aid of a stand-alone full-stack platform, Adtelligent is developing demand channel optimization solutions that give publishers back transparency, control, and margin.
Adtelligent Solutions for Publishers :-
For web publishers, Adtelligent provides a platform that transforms a digital environment into a reliable, revenue-generating advertising tunnel. Publishers get more value from their online audiences by adding relevant, highly contextualized adverts to a web destination.

Using the Header Bidding platform for monetizing traffic by Adtelligent gives publishers more time to focus on content instead of sales processes. As a result, increase sales with a variety of demand sources.
Supply Side Platform
Publishers can use an advanced ad-serving platform to increase their revenue by utilizing innovative tools for programmatic yield optimization.

Adtelligent Intelli is a predictive algorithm that examines previous data from the Adtelligent platform and real-time data from managed and programmatic demand.

You can weed out fraud and ensure that only actual human impressions reach advertisers using a comprehensive malware detection solution.

Start trading with supply and demand partners in a simple server-to-server logic with your own openRTB bidder.
Header Bidding
Header bidding is a sophisticated form of programmatic advertising in which numerous premium demand partners (SSPs) make concurrent bids on the publisher's ad inventory.

The goal of header bidding is to make demand partners more competitive so that every ad impression can be sold for its highest possible price.
Smart Video Player
Using Adtelligent HTML 5 Video player with our new Smart In-Read ad format, you can host your own video content or third-party content to maximize revenue from every pageview.

Grow your income by providing your users with videos they want to watch. Also, you can become one of our partners and create amazing videos with our smart video player.
Top Features of Adtelligent Platforms for Publishers :-
Quick Access to Global Demand
Utilize a single interface to access advertising campaigns from premium SSPs, Ad Exchanges, demand-side platforms, and advertising agencies.

As a result, web publishers can maximize the value of their inventory in a highly competitive programmatic landscape with limitless access to demand partners.

Make money on your terms by exposing your inventory to thousands of international marketers.
Seamless Integration
Adtelligent ensures seamless connection and simple deployment for publishers that want to sell inventory through premium ad marketplace, programmatic assured, or open real-time bidding auctions.

They can start making money immediately by adding the necessary code to their website or embedding the SDK into their app.
Complete Management of Inventory
Publishers can fully control ad inventory and income streams thanks to the Adtelligent user-friendly interface.

Decide which format, size, IAB category, or content type of the ad unit will appear in your publication to get the most out of your advertising space.

Additionally, monitor advertisers using ad-level logs and choose ads that complement the design of your website.
Maximum Monetization
Publishers can quickly compare different ad units and receive information about the most adaptive display, native or video formats that most appeal to their audiences from a single Adtelligent platform.

Real-time analytics performance monitoring enables effective and on-demand inventory optimization.

Unleash the full capability of your traffic, offer media buyers a premium ad environment, and produce outstanding results!
UAM Acceptable
Easy integration combined with UAM, with an equitable auction involving all parties: Google Ad Manager, UAM, and header bidding partners.
Bidder Management
Increase your profits by connecting your advertisers or using the built-in Adtelligent Marketplace. Integrate an unlimited number of demand partners using RTB or prebid bidders.
Single Reporting
Real-time revenue insights with complete transparency and personalized views. You can use as much data granularity as you like to analyze your performance.
AMP Monetization Support
This platform is core web vitals friendly and supports AMP by Google.

It delivers greater engagement rates and click-through rates for all mobile ad formats, including mobile native advertisements, rewarded videos, and mobile interstitials, by successfully serving mobile and in-app ads via a programmatic platform.
Performance of Adtelligent :-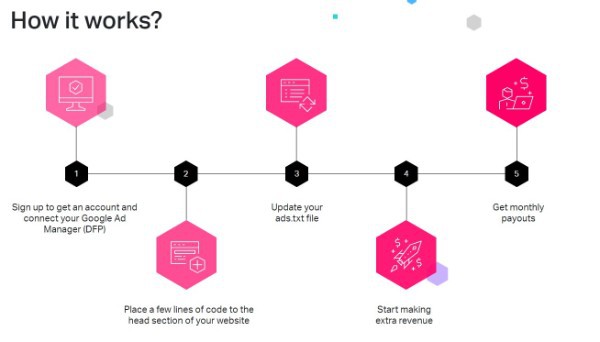 The platform is user-friendly. A publisher has to sign up on the website, perform the initial configuring (once), and that's it.

The whole process takes an hour at maximum. You just click the 'Get Started' button, fill up the information, submit it, and get approval within 24 hours.

We should admit the Adtelligent support service, which was supportive during the configuration process.

Adtelligent Header Bidding Platform is compatible with Google Ad Manager and Amazon UAM, so you can integrate it in your existing inventory selling system.

A single unified interface provides easy user control. It supports a range of banners and video formats, providing maximal yield with minimal latency.

The Platform allows publishers to simultaneously offer ad space for sale to numerous SSPs/Ad Exchanges.

This platform grants clients access to the world's largest buyers, so publishers can connect directly with top-demand partners.

Due to the header bidding auction model implemented here, instead of the waterfall model, they managed to increase the performance and receive the maximum possible profit since, according to this scheme, only the highest bidder wins.

Therefore, the more advertisers compete in the auction – the better is the performance for a publisher. Applying this scheme results in increasing profit for publishers (compared to waterfall model) by at least 50%.

We should also admit a great reporting system. Adtelligent Analytics is sufficient for most cases, so there is no need for any analytic prebid adapter.

Besides, not only publishers get extra profit with Adtelligent Header Bidding Platform.

Advertisers compete here in a more fair manner since there is no predetermined order of buyers, and only higher bid wins; thus they can get access to the premium inventory for the best price.

As for the drawbacks, we can admit the lack of important information, like pricing. Which is by the way, typical for these products and services.

So when you select the programmatic solution for implementation, it is hard to make a reasonable choice.
Pricing Details :-
As for their pricing policy, in general, the Adtelligent Header Bidding Platform is a free service.

Immediately after your registration on the platform is approved, you get access to all its main features, and you can use them as long as you want.

But there are some limits to the number of partners you can connect to in the Free version, also, for extra features such as White-label (from Programmatic Partners) and custom developments, Adtelligent has additional pricing.

Of course, there is a standard ad marketplace fee; for example, the Adtelligent fee for monetization through Google was 10%.

The company offers two main payment options. Users can choose either PayPal or wire transfer payment options.

As for the minimum amount for withdrawal, it is $150 in the case of PayPal and a $100 wire transfer. Publishers can choose either a monthly or bi-weekly payment.

No extra charges are taken by Adtelligent for withdrawal; users only have to pay fees to the money transferring system (PayPal for example).

Usually, they charge 3...5% of the total amount transferred. It takes a few seconds to several days to transfer money (depending on the institution).

To strike direct partnerships with the proper advertisers, gain a better understanding of the businesses that are willing to pay the highest CPM for your inventory.
Conclusion :-
Partnering with an amazing ad monetization platform - Adtelligent, with a track record and competence in the field, is one of the greatest methods to make money from your website.

By keeping up with the latest monetization trends, several publishers have achieved success.

Additionally, by adding numerous revenue streams to their websites, publishers can anticipate greater success.

As they experiment with various income strategies, this increases security further. The success of publishers and businesses depends on knowing just how to monetize news websites.

Want to work with Adtelligent to boost your viewership and the money you make from your content? Start the procedure right away!!

Best & Lucrative Ad Monetization Platform for publishers who want to maximize their business processes and profits!!

Join Adtelligent today to get immediate access to measurable results!