Web push notification is one of the best way to alert users for anything whether it is for sale, news or any new article you created or updated. You can send push notification for any reason and in any platform no matter your user using mobile phone, tablet or desktop to view your website they will definitely get alert after subscribing your website push notification.

It is also one of the best way to increase your website traffic by getting more web push notification susbcribers. So today in this article we will review PushEngage which is one of the best web push notification tool for everyone wthether you are a beginner or an advanced user and also with lots of exclusive features that you did not had seen in any web push notification tools before.

PushEngage is trusted by 6,000 websites in more than 125 countries some of the companies are CarTrade.com, droom, VOGUE, INTEX and many more so now you get some idea of how good there services are. Well if no then continue to this review article.
PushEngage Web Push Notification Features Overview :-
Easy To Use
PushEngage provides very easy process right from the beginning to sending your first push notification. It provides very easy to use interface where you can find all things you need to setup push notification for your website and creating and sending your first notification to your subscribers.

Using admin panel you can easily custmoize your notification style, image, manage your subscribers, view analytics, subscribers country, language and everything you have ever imagined.
Multiple Browser support
PushEngage send and supports notification on Google Chrome and Firefox on desktop and mobile both and they are currently planning to add Safari browser also so that there user don't have to go for another service for just one feature.
Easy To Setup
They offer very easy to setup push notification process where you can easily embed there javascript code in to your website and the notification popup will be starting for taking subscriptions instantly all the process just takes 5 mins.
HTTPS And HTTP Support
Did your website use HTTP instead of HTTPS don't worry you can still add your website and start sending push notification without having to convert your whole website to HTTPS and the best things is all the features are same in both types.

But only one thing is different for HTTP you push notification popup will look like this http://your-website.pushengage.com which is don't thing is big isssue considering all the benefits you get in return.
Automatic Responders
This is a kind of premium feature but they add this in all the plans unlike other push notification service where you have only handful of features free plan. In this you can build Drip campaigns or series of notifications based on what your customers do on your website. Contextual automatic notifications slowly nudge your customer and increase your conversions, leads or click metrics.
Automatic Segmentation
Segmentation is also a premium features in most of the service but not in the case of PushEngage. This features lets you easily categories your audience and able to send personalised notifications for every category.

Suppose you have two sections in your website like we have in this website one is interested for web development and other are interested for reviews and blogging articles so we can segmentation feature to categories our audience send push notification according to it maximise the user engagement.
Multi Action Notifications
This features is my personal favourite where you can send notification with different call to actions and custom image for every notification. For eg you offer discount on themes and plugins both so you can add two call to actions one for themes which will redirect user to themes and other to plugins. It also increase user engagment and decreases website bounce rate.
Multi Site & Multi User Login
PushEngage gives you the freedom to to add multiple user login because they understand that manytimes more than 1 person works with push notifications for their website and they also offers you to add multiple site by choosing only single plan. So, if you have more than 1 website then PushEngage will going to be the best options for you.
Large Image Notifications for Chrome
Now with PushEngage service you can attach and send large image notification having size of 360 x 240 px on Chrome browser which instantly and grab user attention. This feature also increase notification click-thu-rate and ultimately increase your website reach. This large image feature is very exclusive you cannot find this feature in any push notification service.
Emoji Support
PushEngage notification service support Emoji which is also a plus point and advantage of using this push notification tool. With this feature your push notification looks more attractive.
Schedule Notifications
Scheduling is one of the best feature for those who are very busy and for those who never have to wait for the right time to send the push notification.

You got some work and know the right time to send push notification to maximise clicks then schedule the notification earlier and sit back and enjoy your work. Your push notification we will sent on the right time.
Automatic Notifications With RSS Feed
Now PushEngage makes it more easy to send push notification without even doing any work. Simply just add your website RSS feed in service and whenever you publish something new they will automatically send push notification to all your subscribers.
Wordpress Plugin
PushEngage also offers and easy way to send push notification for Wordpress users. PushEngage offer wordpress plugin to send push notification right from your Wordpress dashboard instantly.
PushEngage Push Notification Plans And Pricing :-
PushEngage offers many plans with different features and different pricing accordingly. PushEngage plans are for everyone whether you are beginners, pro, advanced or a complete enterprise. PushEngage offers 5 different plans Free (Upto 2500 Subscribers)
Free (Upto 2,500 Active Subscribers)
PRO - $25 (Upto 10,000 Active Subscribers)
Business - $42 (Upto 50,000 Active Subscribers)
Large Business - $84 (Upto 1,50000 Active Subscribers)
Enterprise - Contact Them (Unlimited Subscribers)
How To Start With PushEngage Push Notifications :-
Starting with PushEngage and sending your first Push Notification is very easy you have to signup and follow the instructions accordingly and you can also change anything anytime.
SignUp With PushEngage
SignUp with PushEngage and then you see PushEngage admin dashboard where you can find everything.

First you need to set up your website for push notifications.

You will need to enter all the necessary details like site name, site url, site image for notification.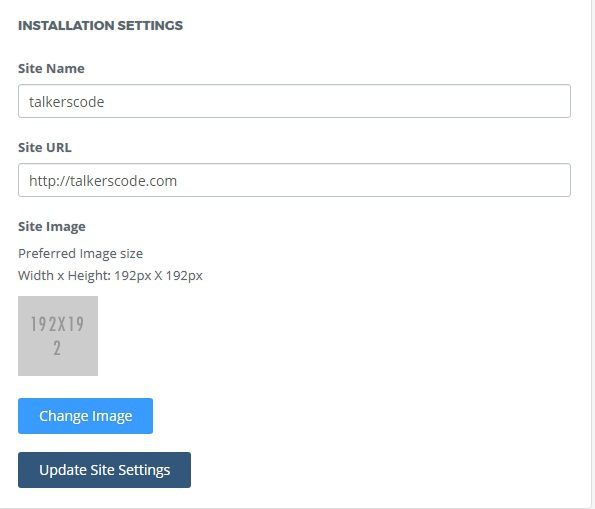 Install JavaScript Code
After filling all the details required to setup push notifications you will get a javascript code which you have to insert in your website to display push notifications on your website.

There are different two ways to add push notifications on your website one for HTTP and another for HTTPS.
Creating And Sending Notification
Once all the necessary things are done that are required to setup push notifications for your website.

Now move to create and send your first push notification.

Create new notification you will find this options under Notifications tab where you have to enter all the details like notification title, message, link, image and many other things.

After filling all the details just click on submit button and the notification will be sent.
What's Good About PushEngage Push Notification Service :-
PushEngage has many features that are very exclusive and makes him stand higher from rest of the other push notification service.
Features like Automatic Responders and Multi Site & Multi User Login with Access Control are some of the best features which you can find nowhere
With PushEngage you can add large image and emoji to make your push notifications more attractive and eventually increases your notification clicks.
Wordpress plugin is also an advantage of PushEngage where you can intall pushengage wordpress plugin so that you can send notifications directly from your Wordpress admin dashboard.
One of the most trusted name in this web push notifications services. PushEngage is trusted and used by many big brands.
Final Verdict On PushEngage Push Notification Service :-
Yes we definitely recommend PushEngage web push notification service it is the best push notifications service we ever used.

It has lots of features that you can see nowhere with highest notification deliver rate.