Do you want to drive the traffic with push notifications? But do not want to pay double for resold traffic. You can try a leading push notification advertising network developed by LeadBit group, named "DatsPush "that offers you push notification (Mobile Push Ad & Web Push Ad) services globally. DatsPush developing a promotional network of push notification services that help publishers to monetize their website with high quality live traffic as well.

Leadbit Group:- Leadbit company is managing dozens of exciting digital and affiliate marketing projects. Leadbit group is a team of 400 professionals in Moscow and several thousand - around the world. Their ideology is the monetizing of every niche. They are keen to work directly with their publishers and provide them with exclusive offers

If you are a publisher, have your own website and you need to unlock additional revenue with web & mobile push notification then DatsPush helps you build a genuine audience to help you grow the traffic and revenues. DatsPush drives user engagement with personalized and targeted push notifications that can
Convert visitors into real subscribers.
Engage users with push notifications that drive repeat traffic consistently.
Monetize subscribers that helps generate high revenue.
How It Works?
Here I would like to make you understand how to works with DatsPush. To start you need to create an account. While signing up you will be needed username, email-id, Telegram or Skype id and password. As you completed this, just sign in and you can access all functionality as per your requirement.



If you want to buy push traffic, choose advertiser and if you want to sell on Push subscription then choose publisher.



After making account, you will be redirect on the homepage. To start you need to add funds, click on finance segment and go ahead.
Adding Sites
In this segment you can choose one option as you need. You can add or create your site for the two different purposes;

A) I Buy Traffic & B) I Have a Site



In the segment buy traffic, you need to fill required details such as; Site name, category, payment type and post-back url. Interesting thing is that according to the category of your site, you can see the preview of landing pages and choose one of them that suit your website.



If you have your own site then click on "I have a site" option then you will get two ways to enter your site http and https these hyper text transfer protocols allow you-

For http:-
1. Subscription is carried out in 2 clicks: click on the JS banner, then the subscription in the frame

2. It is possible to work with both CPA and RS.

3. To customize the script for your site, you may contact the manager

For https:-
1. Subscription is carried out in 1 click (CR is about 15 %!)

2. Work only on RS is possible

3. When you remove our script from the root of the site - all subscriptions are lost

Note: If you have your own site, choose protocol. For https sites you can work only by RevShare.



Click on create and create your first campaign as a webmaster.

Then you have to get a code for placing it on your website. To do this, you should push the get code button as shown below



Place that code on your site and get some additional profit.

Important Things:
1. Category does not affect anything. Choose any you like

2. Collect data in audience-you can collect people who had clicked your creative's before.
Payouts
In this segment you can check all your operations history and status of payments and compare the payment you earned weekly, monthly and yearly.
Rates
Here you can check the price rates worldwide. This option shows a list of countries along with Desktop and mobile price rates so choose the country need to target and you will get the price rates for your mobile and desktop.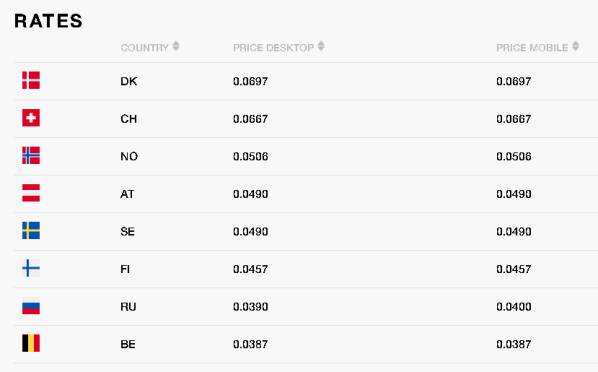 Statistics
One of the most important segments that describe entire analytics or statistics about your traffic along with significant categories like; comparison, your all sites, countries you targeted, devices, running platform, browser and so on, you can even add more sub-categories you would like to add as per your requirements.
Rules or Demands for Website By DatsPush :-
Site must be on paid hosting.
More than 500 unique visitors per day.
Partner must provide guest access to external site statistics (for example, Liveinternet or Google Analytics). Management and Support have a right to request access from closed sections.
The code you place on a website should be the code that was specifically generated by our system for this specific website (you can do it in your account). Placing our code on a website that is not registered in our system, or placing a code generated for one specific website on a different website is strictly forbidden by our Rules. System Administration reserves the right to ban a publisher in case violation of rules occurs.
These are the criteria you need to fulfill before adding your site to DatsPush.
Support :-
By clicking on Ticket section, you can generate or raise the issue you have been facing, from Datspush you will get tickets for each problem you suffer while functioning the DatsPush.

If you have any question regarding campaign? You can join them in Skype and in Telegram channel

For Skype: Live:datspushweb
For Telegram: @datspushweb
Why Choose DatsPush?
I came to know top reasons which tell about the defining benefits of using DatsPush and I mentioned the main reasons that may switch you to choose this push notification network
High CTR (Click Through Rate)
Huge Volume
Low Bids
Fast Set up
Additional Monetization
Daily Payouts
100% safe
Running Telegram channel (@datspushweb) so that publishers stay connected and get all important updates
Advantages for Publishers
DatsPush gives an additional opportunity to publishers to monetize their websites. Here I listed advantages for publishers are-
Get wide range of landing pages with CR up to 15%
Works on all geo locations
Accepts http and https websites
Use scripts that are easy to configure
CPA or RevShare payments
Get 75% of every click made
Stable and secure net7 payments
Prepayments to the trust establishments
Individual conditions for publishers with their own websites
High traffic volume
Easy to understand and accessible live statistics
You get 3 push notification types to monetize your traffic
Payments Models
You can order payments in payouts. Minimal sum is $50. There are two types of payment models defined by DatsPush:

1-CPA
Earn fix payout for each subscriber according to our GEO-based rates table

2-RevShare
Get paid for every ad-click, made by your subscribers
How Much You Can Earn?
It depends on quantity and quality of your traffic. By CPA model payments will start from 20$ for 1000 push installs. By the revenue share base rate is 75% of click price, which is paid by advertiser. Want to make profits bigger? No problem with that, DatsPush can raise rates on both models.

After a complete review, I came to the conclusion that if you are looking for a push notification service provider, then you may switch to DatsPush and get hassle-free way to monetize your website.