This is a review of FatJoe - no, not Joseph Antonio Cartagena, AKA FatJoe the Latin American rapper; FatJoe, one of the biggest SEO agency suppliers around right now. FatJoe offer a range of services to SEO agencies that can benefit their bottom lines substantially when used consistently and in harmony with other SEO techniques. But before we go into all of that - who are FatJoe?
Who Are FatJoe?
FatJoe call themselves a 'link building buffet for SEO agencies'. The company offer services like content writing, infographic design, press releases, and much more, claiming an 'a la carte' service. It is possible to pick and mix your services from FatJoe and create the perfect campaign for your business and your goals - much like you'd create the perfect plate if you were attending a real life buffet dinner. FatJoe have grown substantially over the last few years and have earned mentions on MOZ, BrightonSEO, Pubcon, and more. They are making waves within the SEO industry and with good reason.

The company was founded in 2012 by two Joes, hence the name 'FatJoe' (although neither one of them fat). FatJoe quickly became one of, if not the fastest growing outsourced Link Building and Content Marketing Agencies in the world, working with more than 1,000 Agencies in 12 countries. The team produce more than 5,000 link placements every single month.

FatJoe offer their tailored services along with an agency order dashboard and downloadable link reports so you can track your results and get a good idea of exactly what's going on behind the scenes. They also offer free SEO tools that are extremely useful for SEO agencies and clients alike.

FatJoe services are almost always delivered on time as promised, and you can expect 90% of emails to be answered within a few hours. They claim to offer unrivalled customer support, and do tend to respond in a timely fashion when a customer has a query. FatJoe are so confident in their service that they put their face on it - you can check this out on the 'Meet The Team' section of the website where you'll be able to see the designers, copywriters, and 'support ninjas' for yourself.
FatJoe Services Overview:-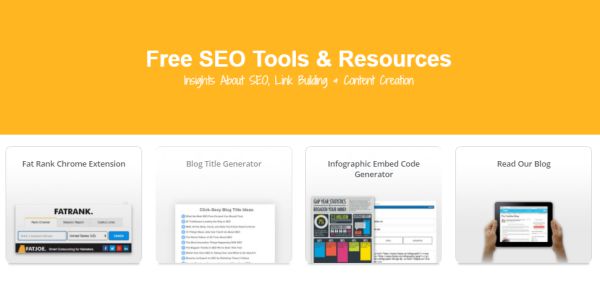 The link building services that FatJoe offer are designed to give natural link mentions to a website, mimicking natural distribution as it would happen over a period of time.

These mentions are used as signals of trust by Google and other search engines, and they will determine how visible your web page is within search results. The services that the team offer are all sold individually, so you can control everything from your anchor texts to your link quantities to make this the perfect service for you.

You will have full control over the link building profile that you are aiming to create for your website, and be able to track every minute detail so you can figure out what steps to take next. You can read more about the services they offer in detail below:
Link Building
Blogger outreach - blogger outreach is the process of creating relationships with blog owners in order to promote content, businesses, products, and services. FatJoe work to create a piece of content in collaboration with the blog owner and within this content is a mention of your website, product or service that is used naturally within the text. This is a positive link mention and provides a signal to the search engines that works in harmony with other SEO factors, and it should help to improve your visibility. This works well as it provides a quality piece of content for the blog owner and you get to build a quality link profile.

There are many benefits to using the blogger outreach service, including mentions from 100% Real, genuine blog owners, all of the content writing is handled for you, being able to manage and track results within a dashboard, and being able to export full placement reports.

This is often used as a recurring link service by agencies and businesses to get even better results over time. FatJoe will happily spread out your placements and mentions so that they continue to appear natural.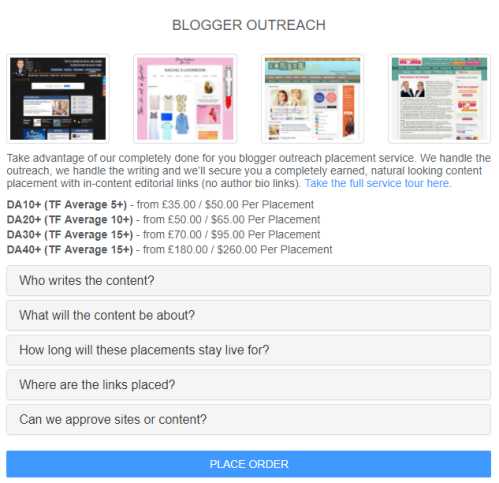 Local business citations - local business citations give you submissions in directories such as Yelp, Foursquare, and Yell. Around half of these provide a link back, and half of those will be dofollow. These help to back up your businesses' NAP profile, so that they perform better n local listings. They are also a great foundation for any link profile at the start of a campaign. The service is 100% manual, and can be used in UK, US & Australia & Canada. It is consistent, and suitable for local or national businesses. You can choose up to 100 submissions.

Press release distribution - a press release distribution submits a newsworthy press release to multiple media outlets that provide you with links back to your website. The good thing about a press release is that they may be republished for months, or even years in the future. They can provide instant online exposure, are a great way to give announcements, generate many link mentions, and can be included in Google news.



Infographic promotion - with infographic promotion you have your infographic shared on blogs, providing link mentions from bloggers. These blog owners are 100% genuine, and the FatJoe team will write the introductory content if you need them to. You can select the DA and metrics to suit, further customising your campaign with FatJoe.
Content Creation
Infographic design - FatJoe will promote your infographic, but if you don't have one, they will design one for you too. An infographic is a visual piece of content that is designed to give off easy to read information on a topic related to your industry. There are options from basic to platinum infographics to suit any budget and requirement.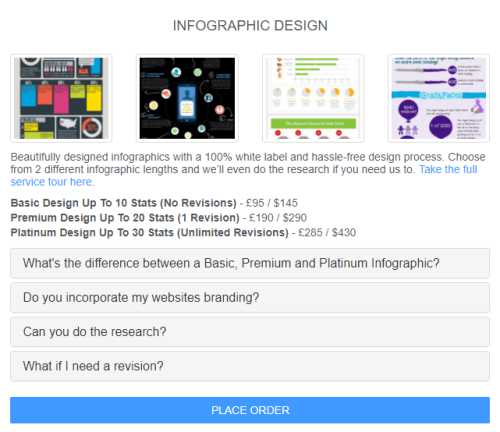 Content writing - whether you want to write some content for your home page or a number of short product descriptions, FatJoe can take care of that for you too. You can select keywords to be used and the word count to ensure that it's perfectly suited to your website and helps you to achieve more traffic and conversions

Seo Tools
On the FatJoe website you'll find a few free and effective SEO tools that can be used by agencies and clients. There's a keyword rank checker, blog title generator, and infographic embed code generator.

The keyword rank checker is called FatRank and has over 17,000 users to date. This tool is used in 58 countries and has over 500,000 searches. This is a user friendly app that you can download on your favorite device and use to track keyword rankings across multiple websites. This tool will be free forever!

The blog title generator is useful for those who prefer to write their own content or at least want to come up with the concept themselves.

Simply type in the main keyword that you want your title to be focused around and you'll be presented with 10 titles that you can play with to come up with something awesome and unique. You can continue to refresh the generator if you don't find anything you like, so you should never run out of inspiration for your next blog post.

The service is 100% white label and the content is all written to order, so you can feel confident when purchasing from FatJoe.
FatJoe Plans & Pricing:-
As FatJoe's services are tailored to fit the client, the prices vary wildly depending on the service selected and the level of service required. Basic services are available for each service, but you also have the option for selecting more stats, sites with more domain authority, and similar things if you have a larger budget to dedicate. Ultimately, you can use FatJoe's services in a way that suits both your business/agency and your budget.

Plus, with services like infographic design, they offer a 100% money back guarantee. If you're not happy with your design for whatever reason, you can contact the team for a full refund. They understand how tough it can be to decide to work with a company like theirs, and that's why they want to give clients a great incentive to try them out. There's really nothing to lose.
What's Good About FatJoe:-
It's not hard to see how SEO agencies can benefit from the services that FatJoe offer. Here's a quick rundown of some of the benefits you can expect to enjoy if you decide to outsource to them:
White label reporting
Quick turnaround anywhere from 7-28 days
Pay As You Go
Complete control so you can build your campaigns however you like
Access to free SEO tools
An order dashboard to manage It all in one place
The tried, tested & trusted methods FatJoe use help SEO agencies to get results for their clients. You can use the services as little or as much as needed. You benefit so much more from outsourcing these services, as there's no need to hire extra staff, no training needed, and you get access to newly developed services. It's much quicker that doing it yourself, and you are able to focus on your core processes rather than take your attention away and water down your efforts. This usually works out cheaper in the long run too, although the ROI you get from this is more than worth the investment.

FatJoe's services will help you and your clients to increase visibility and conversions, generate more leads and customers, and enjoy better website traffic.

If you use the services on offer continuously you can expect to create more credibility and improve brand awareness across the web, strengthening your online presence and getting even better results over time.
What's Bad About FatJoe:-
Of course, there are cons to working with any business, so it's only right that we discuss the cons of working with FatJoe too
Limited Products/Services
Depending on what you need and what your goals are, there may be limited products/services offered, as FatJoe are a very niche business, so you may have to outsource to multiple companies if you'd like other elements of your SEO campaign taken care of too. FatJoe are not an SEO agency.
Fewer Customisation Options
You may find that there are fewer customisation options than if you were to take care of these things all by yourself. That being said, FatJoe do offer as many customisation options as they can.
Less Transparency Of Processes
As you're outsourcing, you will get less transparency of processes. An in-house team would be able to keep you up to date at all times, and explain to you exactly what is happening. This is something that you need to be ok with not having if you're going to outsource.
All of the above mentioned things are to be expected when you choose to outsource services like this, but they are worth carefully considering to ensure that what FatJoe offer is right for your business or agency.
Final verdict :-
If you're an SEO agency looking to get the best results for your clients, or a business who is taking matters into their own hands, you can definitely benefit from working with FatJoe. You'll save time, usually save money (and make more money in the process), and be able to impress your clients with their well thought out campaigns.

You won't need to hire an in-house team, undertake any training, or spend more time than you need to. The benefits of working with FatJoe far outweigh the disadvantages, which is exactly why they are the biggest SEO agency supplier around.