Total theme is a complete WordPress theme for building high quality websites that attract users. It makes the process of creating WordPress powered websites easier.

Moreover, you can download theme demos and change it to fit the needs of your business. All the demos that you can access make use of core Total features and are optional.

Thus, you can start building your website creating journeys from scratch if you prefer.

Moreover, you get access to many more features like section templates which makes it easier to create attractive landing pages for your websites.

You also get the opportunity of using popular plugins for your website that makes it efficient and slim. Your site is not bloated up and you get a quick response time out of it.

The builder elements are also fully customizable and you can change it based on your needs for the business website.

All in all, the Total theme has many features that users love to experiment with and implement for their businesses.
Ready To Use Demos :-
There are many different designs to choose from for your websites. Some of the designs that you will get at total includes the following:
1. Base
It is a top selling WordPress theme where you get many features like.
Free updates and a good support team.
Customization scalability is high.
Drag and drop page builder for easy build and layout.
Advanced and responsive website design.
SEO optimized.
Browser compatibility.
2. Bolt
You get professional designs based on your needs without any compromise on the quality. The features include
Security monitoring for high level synopsis overview of corporate strategy.
Fast Integration for efficiency.
Possibilities of development in every direction.
3. Boomerang
You can take your business to the next level at an affordable rate. It includes high level security, speed and personalization. The features include
Professional service.
Integrations to make working more efficient and less tiring.
Top notch security, speed and customization based on business needs.
4. Corporate
It helps you focus on different aspects of your business while the website department is handled here. It includes
The methods of succeeding in the market.
Global optimization.
Tracked and responsive campaigns.
100% customer satisfaction.
5. Web developers
Highest quality website development service for business of different industries. The features are
Global service.
Best rated designs.
Complete customer support.
Apart from the ones mentioned above, there are many other custom designs that you can use for your business. You can get the complete details on the website.
Theme Installation And Guidance :-
It is not uncommon to have doubts about the theme installation process. You can access the total docs section and refer to the steps mentioned there for different sections. It is a simple process if you know the proper details.

They not only have written instructions but also video instructions to ensure that you are properly guided throughout the process.

A single misstep can make you reexceute the entire process and mess it up. So following all the minute details provided in the written and video instructions are the best course of action for efficient and effective application of the themes.

There are also other steps for different issues that you might face. All of it are properly explained and the solutions are present in the recording.

So you can effectively do your own work without depending on others.
Features :-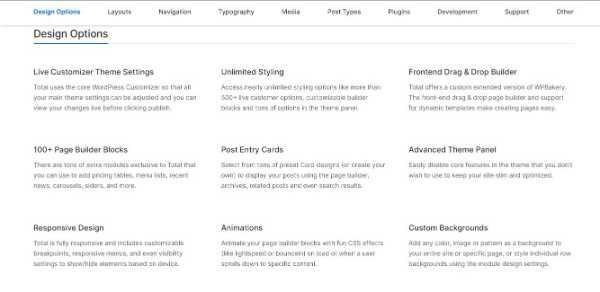 This particular website theme is named totally because of the presence of integrated features that are needed to create efficient and high-quality websites for businesses.

Some of the features included with total themes license are:
1. Design
Live customizer theme to adjust all the main theme settings. You can also view your changes live before publishing the website.
Unlimited Styling: access to 500+ styling options, customizable building blocks, and numerous options in the theme panel.
Frontend Drag and Drop Builder makes creating pages easy with dynamic templates.
100+ page building blocks to add pricing tables, menu lists, carousels, sides and more.
You can select from numerous card designs to display posts even using search results.
Advanced theme panel allows you to disable core features that you do not want to keep on your site.
The design is completely responsive with customizable breakpoints, visibility settings for different devices.
Animations allows you to animate your page at different positions to make the user experience interesting.
You can add any kind of colour, picture or shape for your entire website background or just for a page in it. The module design settings can be used for it.
With the built-in page settings, you can add custom title backgrounds or choose default backgrounds from the live customizer.
2. Layouts
There are many different kinds of layout available in the total theme. You can choose the ones that suit you best and go ahead with it. The features available here are:
Choose either a boxed or full width layout for your website from the customizer.
In total you get access to easy options for managing your content layout either globally or on a page basis. Moreover, developers get access to extra settings for customization.
You can create your own layout for any kinds of posts.
Total allows you to create impressive landing pages and single page sites.
Advanced but easy to use features for main sites, backgrounds, and many other page customization features.
3. Navigation
The advantages and services that you get under this feature includes
Different header styles.
Local scroll for navigation.
3 built in Mobile menu styles for responsive websites.
Simple mega menu with numerous page links.
4. Typography
It is an important feature for custom fonts, font weights and many more features that makes your website more attractive. It includes:
5. Images and Media
It is an integral feature to attract users to your site and engage them with your content and the media uploaded on your website.
Retina image support.
Custom image cropping size for your business.
Image overlays to either chose from numerous options or creating your own ones using the developer API.
Add responsive light box overlay windows with images, videos, etc.
6. Post types
Use it to apply to different types of posts so that your website does not look monotonous. The different post types are:
Use the meta box options to create your own portfolio posts.
The staff post type allows you to display your team in an effective and powerful way on your website.
Using the testimonial post type, you can add real customer reviews that can be inserted on your page.
Unlimited post types provide complete integration for your WordPress website.
7. Bundled Plugins
Includes many different kinds of features like slider revolution, WPBakery, Templatera. It helps you manage page layout with different features that makes your website unique and help it stand out.
8. Compatible plugins
It includes features like Woocommerce, bbPress forum, The Events calendar, Yoast SEO, Unlimited Addons, Jetpack, Akismet Antispam, Contact forums, Learn Dash LMS, Post types, WPHelper, TabelPress and many more popular plugins for different functions.
9. Development
It includes speed optimization feature along with filters and hooks, child theme, Translation feature and many other services. These are premium plugins needed to make your website more compatible and accessible.
10. Support
There are many support features present for the total theme including online documentation, comments and email support and other kinds of support services for customer satisfaction.
When you use Total theme then you get access to many other features like custom login pages, Post series, etc that makes your experience smoother and easier you can find more feature details here.
Pricing and Packages :-
Total theme is cost effective and affordable for businesses of any industry and scale. You can implement all of its features in an effective manner that will be beneficial for your long-term goals.

For complete details on the pricing strategy, you can visit their site and check it out. It varies based on your requirements and the service you choose.
Why should you choose the Total theme? :-
The total theme is maintained by WordPress experts for more than 15 years. The WPExplorer runs popular WordPress related blogs and they have been in the business of developing free and premium themes for a long time.

You should not settle for less and choose a company known for its attention to details. The attention to attention to details is not only regarding the different aspects of their product but also to understand the consumer demand.

The total theme provides an all-in-one solution to businesses in an integrated package with high level coding standards.

You get good security and many support features that make your experience with Total satisfactory.

Websites are important for any kind of business. It helps attract more customers and make you stand out to your consumer base. Basically, it gives you an edge in the market. So stop thinking and doubting your website building decisions.

Join the thousands of people who already use Total theme for their websites. They not only love it but recommend it for others. Visit our site for further details.