With SeekaHost India, you get every tool to create, manage and grow your business website. Their hosting servers power the websites on the internet with 24/7 live chat support and a complete uptime guarantee.

The company was first started in the UK and soon made a name for itself as the most trusted service provider.

Thus, SeekaHost India became a leading service provider of shared hosting, dedicated hosting, VPS hosting and reseller hosting. Moreover, they have international server locations to make websites load faster.

Nevertheless, they have cheap starting plans for all hosting packages and also provide discounts for annual subscription. The reason behind their growth is:
Best website hosting support by professionals who have the skills to guide clients and solve their problems.
Customer loyalty with more than 15000+ clients globally with 3000+ domain registration in a year and 20k+ websites.
Best web hosting platform through speed and security with the use of advanced technologies.
SeekaHost India Hosting Packages Overview :-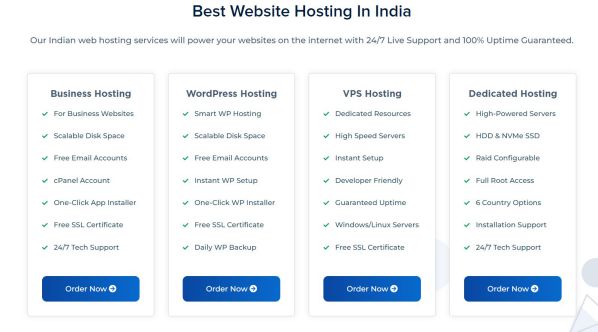 SeekaHost India offers a range of hosting packages with top quality performance and at a reasonable price.
1. Business hosting: The features are:
It is for hosting business websites.
Has scalable disk space.
Access to free email accounts.
cPanel account.
Availability of free SSL certificates.
24*7 technical support.
2. WordPress Hosting: The features includes:
Smart WordPress hosting.
Availability to scalable disk space.
Access to free email accounts.
Get instant WP setup.
Presence to one click WP installer.
Availability of free SSL certificates.
Daily backup.
3. VPS Hosting: The features includes
Dedicated client resources.
High speed servers for better loading speed.
Instant setup.
Developer friendly.
Guaranteed uptime.
Windows/Linux servers.
Access to free SSL certificates.
4. Dedicated hosting: The features includes:
High powered servers.
HDD and NVMe SSD.
Raid configurable.
Full root access.
6 country options.
Installation support.
24/7 technical support.
In India, the SeekaHost website hosting service is dedicated to providing a completely Indian hosting service. When you host with a local hosting service provider with an international brand then it gives you some added advantage.

With SeekaHost India, one can easily register their domain at a cheap price with the best hosting packages in India.

Their team of experts guides you through the process of starting an online business with a quality knowledge base.
Get Everything You Need With SeekaHost India :-
When you host with SeekaHost India, they offer a range of features that is everything one might need for quality hosting. Some of the features that you get at SeekaHost India are:
24*7*365 Support
As a client of the company, one gets 24/7 live tech support for web hosting all year around. With SeekaHost India, you get multiple options to contact the support team either through calls, chat or email.
LiteSpeed servers
SeekaHost India provides latest technologies for web hosting with optimized server resources. It speeds up the website performance for better user experience on websites.
Free SSL certification
At SeekaHost India they provide free SSL certificates for websites hosted with them. It is an advantage for the website SEO and secured communications.
Secure Email
With SeekaHost India you can host your email on the same server or get a separate hosting plan for security.
Scalable
SeekaHost India provides unlimited web hosting space on specific packages. The business web hosting package usually comes with a scalable space.
Money back guarantee
They provide a 7 days money back guarantee if clients are not happy with their hosting services. Thus, you have nothing to lose when you buy one of their plans.
SeekaHost has servers set up globally and clients get the option of choosing a country where they want to host their website.

If the clients need an international location for hosting, then it is made possible for them by our team.

But to host at an international market, you need a close proximity to the market. So, check out the hosting packages and get guided by an expert consultant to choose the right package based on your requirements.
Advantages Of Using SeekaHost India :-
Unlike any other web hosting company in India, SeekaHost provides the best services and support. There are many advantages for using their hosting packages.
A 99.99% guaranteed uptime on web hosting services for a smooth hosting experience.
Best bandwidth speed for a super-fast website and SeekaHost India is famous for its fast internal hosting service.
Use of the latest servers in data centers located around the globe. Clients get the nearest server to business when choosing a hosting package.
Well-designed powerful system with top notch security. So, clients can peacefully run their websites without any worries.
Small Business And Startup Website Hosting With SeekaHost India :-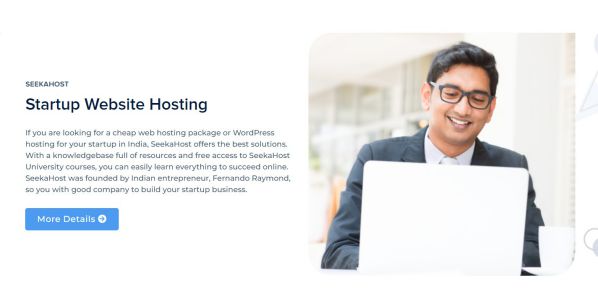 SeekaHost India provides cheap web hosting packages or WordPress hosting packages for Indian startups or small businesses.

You get the best solutions with them. With the support of their experts and the SeekaHost academy, one can learn whatever they want and succeed online.

They have hosting packages where one can pay monthly and one can start with a small hosting plan. Later on, if needed then one can scale the plan and grow the website.

If there are any questions regarding hosting or you need some guidance then SeekaHost provides support to start your website.

The company helps Indians make their presence on the internet. SeekaHost India also provides easy to use website hosting control panels to make it easy for anyone (new blogger or business owners) to succeed online.
SeekaHost WordPress Hosting :-
It is possible to shift to SeekaHost faster hosting with other companies. If you are not happy with a service then SeekaHost India helps you build your own WordPress website and get started with hosting.

When you choose SeekaHost then just select a package from their website and you get complete no cost support from their team to transfer your website to their servers. They also provide domain services and help clients get new websites.

At SeekaHost you get one of the Best WordPress website hosting service in India. With them you not only save time but also money with a boosted performance.

There are many WordPress hosting available in the market but with SeekaHost, you get a custom hosting plan with the help of their support team. They guide clients to create a tailored website hosting solution after proper website analysis.

When you start your hosting journey with us then we ensure a guaranteed customer satisfaction.

If you want a local solution for your website hosting services then switch to SeekaHost. There are many advantages of hosting with a local service provider that has an international brand.

Get full support from the SeekaHost team during migration from other hosting platforms. Host with SeekaHost India to experience the world's best hosting service.
Why SeekaHost India :-
If you are new to the marketplace of online industry then the team at SeekaHost provides support and guidance to start a website and provide personalized support as well as access to SeekaHost University.

It helps clients learn required details to grow their business online. Apart for that with SeekaHost India, one gets complete customer support 24/7.

There are options of live chat support, client area or tech support for clients to solve any queries.

The company works with the goal of providing amazing services and an opportunity to do business internationally. SeekaHost is helping Indian businesses thrive internationally in the digital economy.

It is also the best hosting platform for small businesses and startups that provides affordable solutions.

They have the best support team and experts to guide clients through the entire process. SeekaHost has a global presence and with their help clients can succeed on an international level with access to the required tools.

At SeekaHost India, clients get a user-friendly interface that makes it easy to manage websites and blogs.

With SeekaHost you get the most trustable and user-friendly control panel with a good user experience. The system is also quick and easy to understand with a responsive and uncomplicated system.

So, with litespeed servers in premium packages, clients get SSD storages to make operations quick.

In 2016, SeekaHost entered the Indian market to provide affordable services at the best possible price. But the quality of service is not compromised by price.

With a commitment to offer domain registration and hosting, SeekaHost has become a leading hosting company in India. The website hosting services are tailored to provide best performance for business as well as personal use of clients.

At SeekaHost India, you get various hosting packages to suit your needs and budget.

Be ahead in the market with the web hosting market leader SeekaHost. Experience the best performance for your website with the help of SeekaHost.

They help you with domain registration to successful conversion/traffic generation. The different services at SeekaHost India includes:
Domain name checker options to have a unique domain for your business.
Superfast website hosting on Indian servers to provide good user experience with a fast load time.
Get a secured green lock on the website URL and increase the trust between the website and its visitors with SSL certificates.
Availability of online marketing services to get potential clients through digital channels.
Conclusion :-
In conclusion, SeekaHost has a vision to enable anyone to access the web hosting services and grow as the one of the best web hosting company in India.