In today's era, There are so many web hosting companies that provide a lot of additional features.

For the same purpose you can Check out another very helpful hosting company that is HostingRaja. It's profile Is for both optimised and convenience perceived usefulness.

HostingRaja is a website hosting provider company that offers a website space on a web server to store its files.

It has different plans and pricing according to your budget so you can choose whichever plan you required.
About HostingRaja :-

HostingRaja known for providing a good quality of server technology and the management style is very well executed. This company provides extra services that are available to distinguish it from the rest of the service providers.

HostingRaja started in 2012 and in in just 9 years they are one of the best and leading web hosting provide in India and other countries with more than 1,50,000 customers all across the globe.

HostingRaja offers multiple hosting services like shared hosting, VPS hosting, Dedicated hosting, cloud servers and other services like G Suite seller, website builder, Domain registration service etc.
HostingRaja Affiliate Program :-

This company is providing the user with upto 10,000 INR bonus if you just sign up for the website. It varies according to the traffic that your website encounters and also you will get commissions that 10% every time someone from your referral link buy the any hosting plan.

It also enables the website owners to earn more profit this way and that's indeed a good deal. This is where you can join HostingRaja affiliate program
HostingRaja Features/Services Overview :-
Fast And Secure
The company really does provide a fast and secure feature. Hosting Raja is a free, quick, and convenient application.

It is customized for Devices such as desktop and even for smartphones, provides customized options, services and convenient access to your favourable features, downloads, and constructed Search and other suitable plans.

HostingRaja is built to be one tap away from all of your needs and requirements. Straightforwardly from the quick access page, you can access your suitable plans without any wastage of much data.

It also secures your data and prevents any unwanted party to access your data.
Inbuilt Cache And Cookie
The HostingRaja has an inbuilt cache and cookie feature for safety purposes. When you enter a file via your web browser, it is cached (that is, saved). As a result, each time you press the Back or Forward buttons.

The application does not have to reload files from the remote web site. To make your application run faster, the catch is automatically removed by the HostingRaja application on even a regular basis.

And cookies are also removed as it's a text file that is generated by a web browser and stored in the database at the demand of a website. Customer details, such as form choices, preferred data plan cart contents, or integrated security, are normally stored in these files.

Cookies that exceed a certain age are usually cleared by browsers, but removing them automatically can solve things with websites or your app.
Cache Optimised
Cache memory is a simple necessity; researches indicate that high processing speeds will only be used if instructions and data throughout processing can be retrieved rapidly sufficiently.

The frequency of ordinary storage really hasn't kept up with those of processors. The quick memory was designed as the front to generic system memory to fuel the machine at faster altitudes, given the observed reuse between program and data.
JS/CSS Compression & GZIP Compression - Faster Loading
A one-stop shop for improving the efficiency of the website GZIP compression and website caching are allowed by this extension and Hosting Raja is providing their users with this support all's well.

This would also delete any unwanted files from your website. This software can also customize photos to save storage. GZIP compression is a common way to compress website files, such as HTML, CSS, PHP, and JavaScript.

Although users can access compressed data rather than packed files, thereby increasing their access speed.
Static Content - 5x Faster, Dynamic File - 10x Faster
This website also provides Static and dynamic content. Static content feature of a website is very important as it provides website content that is consistent across websites.

Some of this could be served from a database, but the content would be consistent across all sites. Whereas the Dynamic content refers to website content that isn't static and reacts differently to user feedback.

For example, all product information such as Original Brand, Cost, Amount, and Explanation are stored in the database and retrieved whenever a user visits a manufacturer's website. Both the features are a must have for a website.
HostingRaja Plans & Pricing :-
HostingRaja served in three categories Gold, Silver & WordPress Silver in affordable hosting plans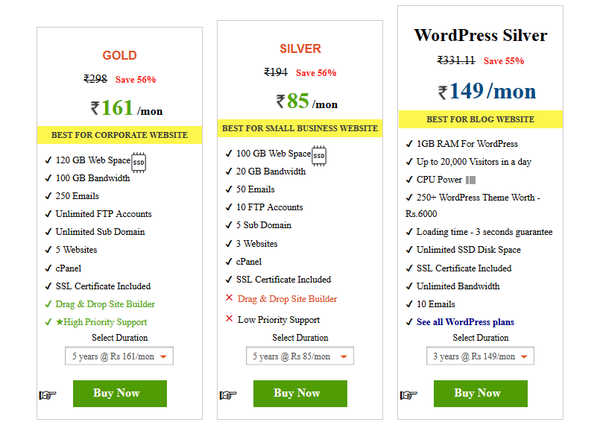 Gold Plan :-
The gold plan comes up with a 120 GB Web Space SSD. It also has a 100 GB Bandwidth for better convenience. You can send upto 250 Emails At a time. It has Unlimited FTP Accounts.

They also provide Unlimited Sub Domain. You can access upto5 Websites. cPanel and SSL Certificate Included for additional support. It has Drag & Drop Site Builder and High Priority Support which is very important.
Silver Plan :-
The silver plan have 100 GB Web Space SSD. It has 20 GB Bandwidth and you can send upto 50 Emails at a time. You can have 10 FTP Accounts along with 5 Sub Domain.

It is providing you 3 Websites. cPanel and SSL Certification is also Included. Unfortunately It does not have Drag & Drop Site Builder and low Priority Support.
WordPress Silver Plan :-
Wordpress silver has 1GB RAM For WordPress. It covers Up to 20,000 Visitors in a day. It has a great CPU Power. You can have upto 250+ WordPress Theme Worth - Rs.6000z. You can send upto 10 Emails at a time.

The Loading time is 3 seconds and it's guaranteed.it also provides you Unlimited SSD Disk Space. It is an SSL Certificate and it has Unlimited Bandwidth.
Apart from these plans HostingRaja also offers premium hosting plans like Premium Corporate, Premium SME & Unlimited Plan for more details check out the below.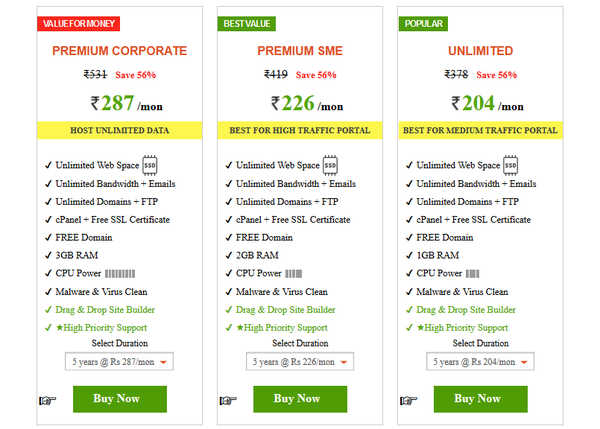 Some Of The Advantages Of HostingRaja :-
HostingRaja provides data backup features as it's essential to have a Web host that corroborates your site and server files at least once a day. If you accidentally delete or corrupt important information, you'll need to back up your data so you can quickly.
HostingRaja has its Tech support personnel who will assist you in resolving problems that arise when attempting to get the site up and running. Hosting providers can provide support via phone or email.
It also has a 404 page configuration tool that is also included with your Web hosting package of HostingRaja, and it's allowing you to use your own style, text, links, and labelling to direct visitors to both the details they need on the site.
It also provides a different number of emails services as per the chosen plans. The maximum number of emails that you can have is 250.
The data in GB is also provided by the HostingRaja and it also varies as per the availability of plan you chose as per your needs and requirements.
Conclusion :-
Identifying the appropriate hosting company like HostingRaja provides a hosting plan that offers the tools you need to keep your site running easily and consistently for the visitors.

If you want to build an online presence, you'll need secure web hosting. Currently, there are probably hundreds of web hosts offering thousands of different web hosting but HostingRaja is one of the best among them.

The Initiatives range from free with restricted options to costly business-focused web hosting services. It provides so many packages you select will be based on how you want to use the website as well as how much money you already set aside for hosting.

Consider however many companies now work exclusively online, with their sales and company leads coming from the website.

Prospective customers will not wait if they arrive at a website that has an issue, such as taking a long time to load or not appearing at all.

They don't have to worry as HostingRaja will host the best servers. It. Will leave the site in search of one that functions well and reliably delivers whatever they want.