Wordable.io is an incredibly useful product that lets you upload blog posts from Google Docs drafts directly to WordPress with the just click of a button.

You can write, edit, and collaborate in Google Docs, just like you normally would, and then important your posts into your WordPress account seamlessly. It formats the post just the way it was formatted in Google Docs, with clean code, and images and multimedia brought over as well. In addition, you can export posts to multiple WordPress sites (great feature for an agency or freelancer working with several clients).

For content marketers, agencies, bloggers, etc. - anyone writing more than a few posts a month - it is a huge time saver. If you publish a lot on WordPress, you're likely familiar with the annoying and repetitive problem of uploading and formatting posts. Depending on the length of the post, it could take a few hours each time. That time adds up (and it's not fun to reformat things again and again). Wordable solves that problem.

You've also probably tried work-arounds, such as copy + pasting your draft directly into Wordpress. Whether you copy + paste to the text editor or the visual editor, you'll definitely have noticed that it rarely, if ever, formats it correctly. You still need to spend quite a bit of time rewriting the HTML, fixing headlines, aligning images and captions, etc.

If you've done a bit more sleuthing, you may have found a plugin or two that attempts to solve this problem. Alas, these plugins are almost as buggy as the process of copy + pasting documents. The vision is right, but the execution is wrong. Wordable is really the only tool I've tried that actually gets it right - I can upload the doc and just press publish without worrying about formatting mistakes.

Simply put, Wordable lets you do what you do best: creating content. Why spend all that time doing administrative and boring work, uploading and reformatting your content repeatedly? I can't think of a single blogger or marketer that likes doing that. Whenever I can, I try to find ways to trade money to save time, especially time spent on undesirable tasks. Wordable is really right in the center of that bullseye (I can save 1-3 hours per post usually).
Wordable Features Overview :-

Blog Publishing
Blogging isn't going to die anytime soon (despite what any industry influencer says). Generally speaking, the faster your pace of content output, the better your blog is going to do.

The other factor that contributes to blog success is the quality of your content. While Wordable isn't going to magically make you a better writer, it may increase your blog output (by shaving off hour from the upload process). It may also give you more time to think, ponder, edit, and write.

So, maybe it will make your content better, too. Whatever the case, if you're a blogger, Wordable is for you.
WordPress
Wordable, of course, is anchored within the WordPress platform. You can manage several WordPress blogs from the platform, in the case that you work for multiple clients or have multiple properties where you publish content.

It also supports team accounts, so in addition to being a simple solution to uploading Google Docs to WordPress, it also becomes a control center of sorts for your publishing. While they don't have a scheduling feature, you do have a dashboard where you can see all of your drafts in Google Docs and search for them as well.

Wordable users have 2 ways in which they can connect to their WordPress websites. First, you can install a plugin to attach your WordPress website. Second, you can also simply use your WordPress login info to authenticate access to your WordPress property.

Once you've with success connected your website, you'll be taken to the documents tab wherever you'll read all of your Google Docs. Then you simply choose the post you wish to export and hit "Export to WordPress." The title of your Google Doc is automatically brought over, your paragraphs breaks seem even as they were in Google Docs and all of your text styling and alignment is the same way that it appears in Google Docs.

This allows you to use italics, bold text, underlines, and different headlines, and have that all uploaded to WordPress the same way. Pictures that were in your Google Doc file are going to be bulk uploaded to your WordPress post and are automatically inserted to your Media Library. The name of the image is brought over as well to save lots of your time attempting to optimize for SEO.

H1, H2, H3s once formatted in Google Docs get brought over via Wordable as well. Links automatically open in new window to save lots of you time data formatting links. Pictures even appear as they did in Google Docs. All the code looks pretty clean as well. Sometimes images take a long time to upload (but certainly not as long as manually uploading them).
Google Docs
Most people at this point use Google Drive for workflow and collaborative workspaces. Especially for writing, there aren't many better tools out there. Sure, some people use Dropbox Paper or Evernote, but most people write in Google Docs. The commenting functionality and formatting is just much better there.

Wordable lets you work how you normally would - commenting, sharing documents, etc. - and then just upload with the click of a few buttons. Clearly you'll have to have a Google account, sign in, and use Google Drive like you usually would.

However, once you've connected your apps via Wordable, everything is pretty smooth. You'll only have to authenticate your Google Docs account once, and hopefully your WordPress account as well, and then you just need to manage your docs from within Wordable.

The documents present in the drive can easily be exported to the linked WordPress blog along with all the links and associated pictures. Even the headings and paragraphs are as accurate as present in the Google Docs.
More Key Features Of Wordable :-
Content Management
Data Import/Export
Collaborative Writing
Group Posting
Post Management
WYSIWYG Rich Text Editing
Blog management
Wordable Plans & Pricing :-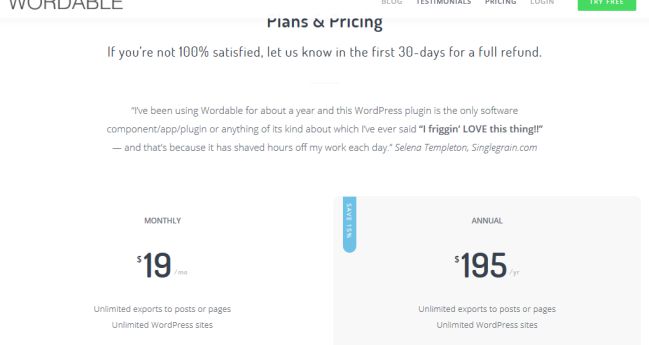 FREE(0$/month)
Wordable gives users a 24 hour free trial to feel the magic. The free version of the app feels a bit misleading; like most "free" things in life, it's not extremely free. The free version offers you 2 free exports along with your membership. The low volume does at least give you a taste of the software though. It's pretty easy to feel the "aha moment" pretty quickly here.
Standard (19$/month)
The standard plan of Wordable is provided to the users at a monthly charge of $19. When charged annually, users have to pay a sum of $195, saving a bit of money when you do the yearly plan. For this pretty low monthly charge, users get unlimited exports and unlimited WordPress sites to connect.

It's pretty democratic for small businesses and bigger organizations alike could post the maximum amount as they require for one flat rate. That's why I think, while it could be useful for solo bloggers (especially if they publish a lot), it's probably most useful for bigger publishing teams.

Think about it if you publish 10 times a week (or more?), how much time would you save if you spend 1 hour uploading normally. 10 hours per week, and 40 per month. Is 40 hours per month worth $20? It's a no brainer.

To be honest, even for me, if I'm going to save 1 hour per week (4 per month), a $19 price tag is a pretty easy deal for me. Obviously, if you don't publish enough, this isn't very valuable. Maybe they should have some sort of pay as you go or middle tier plan in that case? As it stands now, it's either a free trial or you pay the full cost.

But the full cost, for the unlimited uploads and documents, seems to be a pretty great deal for those making a living publishing content.
What's Good About Wordable.io :-
Perfect for large batches of content
For each individual blog post, you're not saving plenty of time with the tool. But if you've usually got a ton of blogs waiting to be uploaded, Wordable is going to save you a palpable amount of time. Understand that Wordable was pretty much built by content agencies for content agencies, or at least teams who publish a lot. So it's a volume game. The more you publish, the more valuable the tool is. Who likes doing that admin work anyway?
Formatting made easier
If you're a writer, you should spend time writing. If you're a marketer, you should spend time marketing. If you're a community manager, you should spend time managing your community.

Formatting text and pictures is boring. It's not fun, it's not even editorially important. It's wasted time.

The biggest benefit of Wordable is that it gives you this time back. Just follow best practices while writing your draft in Google Documents, and the tool will bring that same formatting to WordPress. It will look nice (even pictures). Wordable's dashboard (smartly) shows you a running calculator of how much time you'll have saved via uploading files and documents.
Time Saver
Save time. That's the benefit of Wordable. Some tools help you do your job better (think Google Analytics, Adobe Photoshop, or HubSpot). Some help reduce the amount of time you spend on a task (think Grammarly, Trunk Club, or Yoast).

Wordable is one of the latter. It saves you time, pure and simple. In business, time is money. In life more generally, nobody wants to waste time doing things they don't want to do. Again, nobody got into content marketing so they could spend more time doing repetitive administrative tasks. Wordable, pure and simple, is trading some money for the monthly subscription to get some precious time back.
Final Verdict :-
If you're a blogger, content marketer, or really anyone who publishes somewhat regularly on a WordPress blog, Wordable is worth the cost. It's a simple solution for a true pain point: the repetitive and boring task of bringing your Google Docs draft into WordPress.

Wordable, in a click, does this for you. It brings process from a few hours down to a few seconds. The price tag, under $20 a month, is pocket change for the amount of time you'll save. It's especially useful for large scale production.

If you run a content or SEO agency, or you're a consultant who works with many websites, it's a no brainer. But even for the solo blogger, it's worth it, just so you don't have to waste any extra time doing tasks that aren't creative and productive.