A client's business and personal data are protected by the lightweight, dependable backup program known as Uranium Backup. It is a complete solution that can meet every client's need, offered in both free and paid versions with lifetime licenses starting from just less than 80 USD.

Although Uranium Backup has a strong UI, it nevertheless manages to be simple and clear. Clients can immediately plan a backup. If there is a problem, a reporting mechanism will let the client know about it.

This online backup system provides backup scheduling, incremental backup, backup log, and encryption all in one location.

The user-friendly interface makes setting up a backup set quick and easy. Data is always in control because the reporting system will notify in the event of a problem. This saves your time and ensures security.

Commercial versions of Uranium Backup are also offered, together with upgrades and technical support.
About Uranium Backup :-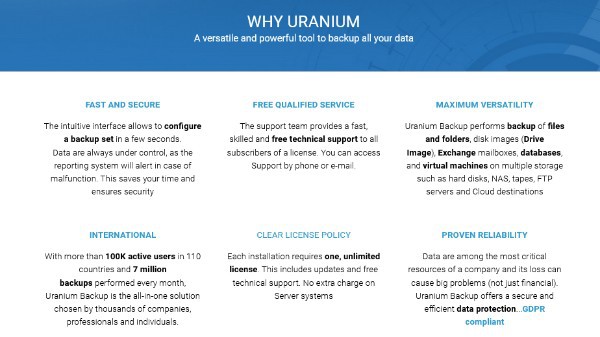 The most comprehensive and adaptable backup program is Uranium Backup, which can backup all of your data. Numerous individuals all across the world like this program. This online data backup program for Windows is excellent.

Users and organizations receive a user-friendly, economical, and extremely reliable cloud-based backup solution with Uranium.

Windows XP and later versions of operating systems are compatible with this Windows-based solution.

The greatest data recovery software is Uranium, which has been sold in over 100 countries and is available in 13 different languages.

Uranium Backup is a robust, user-friendly, and reasonably priced backup program. Users of Uranium can perform backups and control the activities related to it using a special and user-friendly interface.

This system supports a wide range of storage devices, including tape drives, NAS, RDX, external HDs, and cloud storage (Windows Azure). With its many features, Uranium assists with data protection with its attempted solutions.
Features Of Uranium Backup :-
SQL Server backup
The most trustworthy backup program for both personal and commercial data is Uranium Backup.

It enables the backup of files and folders (full backup, incremental backup, and differential backup).

Not all data are created equal. Although it's crucial to preserve files and documents, databases are a crucial part of the software we use; therefore, we need to take additional precautions.

The concerns of business users were taken into consideration when creating Uranium Backup, which also offers built-in support for Microsoft SQL Server database backup.

More specifically, it works with every version of Microsoft SQL Server, including versions 7.0, 2000, 2005, 2008, 2008 R2, 2012, 2014, 2016, Express Edition, and above.
FTP client
The FTP (File Transfer Protocol) network protocol enables file transfers between hosts over a TCP network.

It is a widely used standard that can be used to back up data and upload websites. An effective FTP client is included with Uranium Backup.

Drag and drop is an option for moving files and folders between the local PC and the server.

Additionally, the choices for backup locations are amazing. The backups can be kept using this system on any medium, including tape, cloud, FTPS, FTP, and SFTP.
Data Copy and Transfer
Any mass storage device, including external USB, Firewire, Thunderbolt, SATA, Ethernet, RDX drives, NAS, and SAN devices, can transfer files and folders from local paths or the network using Uranium Backup.

Uranium Backup offers a variety of backup methods that will protect all data, including disk images, databases, Exchange mailboxes, and even virtual machines.
Backup on Cloud
Utilize the adaptability and scalability of cloud backup by performing an off-site backup of your data using popular cloud storage services like Amazon S3, Microsoft Azure, OneDrive, Google Drive, and Dropbox.

Numerous cloud storage services, including Amazon S3, Microsoft Azure and OneDrive, Google Drive, and Dropbox, are accessible through the client.
Unlimited Backups
This free backup software's adaptability enables the configuration of backup sets with an unlimited number of object sources.

For uncompromised protection, Uranium Backup free can also copy data to many places.

Especially if you have a lot of software, you are well aware of how long it takes to install and configure applications on your PC.

In the event of a hard drive crash, virus infection, or irreversible operating system corruption, the Drive Image backup gives you the option of completely restoring your PC.
Zip Compression and AES 256-BIT Encryption
With Uranium Backup, you can schedule numerous, concurrent backups of databases on local networks or distant servers without affecting service (hot backup).

Enjoy powerful backup features like ZIP compression, AES 256-bit encryption & the ability to confirm the integrity of the backup file. SQL Server backup files can be copied to several locations.

Additionally, you can move them online to mass storage devices, transfer them to your online FTP server or Cloud, or keep them on tapes (NAS, SAN, RDX, external disks, etc.).

To conserve storage space, it efficiently compresses files and folders using Zip64.

Additionally, Uranium Backup supports the safe AES 256-bit technique for data encryption.
Advanced Scheduler
It is no longer essential to manually conduct the operation because Uranium Backup comes with a scheduling system that enables you to arrange the backup of your data at any moment. Enjoy the tranquility and more productive working days.
Plans & Pricing Of Uranium Backup :-
Uranium Backup is available in the free version & paid version. Here are the details for obtaining a free or paid version for Uranium Backup.
Free Version of Uranium Backup
You can obtain a free version of Uranium Backup from the company's website URL. It enables you to carry out a number of tasks including:
Countless backup copies of files and folders
Automatic backup scheduling
Compression of copies to save on storage capacity
Setting up email notifications for each backup's results
Backups should be encrypted to ensure their correct security
Paid versions of Uranium Backup
The cheapest paid versions of Uranium Backup support a number of backup options that are mentioned below. You may purchase it here.
Backup of disk images
Hyper-V and ESXi virtual machines' backups
Backup of important databases (MySQL, MariaDB, MS SQL, Exchange).
Additionally, a variety of backup locations, such as the cloud (OneDrive, Google Drive, Azure, Amazon S3, or Dropbox), Hard disks, FTP servers, tapes, optical discs, &NAS
Without registering, you can try the Gold edition for 21 days. It incorporates a subscription program as well.

All endpoints running the software must be monitored by Uranium Backup Professional in order to facilitate unified management and simplify the challenging work of data security.
Advantages Of Uranium Backup :-
The setup of the Uranium Backup service makes it possible to handle execution conflicts between two or more backups that can be running concurrently.

The service also increases Uranium's dependability because backups may be done even when no one is currently connected to the computer.
Fast and Secure
One can quickly configure a backup set due to the user-friendly UI. Data are always in control because the reporting system will notify in the event of a problem.

As a result, it offers a large amount of storage space as well as the capability to restore data to all servers when the business requires it.
Free Qualified Service
All license subscribers receive quick, knowledgeable, and cost-free technical support from the support team. You can contact the support team by phone or email.
Maximum Versatility
Uranium Backup is quite adaptable. It has a free version for backing up files and folders, but it requires a specialized license for higher needs such as backing up drive images, databases, and virtual machines.

Files and folders, disk images (Drive Images), Exchange mailboxes, databases, and virtual machines are all backed up by Uranium Backup on a variety of storage devices, including hard drives, NAS, tape drives, FTP servers, and cloud storage.
E-mail notification
It is possible to set up email notifications to various recipients with regard to all the information needed to function in case of a problem. Complete control is assured by Uranium Backup for complete security.
Clear License Policy
One unlimited license is needed for each installation. This includes free technical support and updates. No additional fees for server systems.
Proven Reliability
One of a company's most important resources is its data, and its loss can have serious consequences. Data protection is safe and effective using Uranium Backup.
Conclusion :-
As Uranium Backup offers a complete backup solution for both host and local servers, it is unquestionably a program that will be of great assistance to you.

It was created with both individuals and businesses in mind, and due to the user-friendly interface, you can set up a backup set in just a few seconds.

Looking for a powerful way to back up your photos, videos, and documents? Uranium Backup provides the ability to schedule automatic backups and enables for the backup of files and folders.

It is available for free and has paid editions!!SMEs and agencies can benefit from Uranium Backup a fully functional backup program. It offers end-to-end solutions designed for Web App.