In today's digital world, remote desktop connection software is a must-have tool for any business or individual.

For example, imagine you are sitting in your office and need to access your home computer to check on something, or there is an urgent problem with the server that only you can fix.

How can you see what's going on without driving across town?

Even if the problem isn't urgent and you don't need to access your home computer every day, it's nice to be able to use a remote desktop connection tool from time to time.

It allows you to get more done because you don't need to keep getting up and walking over there every few minutes.

It also prevents distractions from other tasks. Not only that, but remote desktop tools are a blessing for organizing as they allow all the devices to stay connected with each other.

So which remote desktop tool should you use?

This article will give you a quick overview of one of the most popular remote desktop software programs on the market.

In this article we'll cover the pros and cons of Supremo remote desktop software and find out if it is better than competitors.

Both of them are remote desktop utilities that make it easy for users to access their computers remotely from other locations.

We'll look at cost, ease-of-use, features, and other considerations to see which one is best for different users and different scenarios.
What Is Supremo?
Supremo is a remote desktop software that makes it easier for users to access their desktops from anywhere.

It supports multiple operating systems (desktop and mobile) and also allows you to manage all your remote desktops from one place.

Supremo makes it easier than ever to access your work computer from home, school, or wherever you may be.

And because it's a remote desktop tool, that means that Supremo's primary use case involves giving one user the ability to remotely control the desktop of another user.

It allows users to access their computers from anywhere, anytime, and from any device. Supremo also allows you to share your desktop with other people who need remote access to your computer for troubleshooting.

It enables users to instant chat during the connection and to share their desktops to collaborate on documents simultaneously. Users can also transfer files from one computer to another using Supremo.

Users don't require any additional software or plugins to use Supremo on either Windows or MacOS computers.

In this article, we will discuss what Supremo is, its features and benefits, and how you can get started using it today.
Features Of Supremo :-
Every software or tool has its place in the market because of its unique and useful features. Without such incredible features, a piece of software might not find its place in the list.

Therefore, here are some of the top features of Supremo.
Integrated File Transfer - Drag and drop
One of the highlights of Supremo is the integrated file transfer feature. You can drag and drop files between computers.

It's as simple as editing a photo with online tools. The drag and drop option is smooth and perfect. There is no need to install additional software on both ends.

It's particularly useful for transferring large files. Therefore, it is a great feature for business use. Not only that, but single users can also take advantage of this feature.
Cross-platform - It works with Windows, macOS, iOS, Android, and Linux.
Supremo is cross-platform and can be used with Windows, Mac OS, Android, and iOS. Linux is also supported, but using WINE.

This makes it ideal for service providers who work with computers of all types. There's no need to have different software for different operating systems.

Features such as cross-platform give Supremo an edge over its competitors. Large enterprises with different types of work models can seamlessly take advantage of this feature.

For example, an IT firm having a section of developers developing applications on MacOS with a section of programmers performing a cyber check on Linux. Supremo can be used on both seamlessly.
Encryption
Whenever we think about online tools, we often ask ourselves about security. It is one of those things where a user is ready to pay huge amounts.

Security should never be compromised. Supremo encrypts data during transmission. This protects it from being intercepted, altered, or viewed by anyone except the person who's intended to receive it. Supremo uses high-quality encryption standards.

Therefore, you can be rest assured that you have some of the best security here.
Unattended Device Access
One of the most talked about features of Supremo is Unattended Device Access.

But what is Unattended Device Access? Remote Laptops or Servers and other mobile devices might not have any user in front of them. This means these devices can be "unattended"

This can get tedious if you need to remotely access the device several times in a day. That's where the unattended device function comes into place.

With Supremo, you can login such unattended devices with only few clicks. This is useful if you want someone to be able to access sensitive information regularly and here is the guide you can check.
Supremo's Benefits :-
Even with top-notch and rich quality features, a piece of software is useless if it is of no use to the user. However, Supremo is not one of them. Here are some of the most cherished advantages of Supremo.
Simple Installation
Supremo is lightweight. The installation process takes just few seconds. You don't have to go through a ton of settings and options while installing.

This simplicity means that anyone can set it up without needing to call for assistance. This also makes it ideal for remote assistance.

There's no need to train the person whom you're helping. Also, you can check the available tutorials to understand the setup process on your own.
Online Reports
One of the major advantages of Supremo is the feature of online reports. You can now monitor your connections. You can see their work and progress.

However, it is not limited to your connections only but all the connections connected with Supremo, such as everyone in your organisation or remote collaboration.

You can monitor every device connected to the supremo.
Customizable
The interface can be tailored to your specific requirements.You can customize the language, colour scheme, and other aspects.

You can also add or remove buttons and features as needed. Therefore, you now have the option to customise according to your business needs.

There are many options available. You can check them out if you have Supremo, and if not, then you can explore them after the purchase.
Detailed tutorials on how to use it
One of the best advantages of using Supremo is that you don't have to figure out how to use Supremo on your own. The interface comes with detailed tutorials on how to use it.

You can check out videos and learn to perform functions. This is a great advantage as you might find some features that you don't know how to perform but yet end up being one of the beneficial ones.
Supremo Plans & Pricing :-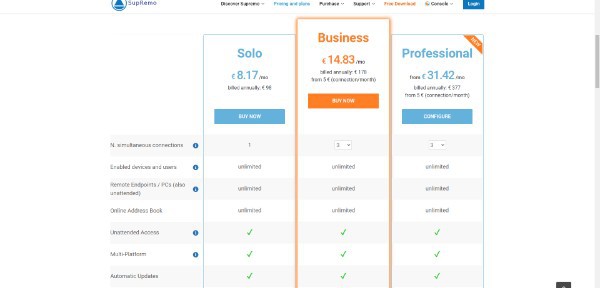 Every remote desktop tool out there furnishes its users with some sort of unique feature. Every developer and programmer behind a remote desktop tool works really hard to offer the best quality.

However, even with the top-notch services, customers find themselves in a situation of confusion. The reason: high prices. Here comes Supremo and takes the lead, compared, for example, with Teamviewer, or Logmein.

Supremo is the most affordable of them all. Let's look at the pricing structure of Supremo.
Solo starts at just €8.17 per month for a single connection at a time towards unlimited endpoints.
The Business plan comes in at just €14.83 per month for up to 3 simultaneous connections to unlimited endpoints. This means it's only 5 € (connection/month)
Professional is the best value at €31.42 per month, including all features.
As you can see, Supremo is very affordable compared to the features it offers. Not only that, but when you look at the competitors' plans, such as TeamViewer and Anydesk, You will get to know the difference.

TeamViewer's basic plan starts at 18.89 per month.

Anydesk's basic plan starts at 9.90 per month.

If you want to check more about Supremo plans and pricing visit here.
Conclusion :-
Supremo is a remote desktop tool that can be accessed from multiple devices and operating systems. When you look at Supremo, you can clearly find it the best out there.

However, Supremo also outshines TeamViewer in almost every category.

It's secure, has powerful features, and is easier and quicker to install. If you're looking for a remote access solution, it's a better option than its competitors.

Other remote desktop tools are great tools and are certainly the most popular remote access solutions on the market.

But Supremo is better, and it's definitely worth checking out. You can visit their website to learn more about the remote desktop tool.