The Social Page Analyzer is web-based fan page research software that analyzes major activities in Facebook comment, and posts. If you are going to create social media campaigns then this software will definitely help you to uncover the best content in marketing and strategies with proper guidelines. With its 5 built-in tools, you may know the secrets behind a successful fan page within a few seconds.
How to Use Social Page Analyzer?
Here is the step by step guide on how to use this software without having any skills and prior experience -
Select the ad size you are going to create from the full range of images that Facebook allows.
From the library choose a template that is high quality and Facebook optimized
Customize it by dropping in graphics from the categorized library and edit text as you required
Features of Social Media Page Analyzer :-
There are wonderful features you will get in this software tool you can access easily, these features can be categorized into
1 Fanpage Tools Features
With this feature, you can uncover thousands of Facebook fan pages directly from Facebook's internal database through their marketing API. You get 27 different metrics for every fan page on Facebook with-in seconds. And the names of these metrics are Page, page Score, size of the audience, products, number of people talking about it, start date and so on. One of the interesting fact that you get contact details of clients so that with the details you can establish a marketing relationship.

Features come under Fan pages are :-
Interest keywords: Fanpage names can also be use for "interest keywords" for Facebook ad campaigns. Software integrated a feature that instantly retrieves the audience size for any fan page names that are included in the Facebook interest keyword database
Massive Data: Here you get a massive data, such as page name, audience size, fan count, talking about, star rating and rating ratio, category description, about company review, mission, products and more details of clients as; emails, website, country, state, street, zip code and more that help you to make marketing relationship with clients to grow your Facebook marketing success
Append alphabet: With this option, you can get thousands of related fan pages. Another fan research tools will only return you 500 pages but with Social Page Analyzer fan page tool you may generate 10 times more pages.
Page Score Report: The built-in powerful page Score Report tool takes the guesswork out of your Facebook marketing strategy - the report recommendations will guide you in the right direction. By clicking the page score link you can see the corresponding page score report for any fan page!
Page Top Analysis: The top of the fan page is very important for making a first impression and an important factor for representing the brand awareness when users interact with the page. The page top analysis section reveals the most important elements that need to be integrated into the page along with valuable suggestions to improve it.
Content Analysis: The content and description of a fan page give followers more incentive to engage and interact with the page. This analysis section provides more insight into the important elements needed while providing recommendations to improve the page content.
Response Analysis: Facebook followers really want fast responses and the ability to post content on pages they love. This can dramatically increase engagement and long term follower commitment to your brand or service.
Engagement Analysis: Follower engagement is a key element to building up your loyal user community. This report reveals the important factors representing how much engagement the page is receiving. Using this report section and with a few tweaks, your pages can be optimized for maximum engagement.
Active Analysis: One of the most important factors of any fan page, is posting the correct content and delivering the content in an optimal manner. The activity analysis report section quickly summarizes past post activity showing you the break-down of each important aspect that needs attention. This report section quickly shows you the percentages of each important element giving you an instant picture of what to improve
2 Posts Features
Extract thousands of posts from any fan page in just seconds and sort by shares, comments, likes, or any other data metric to see the content with the best engagement.

With this tool you come to know exactly what the most engaging content is for any given page post, then use that information to improve your own page posts.

Under Post features you get :-
Preview Posts: With the preview button you get corresponding posts in a post preview page in the web browser. It enables going through entire post content in a fast and effective way. You can sort out what is attracting followers and this tool will save you hours of endless scrolling through fan pages.
3 Comments Features
With this tool, you can extract thousands of comment from any fan page post in just one click. Helps you to measure your progress in social media and enables you to understand what your followers are saying about your posts.

Social page analyzer serves this comment tool feature that allows you to retrieve as many comments as you want from any fan page.

Also, you can quickly search thousands of comments using the instant-search feature or content filters. Plus, click any comment link to see the corresponding comment on Facebook.
4 Word Analyzer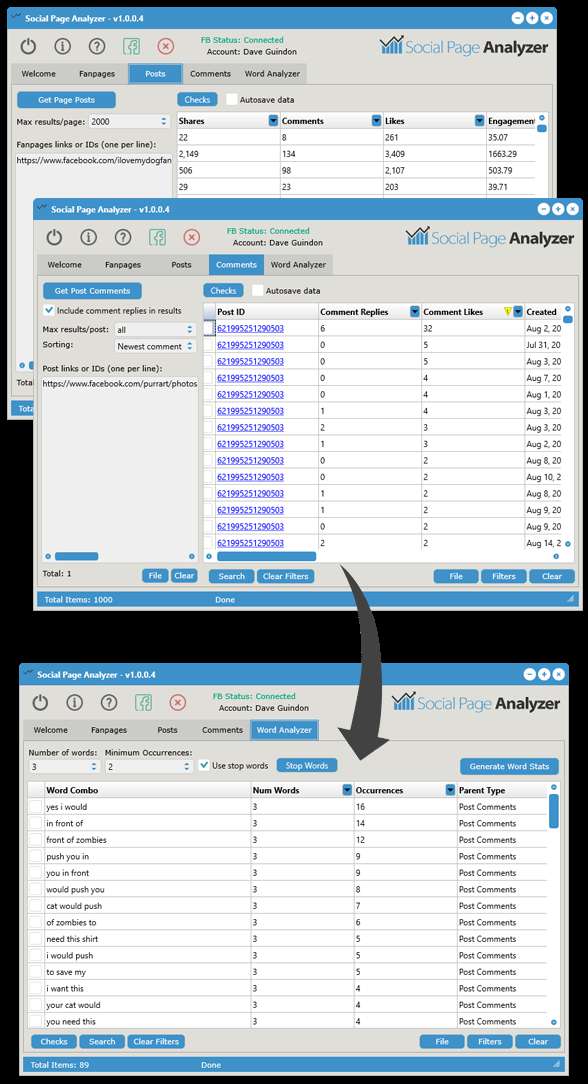 Through social page analyzer word analyzer tool, you can satisfy your customers. Social Page Analyzer word analyzer tool analyzes repeating word combination thousands of comments or posts. It reveals powerful information by sending all post messages.

With this tool, you can research thousands of post messages revealing the most common content that creates high engagement.
5 Filters(Blazing Fast & Custom)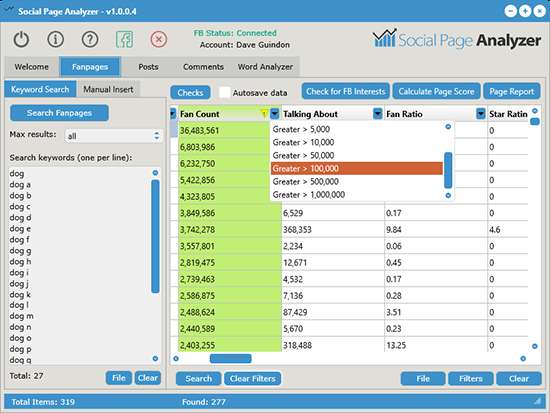 Use the blazing fast, quick filters from the top of the columns or use the integrated filter window for creating more customized filters to fit all your needs. This tool enables you to instantly get the data you want to see with just one click.
Custom Filters: You can also create any custom filter you want for any column you wish. Custom filters enable you to save your favorite filter combination to a file, and load your saved filters with a few clicks and save your valuable time with the power of Social Page Analyzer to get the exact data you need in just mere seconds.
Why Choose Social page Analyzer Software?
There is no tech skills and prior experience required.
Smoothly and hassle-free work in total three personal computers
Works on Mac or PC
Can access to over 800 conversions hacked templates in different niches
Select marketing graphics to customize as you desire
Best software that saves your precious time and money
Pricing
They are offering such a great offer right now, you can get full access of the 5 in 1 Social Page Analyzer & Social Ad Creator in bonus with the effective price of $67.00 only and you can save $80, but this discount is for a limited time period, as this discount expires you will have to pay $147.00 for the same.

This discount will expire without notice so the user can grab this amazing offer before it's too late. With 30 days money back guarantee they allow you a hassle-free way to pay with major payment modes as; PayPal, Visa, MasterCard, American Express.
Social Ad Creator Software & How It Is Helpful?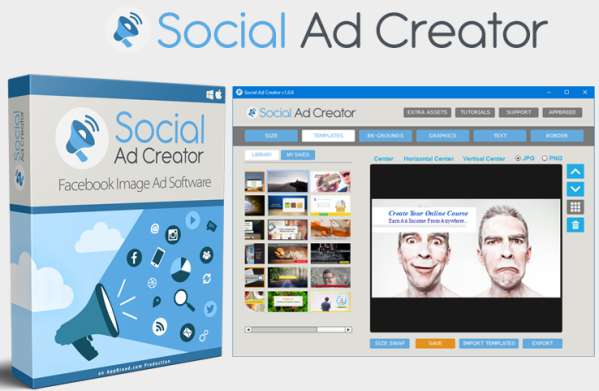 Easily create eye-catching, clickable, high converting Facebook ad graphics for every ad type and size in just minutes!
Access over 800 'Conversion Hacked' templates across a wide range of niches ready for you to use right now
Get thousands of extra marketing graphics to customize your ad templates for creating fresh creative's, boosting engagement and reduce ad fatigue!
Stop wasting money and waiting days for expensive freelance designers to deliver your ad designs!
Easy-to-use beautifully organized software that works on both Mac and Windows computers
See which ads convert best with your target audience by effortlessly and scientifically split-testing your ad images!
Instantly revive tired ad campaigns with fresh, high converting ad creative to keep the clicks, conversions, and sales rolling in daily.
Get Social Page Analyzer & Bonus Social Ad Creator at Discounted Price
Save hours of endless research by using Social Page Analyzer to uncover the thousands of highly engaging fan pages, page posts, post comments and easily create high-converting facebook image ads using the bonus Social Ad Creator.

Get full access to the 5-in-1 Social Page Analyzer & Bonus Social Ad Creator software for a one-time payment of just $67 ( Save $80 ) for a limited time
Compatibility
This web-based software smoothly runs on both PC and MAC which are two of the widely used operating systems. The software will work on Mac OS 10.8 or higher, and Windows XP, 7, 8, & 10.