Snov.io is a must-have solution for sales and marketing. It's an easy-to-use all-in-one cold outreach automation platform that lets you search for email addresses by companies, domains, or professional social profiles. With it, you can also verify email addresses, send triggered email drip campaigns to potential customers with high conversion rates, and track their performance.

And I'm going to show you how exactly Snov.io can help you with your business.
How to find prospects with Snov.io
Snov.io is a great solution if you need to find valid emails and generate leads. This SaaS platform provides some truly handy Email Finder features. Once you sign up for a Snov.io account and install the Chrome extension, you get access to all of them (even on a free plan!). You can search for emails via:
Extension Search: Launch Snov.io Email Finder Chrome extension on any website, search result page, or professional social profile to see all emails connected to it.
Domain Search: Find email addresses by the domain name. You can even collect email addresses in bulk, as the platform allows searching up to 20,000 various domains at a time.
Social URL Search: Get email addresses by uploading a list of links to professional social network profiles.
Bulk Email Search: Find emails in bulk by uploading a file with a list of employees' first name, last name, and their company's domain.
Linker: Collect emails in bulk from different platforms, such as Google or LinkedIn, by searching prospects by job title, skills, or locations.
Now let's take a look at some examples of how to use the tool.
Extension Search
With the Email Finder Chrome extension, you can easily find your target audience and add their email addresses to your prospects list in your Snov.io profile. I'll show you how to find emails within the search page of LinkedIn.

First, go to the Search page and set all the necessary filters (people, jobs, locations, etc.).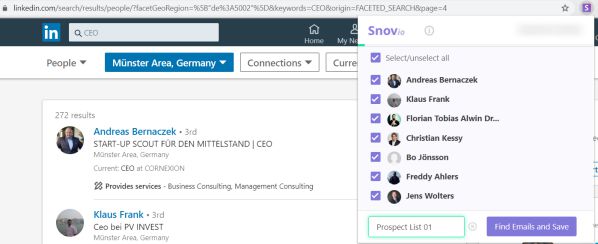 You'll see the list of people. Click on the Snov.io extension in the top right corner, choose the list you want to save your prospects to, and press the "Find Emails and Save" button. You can select the starting and ending pages for your search. Once the search is ready, go to the list in your Snov.io account and see all the prospects you've collected.
Domain Search
You can find the Snov.io Domain Search feature in Email Finder tools and find email addresses by a single domain. For instance, let's search for all the emails connected with snov.io domain.

Click the search icon and select the found email addresses you want to add to your prospects list. Then press "Add to" and choose the appropriate list.
If you have a list of domains, you may use Bulk Domain Search. All you need to do is to upload a CSV, XLS, or XLSX file for this.
How to verify emails with Snov.io
Email marketing is much more successful when you keep your email list clean. To make sure your email drip campaign gets into the inbox, Snov.io provides Email Verifier tool so that you can check your prospects list before launching the campaign.

Choose the needed prospects list and click the "Verify current list" button as it is shown in the following screenshot: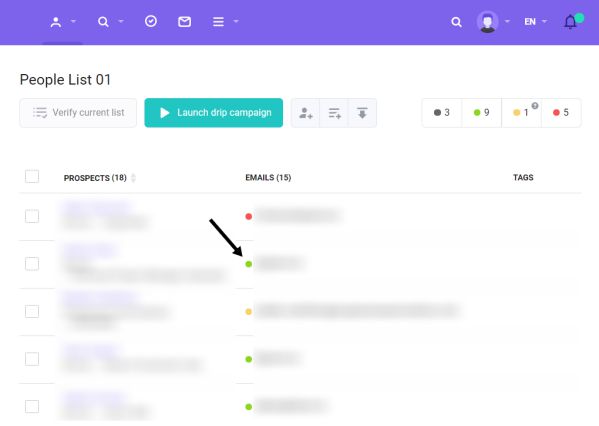 The verification status will be displayed next to the email address. A green circle means that an email address is valid; a red circle means that an email is invalid. It's recommended to send emails to valid email addresses only to keep the high reputation of your email account.
How to launch an email drip campaign with Snov.io
When it comes to converting leads into customers, email marketing is the way to go. Snov.io Drip Campaigns offer lots of options, including scheduling, automated follow-up emails, templates, email personalization, adding an unsubscribe link, and many more.

Once you created the prospects list, click the "Drip Campaigns" button at the top of the dashboard to launch your first drip campaign and choose the "New drip campaign" button on the left side of the screen.
Now you can create your campaign. Start with the fields in the sidebar on the left. Fill in the name of the campaign and an email account that will be used for sending emails.

With Snov.io, you can improve the email deliverability of your campaign. Sometimes prospects have multiple email addresses, but here, it's possible to select whether to send the campaign to All emails or to First email only (usually it's a primary email address). You can also choose not to send the campaign to unverified emails or unverifiable (Risky) ones.

The drip campaign itself consists of different elements: Start, Email, Trigger, Delay, and Goal.

In the Start element, add a prospects list you send your campaign to. Next, in Email, create messages using different fonts, adding links, attaching media files, etc. You can add custom variables to your subject line and email body to make your emails highly personalized.

Triggers help to automate campaigns. You will find two types of triggers – "Contact opened email" and "Contact clicked on the link from email." Use them to set the next campaign step according to the recipient's actions.

You can also add the Delay element to create natural pauses between your emails. They can be set for hours or days. Goal is the final point of your campaign. Here it's possible to specify the goal you are going to reach with your campaign. When the campaign finishes, you can see how many times your goal has been reached and by which prospects.

When the campaign is ready, click "Save & Start" on the bottom left. You can check the basic information about your campaign in the Campaigns List. Status shows if your campaign is currently active, paused, or finished.
For the detailed statistics with opens, clicks, replies, etc., click on the campaign and choose the tab you are interested in.
Pricing Plans

Snov.io offers different plans to meet your needs and taste. What is more, a freemium plan is also provided with 50 credits and 100 drip campaign recipients in your account to test all the features on your own.

Credit is a payment unit you spend on finding emails. For example, Snov.io charges 1 credit for each email in Bulk Email Search and 1 credit for every prospect found via Social URL Search.

I hope this review will help you see how your business can benefit from using Snov.io. Make the most of the free trial first and see all the features and functionalities that lead you to choose Snov.io for lead generation and email outreach automation.