Presentations are a vital tool for professionals and businesses in every sector. At every job level, an effective presentation can be the difference between making a sale and not, persuading a colleague, or successfully pitching a new strategic direction.

As with many functions in the modern corporate environment, presentations are now synonymous with Microsoft Office, and PowerPoint software. There are a great many advantages to creating presentations with PowerPoint - its simplicity, user-friendliness and ubiquity mean that almost everyone can use it and understand it quickly and easily.

However this ease of use and simplicity is also PowerPoint's main failing. These days, in a competitive marketplace, a simple presentation is unlikely to be enough to make you stand out, and boring your audience with 'death by PowerPoint' is an easy way to make people switch off, make achieving your aims harder, and potentially damage your business.

Creating engaging, effective and attractive presentations in PowerPoint usually therefore requires professional design skills, and a lot of time, care and attention. However, not everyone has access to this level of expertise, or has the time to spend crafting the perfect presentation. This is where many businesses turn to premium presentation template providers, like SlideModel, in order to take their presentations up a notch. We're going to look at what SlideModel is, how it works, and what it can do for your business.
What is SlideModel.com ?
SlideModel.com is first and foremost a presentations template provider with a huge catalog of professionally designed, flexible and show-stopping presentation templates. SlideModel's well-designed, easy to use templates can be found for an enormous variety of business needs, incorporating almost every sector and type of presentation you could care to think of.

The website is user-friendly, making it simple to log in, find the presentation you might need, and download it to work on yourself. The big plus of SlideModel's templates is that they are all 100% customizable and editable. Not only is the choice and variety huge, but every single element of every single template can be tweaked or edited to fit the situation and need of your particular presentation, ensuring every project is individual and unique, and speaks directly to the specific audience.

The presentation templates function just as well with Google Slides and Keynote as they do with PowerPoint, giving you additional flexibility and functionality, and allowing you to work cross-platform. SlideModel is trusted by more than 40,000 customers who actively use their 100% editable templates to prepare their presentations.
Up-to-date, attractive graphics
PowerPoint graphics can be dull and out-of-date, but SlideModel have put together a package of beautifully designed and relevant graphics, shapes and images to use in your presentations, guaranteed to catch and hold the attention of an audience, and engage them in what you are saying.

SlideModel's templates incorporate shapes, animations, cartoons, signs and gauges, all of which are flexible and customizable to fit any presentation.
Clear, persuasive graphs and diagrams
Complicated concepts, particularly involving stats, figures or data, are tricky to present and can turn an audience off quickly. Slides that are dull, or that don't catch the eye will make it very hard to engage people with more complex topics, and unclear graphs or diagrams will leave them unpersuaded or confused.

SlideModel's templates however come with clear, easy-to-create and easy-to-understand diagrams, charts and graphs, to help overcome this. This makes things like SWOT analyses or GDP charts far clearer and easier to understand, and makes your presentations more useful, effective and successful.
Professional level design
One of the key aspects of SlideModel's presentation templates is that they give you access to professional level design without the expertise, time, or hard work. Over 20,000 unique templates, all attractively designed, flexible and fully customizable, mean that there is something for everyone, and it is easy to take your presentations to the next level without stress or complications.
100% Editable Maps for your Presentations
Presenting geography or location can easily be boring, or samey. A static map, with a location marker might be clear, but it has been done to death and is unlikely to grab an audience's attention. SlideModel offers individual templates for a vast range of hugely detailed, fully customizable maps with a huge array of options.

Continents, countries, regions, states and provinces can all be highlighted, extracted or individually marked, resized to highlight areas, or drawn on with the Drawing Tools. This makes presenting maps a doddle, and keeps everyone's focus on what you are saying.
Free PowerPoint Templates :-
For those who are only interested to grab free templates, SlideModel offers a free section with hundreds of editable slides. Every week, a new presentation template is published and it can be downloaded for free. The only requirement is to have a free membership.

This is an example of a free business presentation template that you can find here. The business presentation template contains 8 editable PowerPoint slides with blue color tones and suitable for any business related presentation. It can be used to present a business case or a company profile.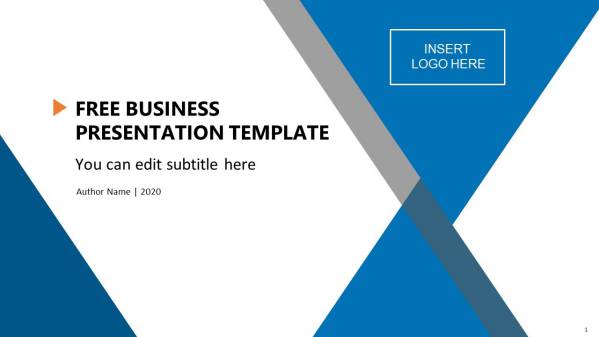 How it works :-
To get access to SlideModel's templates, users need to subscribe to one of a range of extremely affordable subscription options offering differing levels of access. These range from unlimited access, to a single, one-off template - whatever your needs, SlideModel can help. Once downloaded, the templates are available to edit and use forever as you see fit.

Whether you are presenting internal strategy to your boss, or pitching to new clients, having access to the professional design and engaging toolkits provided by SlideModel is guaranteed to put you out in front of your competitors. The range and flexibility of the templates mean there is something for everyone, and as every option is fully customizable, every project can be tailored to be just right for you. We can't recommend it highly enough.