The majority of people despise giving presentations. It's usually imposed against them by an employer or lecturer.

Even if you despise giving presentations, you'll almost certainly need them to advance in your work experience placement. Fortunately, by using SketchBubble templates , you can create a presentation deck that supports you using Microsoft PowerPoint.

Your PowerPoint slide is only one component of your overall presentation. However, it is a crucial component that will assist you in making your point to your audience.

Using a PowerPoint template has a lot of benefits.to enhance your presentation with stock photographs.

The templates that are available in the SketchBubble are from various platforms like Microsoft PowerPoint, google slides and apple keynote. So you should stay carefree about your system version.
What Is SketchBubble ?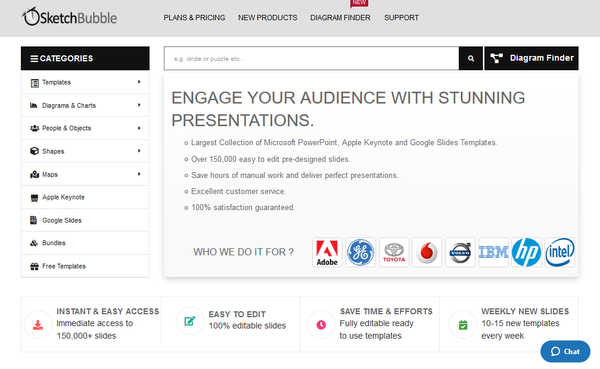 SketchBubble is a platform that provides you with the best of the PowerPoint presentations, templates and designs that are available in the market.

It has the collection of best designs with all the features that will help you design your work in the most amazing way.

It has so many features and advantages. It also has various plans and pricing to enable you to select the best one for yourself.
Features & Services Overview :-
Diagram And Charts

It's especially crucial to learn how to use a PowerPoint template if you're a numbers-oriented professional.

This is due to the fact that they provide charts and graphs that help people interpret data. With charts and diagrams, Data is easy to read and review.

The best way to exhibit and share your data is to use PowerPoint templates with charts.
Slide Layout
Don't forget to look at the layouts while you learn how to use a PowerPoint template. The layout in PowerPoint refers to the pre-assembled set of elements that make up your slide.

You can Choose a design as there are ample designs to fill up the blanks with your content, and you'll be done in no time.
Maps

The map feature is extraordinarily amazing. When you type countries into the map, it stretches to display the proper land, which could be just an area or the entire world.

The maps are displayed as it is they have pre-designed maps for many places like U.S, Europe, Russia and many more everything is clearly visible like boundaries and you can highlight multiple things like any location, customize multiple things like add text, pin places changes colors etc.

All this you can do easily without any technical knowledge.
Technology Icons
Presence of different technology icons like people and objects makes it different from other templates that are available in the market.

By adding these unique and latest symbols to your presentation you will be able to differentiate yourself from others.
Shapes
All the shapes like square, circle , rectangle and let it be any quadrilateral or any polygon, all these are available in the template. You don't have to fear if you are making a mathematical presentation as you will get everything that you are looking for.
More Features Of SketchBubble :-
The templates are available in 2 colours. Using the same theme to refresh the look of a presentation is an easy approach to do so.
You can utilise a different alternative, such as a 2 colour scheme. Choose a different option of colour on the same Design tab to alter all of the slides in your presentation at once.
The slides that are available are completely ready for customisation. You don't have to worry about it as they are super handy to use.
You can edit it the way you want and make it look attractive and revealing.
It has amazing animated PowerPoint templates and slide templates for creating amazing presentations. The majority of the presentations and themes throughout the section make advantage of PowerPoint transitions to showcase your slides with modest transitions and interactive features.
On this platform We've gathered the best of Slide and organised them by industry to make things easier for you.
There are free PowerPoint templates as well that range from educational templates to instructional designs, so there's something for everyone.
SketchBubble Advantages :-
You can make changes to current visuals even if you don't have any graphic design knowledge. The advantage of using a template is that you can already change it the way you want.
All the templates are so easy to change so using them is now easier than ever before. The colors, typefaces, and visuals may all be changed, and you can even add your own logo to the mix.
You don't have to start from scratch each time you add a new slide, which saves time. Your presentation will be completed quickly if each slide has a strong starting point.
You may effortlessly advance the slides in the presentation one by one by adding the transition and custom animations while maintaining eye contact with the audience.
Some Important Things To Consider About SketchBubble :-
SketchBubble Templates are available for Microsoft PowerPoint, Apple Keynote and Google Slides and different versions are provided for each platform.
All the slides are Entirely editable
All the slides are available in 2 color themes.
SketchBubble also have many Animated PowerPoint Templates that is one of a industry leading feature.
SketchBubble provide a lot of Free presentation templates as well.
SketchBubble Plans And Pricing :-
The bubble sketch has so many plans for your different needs. You can choose plans according to your needs and budget. Following are some plans that you should definitely consider before buying.
Monthly
It starts with $49.95 and you can save upto 50%. This plan allows you to download 20 templates per month.
Yearly
It starts with $199.95 and you can save upto 60%. This plan allows you to download unlimited templates per month.
Quarterly
It starts with $99.95 and you can save upto 50%. This plan allows you to download 20 templates per month.
Services
SketchBubble aims to target big MNC's to help them feature and showcase their work in the best way. Companies like Intel, HP, IBM, Volvo, Airtel, Toyota and Adobe are the best benefitted companies.
Conclusion :-
It's difficult to know where to begin when constructing a new PowerPoint slide when it becomes a clean canvas.

The features and services in this post are straightforward and practical, and they might assist you in creating your own slide designs.

You can Check out the Ultimate templates and designs for the Best PowerPoint Presentations to keep learning.

When it comes to learning how to create a presentation, this roundup offers pretty much everything you could want. PowerPoint learning tools may be found in abundance on the SketchBubble.

It will assist you to illustrate and demonstrate the complex subjects by using images and examples. The presence of the creative fonts can help your work look gorgeous. This trustable service will help you create the best work for yourself.