Nowadays, more and more developers are looking for some kind of a tool that will enable them to put less efforts and time, yet still have a high quality end-product as a result. Luckily, there is a huge variety of website builders, which make the process of creating a website easy and fun. And guess what? Today we are going to talk about one!

Novi Visual HTML Editor is one of those ultimate tools that can enable you to literally make miracles, in other words, to build a website with few coding involved. So today, I am going to tell you about my experience of using Novi Builder and explain its advantages and disadvantages. Well, let us dive in!
What Is Novi Visual HTML Editor?
Novi Builder is a live HTML editor that is aimed to ease and accelerate the process of building a website. This HTML editor software has a drag-and-drop builder that will help you create unique pages with no coding involved. That being said Novi is a truly great tool for the beginners and inexperienced users.

As for myself, Novi indeed helped me to complete my project much faster than usually. I did not have to code everything from scratch, pre-made HTML template and drag-and-drop builder saved me the whole bunch of time.
What Can You Do with Novi Builder?
Basically, there are several thing that Novi Builder can enable you to do.
You can easily create landing pages in mere minutes using free HTML templates
You can build multi page websites much faster and easier using real-time HTML editor and drag-and-drop builder
You can sell your HTML templates built with Visual Editor
You can use free pre-made HTML web templates, icons, and fonts
As you can see, Novi Builder is not just a tool that will help you create websites with less coding. This HTML editor will provide you with so much more and this is exactly why I think that this tool really worth it.
Novi HTML Editor Software Features Overview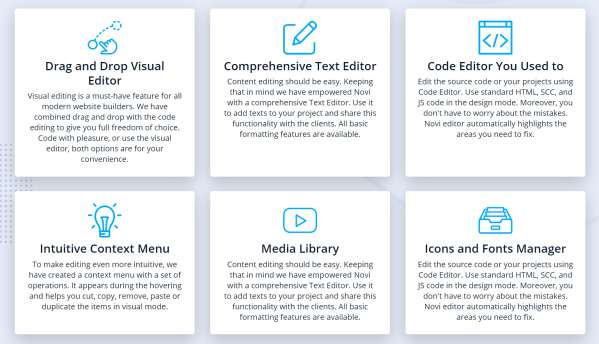 Certainly, this wysiwyg HTML editor comes with, in my opinion, a pretty decent list of features. So let me highlight some of them.
Page Manager
This very feature will help you create, duplicate, and delete pages for your website. Page Manager is pretty easy in use and in case of any issues you can consult documentation.
Page Settings
Use this very feature to edit your pages, arrange your home page, add page title, or upload Favicon. Everything is rather simple and even inexperienced beginners will figure out how to alter the pages is this HTML editor.
Design Mode
This very mode will enable you to manage the content on the pages, configure plugins, edit the source code, as well as many more.
Edit Mode
Edit Mode will let you use visual tools for content editing.
Preview Mode
If you want, you can check on your website in Preview Mode at any moment.
Configuration (Layer tool)
This very tool will allow you to easily edit your pages, add Google Fonts, change language, or get the latest updates.
Presets tool
Presets are required for storing such independent page components as sections, banners, forms, sidebars, columns, and many more. To find out more about working with presets, check the documentation
Content Editor (basic tools)
The visual editor will allow you to remove, replace, duplicate, and past from a preset page your content.
Drag & Drop tool
Drag & Drop tool will help you easily arrange and replace the elements on your page without any coding involved.
Text Editor
Text Editor will simply help you select text options as well as adjust it to your website.
Code Editor
Code Editor allows source code editing, includes CSS and HTML validation, and enables you to easily switch between JS, CSS, and HTML files.
Media Library
Last, but not least Media library holds the graphics files that come with a template. It also enables you to add or delete various graphic elements such as images or icons.

The HTML editor software also comes with such useful features as Icons Manager, Resolution Preview Tool, Publication, Multilanguage, Style Manager, and Visual Editor. So I daresay that Novi Builder is equipped with pretty much everything you might need for your project.
Novi Builder Support
Of course, Novi Builder is provided with professional 24/7 support service. Once you got the subscription, you can contact a friendly support team at literally any time. It might seem insignificant to you, but believe me, if you ever have some kind of issues with the builder, 24/7 support service will be very helpful.
Novi Builder Pricing
Since we have already discussed this builder's features, it's high time to proceed to the pricing. Basically, the membership has three annual pricing plans: Startup, Advanced, and Developer. Let us have a look at each of them.
Startup ($29 per year)
Novi Visual HTML Builder
Novi plugins
Free updates
Unlimited projects
Developer support
1 multipurpose HTML template
Advanced ($49 per year)
Novi Visual HTML Builder
Novi plugins
Unlimited projects
Free updates
20+ HTML templates
Developer support
Developer ($149 per year)
Lifetime access to Novi visual HTML editor
Lifetime access to Novi plugins
Lifetime unlimited projects
Lifetime access to all Novi templates
Lifetime developer support
Lifetime free updates
Ability to sell your templates empowered by Novi Builder
Which particular pricing plan to choose is completely up to you and depends on your needs. For some people Startup plan will be more than enough, others might need more. Personally, I got Developer plan, since I have a lot of projects and it's much more profitable for me.
Novi Builder Advantages
Affordable pricing plans
Easy in use
Free HTML templates
Ability to sell your templates empowered by Novi Builder
Unlimited projects
Great support service
Novi Builder Disadvantages
You will not be able to sell your templates unless you get Developer pricing plan, which is the most expensive one; Cheaper membership options have only a few HTML templates.
Final Thoughts
In general, Novi Visual HTML Editor is a pretty cool tool. It really makes the process of building a website so much faster and easier.

In fact, a truly enjoyed using it and I am definitely going to continue use this tool. So I certainly recommend Novi Builder to all the developers who want to ease their work a little bit and finish their projects earlier in order to have some extra free time to relax and recover.