Managing your servers and hosted services can be a daunting task especially if you don't have any prior technical knowledge that's why most people use a Control panel.

A Control panel provides you with a user-friendly interface and useful tools that make managing your website's server easy and much more accessible.

While there are so many control panels available in the market, It can be really confusing to choose the ideal one.

So how do you choose the ideal control panel? It's simple you look for a control panel that has an intuitive GUI, advanced security, and also goes easy on your wallet.

One such control panel is ISPmanager. It has an extremely user-friendly interface and comes packed with many flexible features. In this article, I will review ISPmanager to help you choose the right control panel.
ISPmanager Overview :-
ISPmanager is a Linux-based control panel that has features similar to industry-leading control panels such as cPanel and Plesk. It has a very simple and user-friendly design that makes it very comfortable to use.

ISPmanager is highly reliable, it has been in the market since 1997 and achieved many milestones on the way.

Unlike other control panels, ISPmanager does not have exaggerated pricing. It offers affordable commercial panels.

ISP manager comes with in-built security tools such as a Firewall that provides an additional layer of security and protects against DDoS and spam attacks

It also has additional security integrations such as a DDoS-Guard and ImunifyAV antivirus.

It is very lightweight and has been designed to produce powerful performance without exhausting all of your server's resources. ISPmanager also has a commercial license and API that allows developers and customers to have more flexibility.

There are four versions of this web panel: Lite, Pro, Host, and Business. Lite, Pro, and Host versions are similar to an extent. Aside from other more or less common features for each version, can be used for server management, importing data from remote servers, User-level management, etc.

The Business version of ISPmanager can be better used by shared or reseller hosts as it allows them to manage multiple servers and create and manage user accounts.
Features of ISPmanager :-
ISPmanager comes with many flexible features that allow smooth server management. In this section, I will be briefly reviewing ISPmanager's features.
Apache and Nginx installation and configuration
ISPmanager only uses the advanced software of Apache and Nginx to manage websites. It works with:
Nginx version 1.1.15 or higher.
Apache ITK (and Prefork) 2.2 and Apache 2.4.
ISPmanager also supports PHP-FPM, PHP module for Apache (mod_php), htaccess-files, Awstats, Logrotate, and Webalizer

ISPmanager also lets you specify the mode of the webserver you want which is Apache and Nginx + Apache.

Get more details about the webserver here
Resource monitoring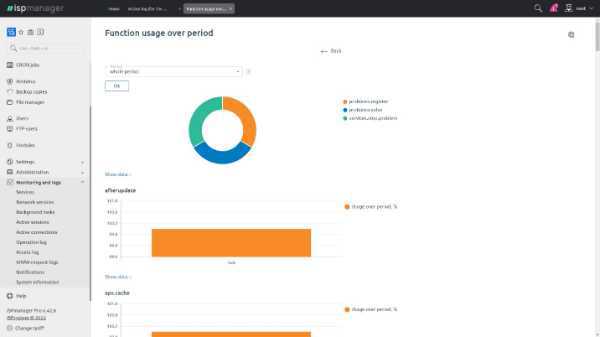 With ISPmanager you can monitor the server to get information about its status and resources such as the processor or memory usage.

ISP manager allows you to monitor
CPU load
RAM usage and swap files
Disk space size and usage;
Average load on the server;
Processes running
Duration of work
Easy CMS installation
ISPmanager has made CMS installation very simple, now you don't need to download the archives and then manually upload them to the server. You can directly install it in the webserver.

It lets you install all the popular CMS such as WordPress, Joomla, Bitrix, and Drupal
Supports Site.pro website builder
ISPmanager supports Site.pro website builder. Creating a website can be a cumbersome task especially when you don't have any prior knowledge. Well not anymore, With Site.pro, you can create your desired website without having any programming skills.

Site.pro lets you choose from 200+ ready-made templates.
File manager
ISPmanager File manager lets you:
Move, Create, and rename files
View and edit files
View, unpack and create archives. ISPmanager also supports Zip and Unzip archivers
Edit file parameters
Copy and move files
Download and upload files
Hosting Security
ISPmanager has a built-in firewall that provides an extra layer of security. The firewall keeps the hackers away. It can protect you from DDoS attacks by enabling you to restrict certain ranges of IP addresses.

It also lets you allow access to the entire server or a certain number of services from certain IP addresses to enhance the security of the server.

ISPmanager also supports DDoS guard integration. The DDoS guard is paid service that can easily detect and protect against any DDoS attack. It automatically filters malicious traffic.
Backups
There are cases when due to some technical problem or anything else people lose their data. Losing data can severely affect your server and can also hamper you financially but thanks to ISPmanager backups, you will never lose your data.

ISPmanager automatically backs up websites, databases, mailboxes, server settings, and its own settings. Backups are made once a day but you can also change the schedule.

ISPmanager supports Cron, This program lets you create flexible backups. You can pause the backup when the traffic is high. Not only that even if the backup stops due to server failure, it can be resumed from the previous point once the server gets back to normal.

Backups are stored on Local disk, Remote FTP server, Dropbox Amazon S3, and Google Drive.
More Features Of ISPManager:-
Multiple PHP versions on one server
Web server template engine
Managing web scripts
DNS manager - a panel for managing and configuring DNS
Integrations with the free domain name servers Bind (Named) and PowerDNS
Alternative versions of MySQL for websites on the same server
Integration with CloudLinux in the Business version
Multiple user allocation in the business version
Multiple nodes management in the business version
Alternate versions of PHP
ISPManager Plans and Pricing :-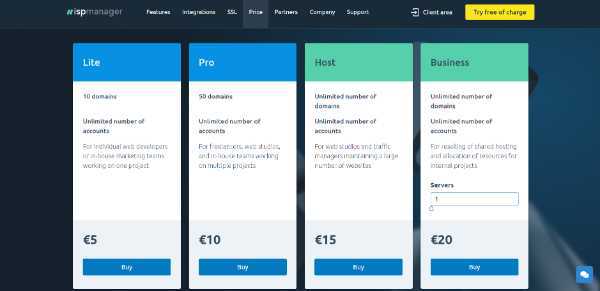 The price of control panels is touching the skies, this makes it more expensive for companies to add control panels in their hosting plans. ISPmanager is dedicated to solving this problem that's why it offers very affordable commercial and individual panels that are packed with top-notch features.

As discussed earlier, ISPmanager comes in four versions that are Lite, Pro, Host, and Business. Let's see some details about them.

Lite - This plan is ideal for you if you are an individual developer or if you are a team working on one project. It lets you manage all your servers, accounts, and users and also provides an overview of all the domains in one place.

The plan is for €5/month. With this plan, you get 10 domains and an unlimited number of accounts.

Pro - Starting from €10/month, This plan comes with 50 domains and an unlimited number of accounts. This plan is made for you if you are an individual or team working on multiple projects.

Host - This plan is made for web studios and traffic managers that manage a large number of websites. It is of €15/month and comes with unlimited domains and accounts.

Business - This plan is ideal for reselling, shared hosting, and allocation of resources for any internal project. The price for the business plan is €20/month for one server. You can choose the number of servers on the basis of your requirement.

A more detailed comparison of the plans is given in the table below.

Note- If you are unable to decide whether ISPmanager is a good choice or not, You can try the 14-day free trial to test its usability and speed. To install the free trial version onto your server, click here.
Conclusion :-
ISPmanager is an industry-leading control panel that is packed with many useful features and also supports many integrations such as DDoS guard, Site.pro, KernelCare, ImunifyAV, etc.

It not only has impressive features but also has an affordable price. It is cheaper than most of the control panels in the market but also gives them cut-throat competition.

ISPmanager's backup and security features are very reliable and can be very useful. Its interface is very simple and easy to use.

It is designed to be lightweight so it will consume very little of your server resources. To conclude I would say ISPmanager can be a really good alternative for control panels such as cPanel and Plesk. It has very similar features and also deals with the pains of pre-existing control panels.