Do you know that by changing a few words in your marketing headline can actually increase conversions by like 40% to 400%? We know that headlines are the most powerful part of any marketing content. In fact, top corporate media have relied on powerful headlines before the internet was even invented.

Today I am going to review new tool Fresh Title that helps you instantly create highly responsive headlines and title for the content you need.
What is Fresh Title ?
The Fresh title is one-click software allows you instant access to thousands of proven titles & headlines for any content you need. It automatically generates a proven title or headline for marketing content you want to use 4 powerful built-in-tools and definitely helps you increase conversion and create engaging and attracting headlines instantly.

Just by slightly changing your headline, you can dramatically increase your conversions. And, if you are not split-testing your headlines or using proven headlines in your marketing, then you could be losing out on 400% more money from your business. It only takes one powerful headline to flood your content with viral shares, click and traffic.
Why You Should Choose Fresh Title Software ?
There are some factors that show why you choose Title Software-
Instant title Builder
830 optimized headlines
350,000 headline database
70,000 email subject lines
Real-time news headlines
My title database
Built-in synonym thesaurus
Save $100's on copywriters
Create fresh proven titles
Get endless content ideas
Features of Fresh Title Software :-
Key features of fresh title software are categorized into 4 segment, they are-
Title Builder
You can generate over 830 powerful and engaging titles and headlines by answering a few simple questions about your products and services.
Huge Data Bank
Now get instant access to over 350,000 proven headlines and over 70,000 email subject lines for an endless source of content ideas
Real-Time News Headlines
With the fresh title, you can search the latest news headlines by keyword from major search engine like; Google and Bing for instant fresh new ideas for your content. Simply click the "Latest Headlines" for the latest top news headlines!
Your Title Database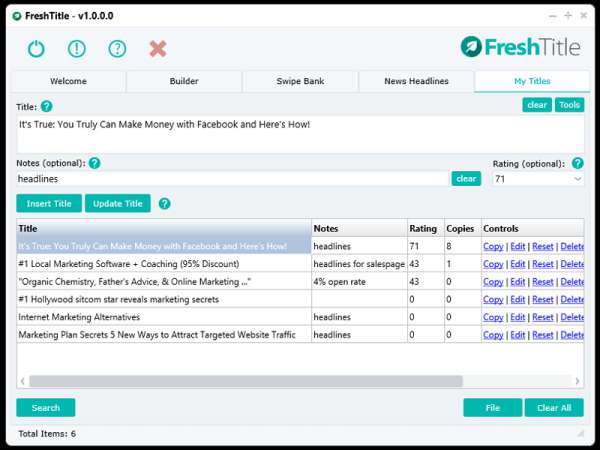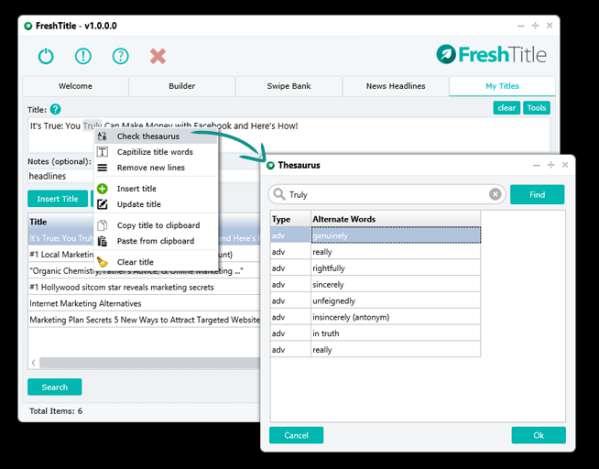 This interesting feature tool allows you to save all your best titles & headlines in your own personal database. You can even rate and categorize your content and, quickly swap out words for synonyms using the built-in thesaurus for fresh unique content in a flash.
Fresh Title Software Created For Services are :-
Fresh Title Software is Perfect For :-
Covers almost all major platforms where you want to submit your marketing content, Fresh title software is perfect for-
Blog Post
Quickly crank out amazingly powerful titles for your blog posts! Also, use Fresh Title to generate "traffic-getting" headlines and sub-headlines for your post or blog page content!
Facebook ads & Post
Are you stuck thinking of a powerful Facebook ad title or description? Think no more and let Fresh Title hand over all the best titles & headlines you need! Plus, you get endless ideas for post content and post titles
Email subject line
Do you want a powerful email subject line for your next product or affiliate promotion? With the Fresh Title software you can use the built-in 75,000+ internal database of email subject lines to come up with hundreds of ideas! Or use the internal database of 350,000+ proven headlines
Online Video Titles
You are just one click away and you can pump out tons of headlines for any niche you want! Having a powerful video title on YouTube or any online video platform can make or break your success. Use Fresh Title to get the perfect title and headlines you need for maximum video engagement
Article Titles
The software Fresh Title can not only generate your titles & headlines, but you can also use the massive internal databases of over 425,000+ headlines & email subject lines to brainstorm new ideas for the article submission site.
There are more content submission sites are perfect for - Twitter Post, Twitter Ads, Sales page headlines, Sub-headlines, Product titles, Forum post titles, Facebook group posts, Amazon product titles, Google PPC ads, Solo email ads, Banner content, Text ads, Press Release titles, Offline flyers, E-book titles & headlines, Report titles, Webinar titles & headlines, Landing page content.
Bonus Software Fresh Title +Title Analyzer :-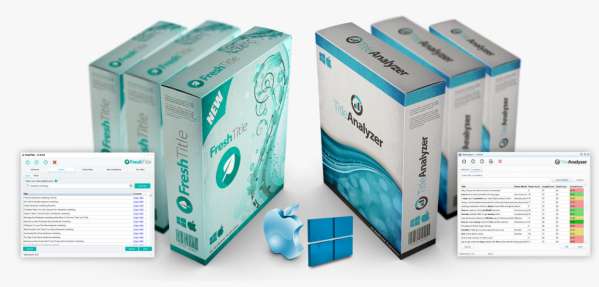 In addition to getting the fresh title software, you will also get the Title Analyzer software as a free bonus. Now with designing fresh title, I realized there was a great demand for a software tool that can predict which one of your headlines will actually convert better in terms of SEO traffic, click-through-rate and like, share, comment things like that.
Features of Title Analyzer Software :-
Title Analyzer will calculate an overall headline score on a scale from 0 to 100 where the larger the score the better your headline should perform. Below enlisted key features of this great software-
Insert Multiple Title & Headlines
You can also analyze multiple headlines at a time helping you pinpoint which headlines you should be using in your marketing.
Your Own Personal Crystal Ball
Title analyzer uses 4 separate data analysis functions within a very complex equation that will determine your overall headline score, which includes the power word density, also the function analyzes the optimal number of characters and the optimal number of words in your headline plus this software performs complex sentiment analysis determines the emotional polarity of your headline. It's really like a crystal ball, isn't it?

It's proven that headlines with a strong positive or a strong negative sentiment produce much higher response rates.
Instant Suggestions
By double-clicking the overall score you can get a more detailed overview of your headline where the software actually gives you suggestions on how to further improve your headline score.
Optimize Your Score
You can modify the internal power words database by adding your own words or removing words which gives you the ability to further optimize your results. This is the largest set of "emotional power words" collected into one database!
Headline Editor
You also get another built-in editor tool for quickly optimizing your headlines. This sophisticated editor instantly reveals the color-coded statistical data while you are editing!
Why You Should Choose Title Analyzer Software?
Analyze title & headline
Increase traffic, click, & sales
Insert multiple headlines
Get improvement suggestions
Access to power words data
4 powerful data points
Advanced analysis algorithm
Know what title convert best
Easily optimize headlines
State-of-the-art technology
Compatibility
Both the Fresh Title and Title Analyzer software work on Mac computers. In fact, they will provide a completely native Mac application that doesn't rely on the Adobe AIR platform.
Pricing
Here you can grab your copy of Fresh Title and get the bonus Title Analyzer absolutely free. Get $30 off discount, get full access now only at $67 and save you $80. For a limited time get the following revolutionary title analysis software.

Interesting thing is that you get 30 days money back guarantee if you are not satisfied with this.

All major payments modes are accepted like; Visa, Master Card, Amex and Discover with a safe and secure payment gateway.

There is an only one-time payment or recurring payment.

So, if you decide to grab the Fresh Title software today, you are also going to get the bonus Title Analyzer software absolutely free.