Do you want to create your own website or blogs? But you are not a professional in coding and thinking of hiring a developer for this, wait! There is no need to hire a developer and designer. A drag and drop page builder for WordPress makes it easy for you to build and customize good looking and professional websites all on your own.

With the help of drag and drop page builder, you can save substantial costs by not hiring a developer. So here I am going to put an honest and comprehensive review on one of the most popular and ultimate drag and drop WordPress page builder that is ColibriWP.
About ColibriWP Page Builder
ColibriWP is a WordPress page builder that aims to offer an amazing website creating experience completely free. You can now create your website in minutes without being a tech savvy and writing a single line of code. ColibriWP offers you extensive design features that allow you to customize any element on your page, as well as150+ readymade content blocks, 25+ drag and drop components and layout packs with top-notch technical support.

With an intuitive drag and drop Interface that allows you to build stunning websites and customize everything in a website faster than ever before with Colibri's template library & blocks.
ColibriWP Features Overview
All Colibri projects created during the beta period will have all the PRO features for free and they will stay that way forever. After the beta period expires, Colibri will have a free version with fewer features and a PRO version containing all the features.

Here are some interesting features they serve;
The standout feature: a different kind of WordPress Customizer
The standout feature in Colibri is the deep integration it has with the WordPress Customizer. Unlike other page builders, Colibri is built directly into the Customizer, so you can design and create pages from one screen.

By designing pages directly in the Customizer, Colibri has the advantage of using an already tried and tested UI, and creating a more unified and streamlined design experience.

In the traditional page builder approach, you design the content of a page in a completely separate screen, that often has its own UI. However, you can't modify everything you see from these page builders, so you sometimes have to go to the WordPress dashboard in order to adjust your headers, navigation bars and footers.
A good catalogue of predesigned blocks
If web design isn't your strong point, then rest assured, since Colibri comes with a good library of premade sections and blocks that you can use as a starting point. They cover a pretty wide range of functionality as well, such as features, services, team testimonials and more.
Edit colors, typography, and icons
Colors and fonts are the bread and butter of any WordPress page builder, and Colibri delivers. It comes integrated with the Google Opent Font library, which has around 600+ available type faces you can use. On the color front, Colibri offers extensive abilities to adjust colors. You have a wide array of premade color schemes you can choose. Of course, you can also set your own colors, either by choosing one on a color wheel or selecting it with RGB / HEX code.

Besides fonts and colors, Colibri has numerous icon libraries already built it. Whilst we couldn't find an exact number, a basic eye estimate tells us it has at least 1000 icons, if not more.
Click on an element and customize
With Colibri, you can customize any element on the page, simply by clicking on it and then using the styling panel to adjust anything you would like.

For instance, you can easily adjust aspects such as borders, margins and padding. You can resize columns and drag and drop elements to different positions on the page, depending on what exactly it is you need. One particularly neat feature included the ability to change the background of the section, either by using an image or a gradient, which is a nice touch.
A fully responsive page builder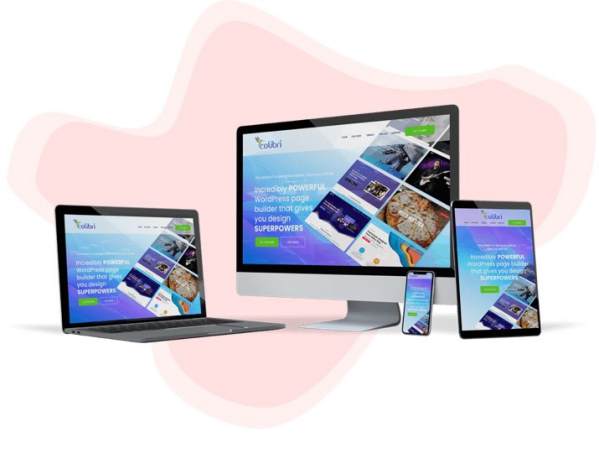 Of course, all of the designs you make with Colibri are responsive by default. The builder does a good job or arranging the elements and sizing them up properly in order to fit the smaller screen sizes. However, you do have the freedom to individually modify a page on a given screen type. So if you want to make a website look a certain way on mobile, without influencing how it looks on desktop, you can easily do that.

There are also various toggles in the settings menus where you can choose if a certain element is visible on either desktop, tablet or mobile.
A good collection of predesigned sites
If you want a head start in creating your website, then you're in luck. Colibri comes with an extensive collection of ready made website templates you can use. These cover a wide variety of use cases, so there's at least 2-3 you can use to jumpstart a project right away.
An overview of the available components for ColibriWP
Besides individual site sections and blocks, Colibri offers a collection of design components you can use to design and create a website down to your smallest preference.

These offer a wide array of functionality, such as adding and modifying headings, icons and more. Of course, all of these can be modified and customized from the styling panel.

Below is a list of all included drag and drop design components:
Columns
Text
Heading
Image
Button
Link
Icon
Spacer
Divider
Video
Multiple Image
Accordion Menu
Dropdown Menu
Vertical Menu
Map
Social Icons
Icon List
Counter
Contact Form
Blog Posts
Grid Gallery
Content Swap
Short Code
Widget Area
Logo
Search
Page Title
ColibriWP Support
Colibri provides awesome support team. Their technical team is here to help you build an awesome website. They usually answer support issues in less than 1 business day. They are constantly updating Colibri to ensure compatibility with the latest WordPress versions and also working to add new, cool features on their dashboard.

Colibri is easy to learn and master, but you can always check out their documentation to learn more about features you might have missed.
ColibriWP Cost

Right now it is completely free. All pro features are unlocked during this Early Access period.

All Colibri projects created during the beta period will have all the PRO features for free and they will stay that way forever. After the beta period expires, Colibri will have a free version with less features and a PRO version containing all the features. May be this offer will be remain active for few times, so just sign up and get started with ColibriWP and access all features completely free.
Why Choose ColibriWP?
Create WP sites in your Colibri account and start designing immediately.
Easily share your projects with clients or collaborators
Download your projects and publish to any hosting server
Get brand new WordPress theme with unlimited power with customization possibilities
ColibriWP comes with all the features that you need to build awesome website layouts
Create and share websites from your online account
ColibriWP page builder plug-in comes with both frontend and backend editors
ColibriWP Page Builder works seamlessly with popular WordPress plugins
Colibri allows you to create WordPress sites online with 0 setup
Using the Colibri builder you can design a pixel-perfect website right within the WordPress Customizer
With the Colibri Publisher plugin, you can publish your website to any hosting server you prefer with just a few clicks
You need 0 coding knowledge required to set up a website you want.
With colibri's quick drag and drop builder, you can make instant page edits from the frontend of your site
You will get predesigned elements you would love to use
You can select any element and customize accordingly
You can also control row layouts and widgets from within the page builder.
It comes with more than 25 drag and drop components
Colibri comes with couples of gorgeous page templates
Colibri comes with a variety of beautiful website templates to get you started in no time
You will get colibri's professionally designed website templates
Colibri page builder is creating SEO friendly layouts
It allows you to create responsive, mobile-friendly, layouts out of the box
Colibri is compatible with your WordPress theme, you will not find any compatibility issues.
Colibri page builder works with any WordPress theme giving you full control over your content
I hope you enjoy learning and building with the ColibriWP page builder and this comprehensive review on ColibriWP's WordPress page builder will help you to understand in such a way so that you can understand your needs and start creating your own site.

Here I recommend you to use Colibri (Ultimate WordPress page builder) and create your website.