Are you a businessman? Do you have a business which needs growth? The most basic answer to how to grow a business is 'Advertisements',

One must understand why people advertise? The simple answer is that, 'people advertise to reach out to more people and by doing that we can grow our business' this is correct but nowadays ads have also changed themselves.

Since the internet came into existence and websites took birth, ads changed. Now these 'E-ads' are used on websites.

These ads rules the world because everywhere on internet we can find these ads and also on almost every streaming service, before when we listen to music, before we start watching a video, before we start watching a movie we encounter these ads, which shows the fact that ad networks are really something, they have potential to advertise (only if you are using the right one) and one such ad network is Clickadu which works mostly in the Entertainment market.
What Are Ad Networks :-
If you want to grow your business you can advertise your business on various sites but! How will you find such sites? Sites which will advertise your ad and you will actually get benefit? As an advertiser the basic thing you must know that you need to pay for advertising, without paying you can't advertise.

Consider, money is not an issue but still how will you search for sites, this is where 'Ad Networks' comes in. Ad networks are kind-of brokers who will take money from you and will publish your ads on sites.

But on which sites they will publish? They will publish on trusted sites where traffic is good. We must know how Ad Network works actually, Ad Networks have some tie-ups with some sites, they already own some ad slots on sites and then they fill the slot with an ad from the advertiser.

There may be many ad networks out there that I don't know and I don't even care, all I know is about this service. The name of the service is 'Clickadu' which is an Ad Network.
Clickadu Overview For Advertisers :-
Clickadu is a digital advertising network with multi-format inventory to choose from. Our aim is to provide 360° ad coverage and monetization capabilities in one place.

What I love about this service is that when you open their site, you will see the daily impressions, which is more than 2.5 Billion and all comes from the direct publishers (unlike the majority of ad networks).

This is an insane amount and some people might say "Okay, okay impressions are easy, real thing is to get conversion", so for that I must mention that this service's daily conversion are about 3.3 million, there is no need to count the zeroes, it is a huge number and with service like this your business will boom for sure.

They have the solution for the EasyList bans (adblock/browser built-in adblocks) - Mass Domain/URL/Part Changer.

To get started with Clickadu you need to register on the site and create an account as an advertiser. It was founded in 2014 and since then they are providing their service.
Types Of Ad Formats Clickadu Offers:-
What type of ads can I publish through Clickadu? There are many types of ads like - Banner Ads, Popunder, Push Notifications, Inpage Push, Instant Text Message, Video Pre-Roll and SKIM that you can publish with this platform, below they are mentioned.
1. Instant Text Message :-
This is the most common type of advertisement that I have seen on my mobile phone. In this when the user will touch the screen, the user will receive the ad as a message on the screen. This is quite simple but sometimes simple things are the best and this is an excellent example of it.
2. Video Pre-Roll :-
This ad type is compatible for both desktop and mobile devices. A promotional video is played right before the content selected by the user, videos are really interesting and this type of ad can lighten the curiosity of people. All JS and HTML players can support it and the files that are MP4, WMV, AVI, MOV and FLV are supported.
3. Skim :-
These types of advertisements are also pretty common. In this what happens is that on the site a link of the ad is available and when someone clicks on the link the advertisement will appear. This is also kind of decent, because the ad is not on the face.
4. Pop-Under :-
These types of advertisement are those which pop under the main active window when the page is clicked. It goes unnoticed until the main tab is closed. Pops also win the problem of blindness. Most of the people might have experienced this ad.
5. Push Notification :-
It's an ad which allows us to advertise to people who are not even on the browser. Website visitors will get an invitation for an ad like to subscribe to a newsletter or a service, from that message they can select to either yes or no.
6. In-Page Push :-
This appears when a user is browsing the publisher's site, the ad will pop up like a message. This is available on every OS device, even on iOS. It does not require a user subscription to show advertisements, so it provides high reach.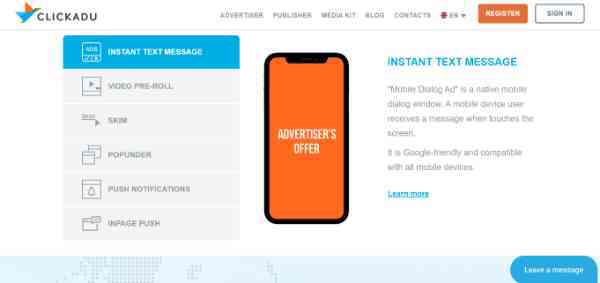 These were the types of advertisements available on Clickadu, people will have a bunch of choices to select from.

Average Traffic Amount:

Banner Ads: 800 Mln

Popunder: 230 Mln

Push notifications: 3.3 Bln

Video: 18 Mln

Inpage: 200 mln

Instant Text Message: 4 Mln

SKIM: 3 Mln
7. Banner :-
Banners are suitable for many advertising verticals. For users it looks like a commercial image or an animation which appears on a publisher's website page. At the moment we have two banner ads sizes available: 300х250 and 300х100. A publisher can place it anywhere on his website.

Want to promote your products/brand/offer with our new format? Feel free to since it's already available for you on Self-Serve Platform. With banners you can add up to five creatives for one campaign and track statistics for each of it. Choose between CPC/SmartCPM/CPM pricing models.
Clickadu Statistics :-
4Bln+ traffic from all over the world daily fresh out the direct publishers
3.6Mln daily conversions
3300+ Active publishers
41300+ Active ads campaigns and 7000 active advertisers
22 verticals
240+ GEOs
How To Create A Campaign On Clickadu :-
You need to create a campaign to advertise your ad. You can visit the campaign page of the site to create a campaign. They have provided quite advanced API and Mass Domain/URL/Part Changer functionality for ad automation and also they have an adaptive platform design (unlike the majority of ad networks).

There you can select the ad type (the types are mentioned above), you also have many target possibilities.
Select the 'country + carrier targeting'
Select the maximum daily budget of the campaign or the total budget of the campaign
Select the device types like (android or iOS)
Select the type of 'Operating System' and even the version of Operating System
Target a browser and a language and there are many more options
Select from to create your effective and your mind-like campaign to reach the targeted audience.
Fully Managed Campaign :-
There are two types of campaign management that are available, one is SSP and the other is 'Fully Managed Campaign'. We are in SSP by default when our account is created, in this only you have the control over the account and only you can manage the settings.

What happens in 'Fully Managed Campaign' is that you get an account manager who will manage your account and you can move aside. In this mode you also get some extra + features for your account. Moreover, it is also a good feature of Clickadu.
Deposit :-
As you are an advertiser you need to pay this company, if you want your ad to be advertised. It totally depends on you how much money you are willing to spend for advertisement. You can either select the lowest valued plan or select the highest valued plan.

But there is one thing that you need to do to even start as an advertiser, after creating your account you need to deposit a minimum amount of 100$ to advertise. There are four types of price model for you to select from (CPM, Smart CPM, CPC, Smart CPA). To tell more about the pricing models since SmartCPM / SmartCPC are not that habitual.

After this deposit, it totally depends on you how much you are willing to pay the campaign for your advertisement.
Support :-
Okay, I understand that this service is good but what if I got stuck somewhere and want an immediate solution? In this type of situation you can contact the support of the company, the response time of support is really fast.

You can contact the company from the contact form from the website to resolve your problem or you can live chat via skype with them. The support is impressive and it will really resolve your any problem regarding the functionality of the service or any other thing regarding this service. There are people who might use support for just fun or take out their frustration, so don't be that guy, be nice and your problem will be resolved.
Advantages Of Using Clickadu AdNetwork For Advertising :-
User-friendly SSP - A toolkit to ensure statistics transparency and campaign automation
Fast campaign moderation - You're a coffee break away from launching a campaign to getting traffic
Fraud and bot filters - Machine Learning-based algorithm to filter poor quality
Multiple payment methods - More than five solutions to cash out or top up your balance
360° Ad coverage - Your product will get noticed for sure with a wide variety of ad formats
Qualified support team - A team of expert managers concerned about your success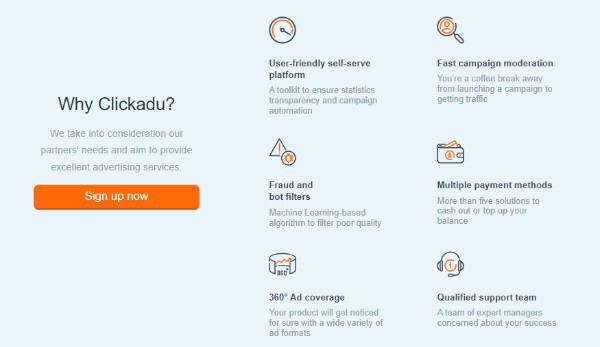 What will you get as a Clickadu advertiser?
4Bln worldwide traffic fresh from the direct publishers
7 ads formats that can be mixed for a better result
22 verticals - more than in any advertising network
4 pricing models to choose: CPM, CPC, SmartCPA, SmartCPM
Advanced Multi-DC communication that reduces discrepancies
In-house traffic quality control
Dedicated support & managers team
And what about the publishers?
41k+ active campaigns daily that creates a high traffic demand.
CPM up to $9
Clean feed (we're on it with our Policy restrictions and several moderation stages).
Weekly payments (at $50) with no hold via PayPal, Webmoney, Paxum, Crypto-wallets, and Wire.
Referral program that will give you up to 5% from publishers' revenue who registered via your referral link
New features :-
In 2021 Clickadu announced an online banners ads format. Using them you could achieve great conversion and earn much more money. What advantages do they have?
5 creatives within one ads campaign
CPC/SmartCPM/CPM price models
Pay only for targeted conversions with misclick protection system
CPC model free testing
Two formats: 300x250 and 300x100
Conclusion :-
Clickadu is like a saviour for some businesses, it's service is really good. You can select from so many advertisement types and you can also select targeting possibilities. You can really reach a good amount of people and their conversion rate is epic also.

In short, you must try 'Clickadu' for the promotion of your business and you will surely see changes and will start realising that Clickadu is really a good thing, it can really do some things with advertisements to advance the business growth.

If you don't know much about it then don't use it because maybe you might do something that might keep you away from your best result, so research first and only then start using it. One must repeat this behaviour with everything which is possible 'If you don't know it then don't push it'.