Blueticks allows you to effortlessly and smoothly schedule WhatsApp conversations. You may also arrange recurrent messages to be sent out on a daily, weekly, or monthly basis.

WhatsApp campaigns, WhatsApp API, and WhatsApp scheduler have made the task of the corporate clients and employees very easy.

Prior scheduling of messages, following up on the clients, and managing the campaigns is the main task of Blueticks.

Manage projects, create customized message campaigns, and plan future messages with the ultimate WhatsApp management tool.

Learn how to use your new WhatsApp abilities!

Blueticks is the Ultimate WhatsApp Chrome Extension. Blueticks is an all-in-one engagement platform that integrates critical marketing and administration capabilities right into WhatsApp Web.

Blueticks enables you to successfully interact with your audience, increase productivity, and much more!

Talking about the current scenario, there are 40K scheduled messages per day, 56K tasks handled per day, and 20K active users of the Blueticks.
Schedule WhatsApp Messages Using Blueticks :-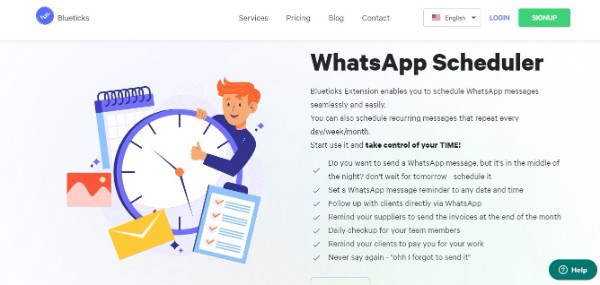 Do you want to send a WhatsApp message although it's late at night? Make it a priority instead of putting it off until tomorrow.

You may schedule a WhatsApp message reminder for any day and time. Maintain direct contact with clients using WhatsApp.

Remind your vendors to send invoices before the end of the month. Do ask with your team members on a regular basis. Remind your clients to pay you for your services.

Don't say, "I am sorry,I forgot to send the message to you."
WhatsApp Campaign
WhatsApp marketing can bring your company to life! Your business will prosper if it has steady growth and brisk involvement.

Please use this tool with caution and avoid sending spam messages. Launch WhatsApp campaigns with an infinite number of recipients.

Reach out to your customers directly using WhatsApp, which has a 99 percent open rate. Campaign communications may be tailored to each interaction.

Import recipients without adding them to your phone's contacts using Excel/CSV. Campaigns can also be scheduled.
Manging The Tasks Efficiently
They bring us a new method to manage chores! From now on, if we receive reminders such as: don't forget to... did you finish to...

I require you to...

You may turn it into a task before it drowns in the never-ending flood of communications. Tasks may be planned, managed, and tracked. Each assignment can have photos and files attached to it. You handle tasks for each WhatsApp group/contact independently.

You handle tasks for each WhatsApp group/contact independently. A simple user interface that makes administration enjoyable and productive.
WhatsApp API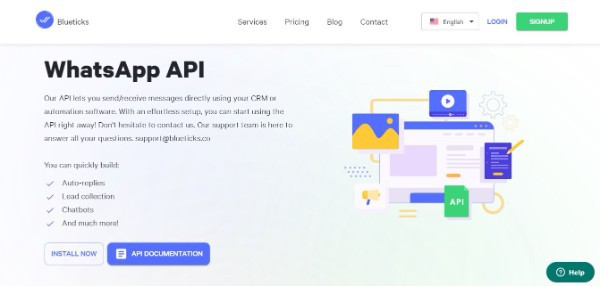 API stands for Application Programming Interface. WhatsApp API provides you the ease of building auto-replies and chatbots.

In this manner, it will send the concerned message even when you are sleeping or off too somewhere.
Blueticks Features Overview :-
Feature 1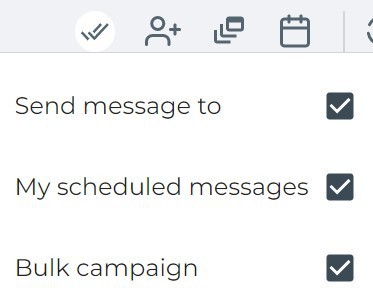 The above image is of the Blueticks menu in which we can arrange the scheduled messages and make/delete a campaign for a specific purpose.

The number in this depends on the type of subscription you buy for the concerned period.
Feature 2
You can also chat with a person on WhatsApp without saving his/her mobile number on your phone.

Often, we don't want to save the number of the person as the chat is just one time.

This feature helps us to do the same. This also helps to ensure the privacy of the person to protect them from any fraud and illegal practices.

For instance, if you want to message customer care of a firm but don't wish to save their number, you can use this feature and have a word with them by keeping privacy on their display picture.

Numerous persons have saved themselves from illegal practices like this.
Feature 3

One can also create a broadcast to send one message to "n" number of people.

If you don't have the necessary contacts saved, don't worry, you can import the file with the names and contact numbers. In this manner, the task will be much easier and simpler.
Feature 4
If you are a firm that uses WhatsApp for its online sales, then this feature can be of great help to you. Start a marketing campaign for a specific period and increase the sales of the product.

Templates can also be changed according to the requirement of the firm/ person. You can run many campaigns.
Feature 5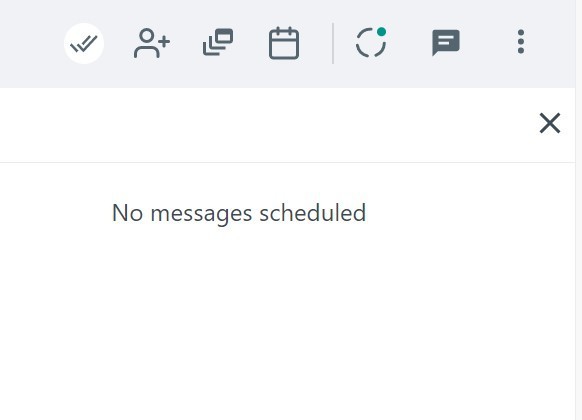 Scheduling of messages makes your work much easier and simpler. By using this feature, you can follow up with the clients even at the oddly hours/midnight.

You don't need to wake up, just schedule the message you need to send to the concerned person and click on ok and your job is done now.

The number of messages to be scheduled depends on the type of subscription you acquire.
Blueticks Plans & Pricing :-
1. Basic
Give them a chance! It's always free!
You can schedule an unlimited number of messages (only one message at a time)
You can manage an unlimited number of tasks (up to four tasks per group/contact).
You can launch an unlimited number of campaigns (with branding)
You will receive unrestricted email support.
2. Scheduler
It is priced at $3 per month.
You're Taking Back Control of Your Time!
You can schedule messages indefinitely.
You can manage an unlimited number of tasks (up to four tasks per group/contact).
You can launch an unlimited number of campaigns (with branding)
You will receive unrestricted email support.
3. Manager
It is priced at $20 per month
You are taking charge of your TIME, PROJECTS, and TEAM.
You can schedule messages indefinitely.
You can manage tasks indefinitely.
You can launch an unlimited number of campaigns (with branding)
You will receive unrestricted email support.
4. Campaigner
It is available at $29 per month
You've got your client's attention!
You are taking charge of your time, projects, and team.
You can manage an "n" number of messages.
You can manage an "n" number of tasks.
You may launch an unlimited number of campaigns without branding.
You will receive unrestricted email support.
There are several free features accessible that may be readily accessed and utilized by everyone.

To enjoy the premium features, you must purchase the appropriate package. It is not expensive and can be purchased by everyone.

The quality of features provided to premium users is undeniably higher. It broadens the selection range and adds new provisions, among other things.

If you want a wider variety of options and customizing effects, go ahead and purchase the premium package.
Why Should One Use Blueticks ?
There are numerous reasons why one should use Blueticks. First, let's have a look at the type of features it offers for its users/clients.

They target a huge amount of business audience and are meant to make their work much easy and simpler.

Earlier, following up with the international clients was a bit of a task oddly hours but now it can be scheduled through blue ticks.

Campaigns are a big help to the firms who want to engage with a large customer base and increase their revenues a warp speed.

The Interface is also much simpler and very easy to use for a layman. You just need a practice of a day or two for the efficient utilization of the chrome extension.

Every application is updated regularly to add new features and fix bugs. Blueticks follows the same trend, providing regular upgrades to users to provide new features and services.

It keeps consumers informed and in control of their communications journey. The blue ticks addon has incorporated new functionality and enhanced the user experience.

This updated version also includes additional text editing features. Signup for Blueticks here.
Conclusion :-
The blue ticks chrome extension is very less known to the people nowadays, as its use is yet to be known in the market.

Its characteristics make it very useful from a business point of view. Daily updates and the addition of new features are made in this extension; thus making it attractive for the person using them.

If you are a business owner, I suggest you should go for the campaign subscription, since it will provide you access to everything at a very nominal price.

Regular updates provide new features to the program, expanding the number of options. Furthermore, there are occasion-specific deals, such as those for Christmas and New Year's, that aid in attracting the appropriate demographic.

You may use whatever filter you like to send personalized greetings to your family and friends for various occasions and events. The text editing features also aid in personalizing the messages.

If you want decent blue ticks to feature on your WhatsApp or another android medium, download the extension.

It is also accessible in a variety of languages, including English, German, Russian, and Portuguese.

As a result, everybody around the globe may use the app and understand and implement the features in their language.

The app's developers make certain that users have access to the most up-to-date features and have a pleasant experience.

The regular upgrades maintain user happiness and move the app closer to being the Blueticks app in the Google Play store. Stop waiting, Go and download the extension!