Digital marketing is a rapidly developing industry that can be quite daunting to navigate on your own. That's why we recommend relying on ad networks when monetizing your content - these all-in-one platforms can help you to not only increase your profits, but also make the process of earning money online completely hassle-free.

Adsterra is a highly experienced ad network that has been on the market for 7 years. It knows the industry inside out, and thus always stays on top of the latest trends in digital marketing.

Its years of experience help Adsterra develop formats that give its partners the highest CPM and CTR, and the company frequently posts case studies that show how top affiliates make money using the platform.

Today, we will take a look at how Adsterra works and what it can offer publishers.
What is Adsterra?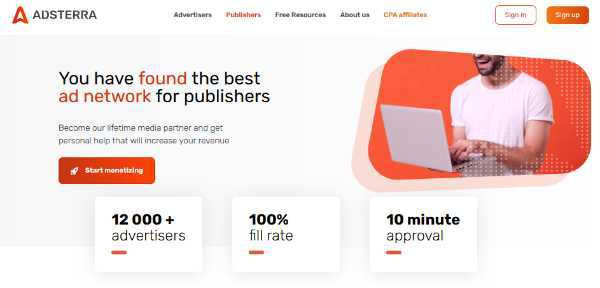 Adsterra is a big international ad network that currently works with over 18 thousand publishers and 12 thousand media agencies, brands, and other advertisers.

They have already carried out hundreds of thousands of successful campaigns across both mainstream and non-mainstream verticals, and always continue to improve and implement new features.

One of the best things about Adsterra is their focus on innovation - they have even received recognition for their accomplishments in that area. The company constantly upgrades their existing ad formats and develops new ones in order to boost the profits of their partners.
Adsterra Features Overview For Publishers :-
Adsterra boasts a wide range of features that can help any publisher or advertiser to increase their profits.
1. Innovative Ad Formats
Adsterra gives publishers access to a wide variety of different high-performing ad formats:
Popunders
In-page pushes
Banners
Smart Link
Social Bar
And more!
Social Bar is a unique ad format that was developed by Adsterra. It sets itself apart from other formats on the market by being highly customizable and incredibly interactive. Your creatives will look exactly the way you want them to. Social Bar has proven to give publishers much higher CPM than traditional ad formats like Web Push.
2. Lifetime Referral Program
Adsterra offers a lucrative referral program: each partner who joined Adsterra via your referral link will add 5% of their profit to your income. Forever.
3. Automated Self-Service Platform
When using Adsterra, you can choose to either work with one of their highly professional and helpful managers or use their automated self-service platform (or SSP for short).

SSP is especially great for publishers on a tight budget or ones who don't have much time to spend on their campaigns. It lets you speed up the process of creating ad campaigns, generating ad codes, and gives you 100% control over your ad campaign settings.

Additionally, SSP allows you to easily track your stats and monitor ad performance across all placements all in one place. It's simple, fast, and fully transparent.
4. Smart AI Optimization Tool
Adsterra gives all of its partners access to their in-house AI-based smart optimization tool. It analyzes your traffic and suggests offers that will be able to provide you with the most profit. This tool is highly customizable - you can exclude categories of offers that you don't want to see and exclude certain verticals.
5. 24/7 Support
Adsterra's multilingual support team works 24/7 to help you to resolve any issues and answer any questions you may have.

Additionally, Adsterra's Partner Care program ensures that you will always be able to get a quick, personalized reply and will be offered access to their in-house developed design concepts.
6. Three-Level Security
Adsterra ensures the security of their partners' funds and data by using a combination of in-house and third-party fraud erection systems to detect and get rid of scams, malware, and other criminal activity.
Adsterra's Payment Policy :-
With Adsterra, you will never have to worry about your payouts being lost or withheld. Their payment policy is extremely straightforward, and payouts start from as little as $5.

There are multiple payment options:
Webmoney
Paxum
BTC (Bitcoin)
PayPal
USDT (Tether)
Bank Wire Transfer
Adsterra uses Net 15 payment terms, and offers exclusive conditions to long-term partners and publishers with high revenue.
Adsterra Pros And Cons For Publishers :-
So, how does Adsterra match up to the rest of the industry? Why should you use it?

Well, it's not just any ad network - it has quite a lot to offer! Besides the features we've already mentioned above, there are some other benefits Adsterra can provide to its users:
Adsterra is absolutely free to use for publishers
No minimum traffic requirements
One of the highest cost-per-conversion rates on the market
Both desktop and mobile-optimized ads available
Huge iOS reach
Easy integration into WordPress
Gives you the ability to monetize profiles on social media, e.g. Facebook pages
In-house anti-AdBlock feature
20+ targeting filters
You can run ads with non-mainstream traffic
However, Adsterra also has some cons that you should consider before working with them. Here they are:
No demographic targeting (yet)
CPM rates vary by country
Conclusion :-
Adsterra is a great ad network for publishers who want to increase their profits without having to go through any complicated and lengthy processes.

The platform is extremely easy to use, yet packs quite a punch: their ad formats have proven to be highly profitable, their managers are courteous and helpful, and their R&D department is one of the best in the industry.

Furthermore, Adsterra has a simple and straightforward payment policy, and dedicates a lot of its resources to keeping both the funds and the data of its partners safe.

Overall, Adsterra is a highly profitable ad network that we can recommend to all publishers.