If you are a seller and has been selling your products in E-commerce platform like Amazon, AliBaba, Flipkart and so on then you definitely seeking the way to increase your sales conversion. Isn't it?

If your sales conversion is low then certainly "product research" is the major problem. Are you looking for product research help so that your sales conversion may increase on E-commerce platform? Yes! You are at the right place.

Here I am going to put an honest review on "Wish Inspector" with features and interesting facts-
What Wish Inspector Is?
Wish Inspector is a web-based powerful e-Commerce product research software that quickly analyzes thousands of products on wish.com for your E-Commerce stores.

You can save hours of endless research using Wish Inspector software to uncover top selling products for your E-Commerce stores & easily import unlimited products into Shopify and WooCommerce with just one click.
Why Wish Inspector is different from other relevant software ?
The main thing that makes it different from others is that this software pulls back data so fast and also being able to import products into Shopify is huge
Covers a wide variety of popular niches and category.
Focus only accurate sales of the products
Easily accessible and unique than other software available in the market
Save you hundreds of hours of researching for getting the best selling products into your E-Commerce
The Wish Inspector is the only software on the planet that analyzes products on wish.com, so this is the only place online where you can get this type of research software.
Features of Wish Inspector Software :-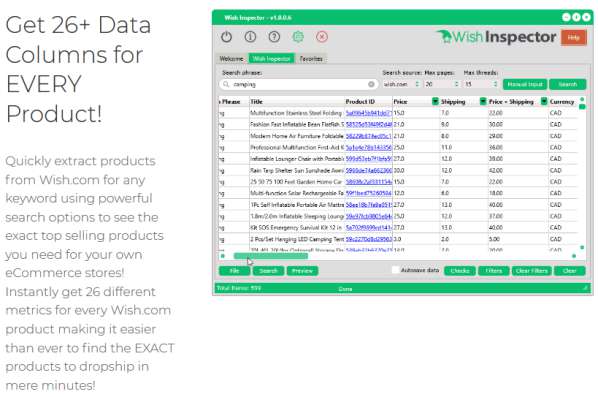 They have integrated features that allow you to import unlimited products and reviews into unlimited Shopify stores and Unlimited WooCommerce stores if you desire. Or you can use the software to find the best selling products and source them from other wholesale websites like AliExpress.com Here are the key features of this software that really impressed me;
Powerful Search Option
You can quickly extract products from Wish.com for any keyword using powerful search options to see the exact top selling products you need for your own E-Commerce stores! Instantly get 26 different metrics for every Wish.com product making it easier than ever to find the exact products to drop ship in few minutes.
Unlimited Imports Products
I like this features so much, with Wish Inspector you can import unlimited products into the Shopify and Woo-Commerce. It's never been easier to import hundreds of products directly into your Shopify & WooCommerce stores in just minutes.

The built-in product import feature will auto-generate the sale price from the markup percentage. And, auto-generate a regular price from the predefined discount percentage! Plus, it also auto-generates useful SKUs (Stock Keeping Unit) for each imported product variation. Additionally, all image variations, color variations, and size variations are all properly imported!
Import Reviews
The best way to get more sales is to display product reviews, and Wish Inspector makes it super easy. Using the review export feature, you can quickly generate a reviews import file for any given wish.com product in just seconds, plus, you can import the unlimited number of reviews for the unlimited number of products. You get full freedom with no restrictions.

You instantly get the ability to select the top positive reviews providing your store with the best reviews. They provide you quick tutorial videos showing you exactly how to do this.
Super Fast Data Extraction using Multi-Threading Technology!
Don't wait for hours getting the data you need! Use Wish Inspector and you can extract up to 15 products at the same time! Extract over a thousand products with over 26 different data columns in about 2 minutes!.
Easily Download Unlimited Product Images & Details!
Would you like to download product images, details and description? Now with Wish Inspector, You can download all the image variations and details for an unlimited number of products directly from Wish.com! Use the images in your own stores and easily get the product descriptions and titles from easy-to-use text file. Have the ability to instantly download the top-selling products directly to your Windows or Mac computer. All products are conveniently organized into folders and files for easy access.

Special note :- Bundle up your downloaded products into compressed zip files to deliver to your team or virtual assistant or even provide the data to your clients!
Save Your Best Results
With Wish Inspector to save your best products to your favorites section is becoming easier. No more sifting through your saved project files. Now you can easily keep your favorite products all in one easy-to-access section
See Preview of all Product Images and Data
See all the product images & data, by clicking on the "Preview" button you can instantly see all the product image variations. See larger images by simply hover your mouse over top the thumbnail images. The files are 100% self-contained and can be delivered just like any other file format.
Fast Quick-Filters
Get blazing fast quick filters at the top of the columns. With just one click you can instantly get the data you want to see!
Custom Filters
You can also create any custom filter you want for any column you wish. Plus, you can save your favorite filter combination to a file, and load your saved filters with a few clicks, saving you hours of searching. Stop wasting your valuable time searching products online for hours on end and use the power of Wish Inspector to get the exact data you need in just minutes.
Wish Inspector Pricing
It sounds good that they charge only one-time payment, you will never be charged a subscription or recurring fee. Your purchase includes lifetime access to the current major version and minor versions contained within the current major version and you can access this superior software lifetime, without any hidden and extra charges.

Great! For a limited time period, you can get the benefit of Private Discount. It is based on first come first serve. So you can grab this great offer only for few time periods.

There are two packages you can choose as per your requirements and needs. One package charges you $67 only while another one package is available only with the charge of $77 only.

Both packages provide almost the same features and the differences are that -
Package With $67 you can install it on one computer while another package charges $77 allows you to install it on 10 computers for you and your team
Package With $67 only allows personal use rights while package charges $77 is for developer rights.
You can purchase it through all major modes of transaction like, VISA and Master Card, PayPal, American Express and Discover payment gateway. All payment modes are secure and assure your safety and privacy.
30 Day Money Back Guarantee
Your purchase comes with a full 100% money back guarantee. If for any reason, you are not satisfied with their purchase, you will get refund all your money back with no questions asked. As per their policy they don't deserve to accept your money unless you are completely satisfied with the product. Wish Inspector takes all the risk for the customer. Get the brand new Wish Inspector software today with 30 days money back with 100% guarantee.
Can Wish Inspector import files to other E-Commerce sites other than Shopify and Woo-Commerce?
Wish Inspector claims that the software can generate CSV import files that are specially formatted for importing products and reviews into Shopify and for importing product and reviews into Woo-Commerce. They are able to integrate the ability to import into more E-Commerce platforms based on customer feedback.

Wish Inspector integrated a very useful tool for manually inserting products very quickly. Just a right-click any product in your list inside the Wish Inspector software and select product details, and you can use the copy buttons to quickly get the product details you need to paste into your E-Commerce product page, such as the product title, description, colors, sizes, and images. So finally I can say that they provide a tool that makes importing files into any E-Commerce platform much faster.
Compatibility
You can access Wish Inspector software hassle-free on both PC and MAC computers with the version of Mac OSX 10.8 or higher, and Windows XP, 7, 8, & 10.