In recent times, we have seen a sudden rise in the adoption of e-commerce platforms because of lockdowns and pandemics.

Even before that, e-commerce stores constantly try to add better features to improve the user interface.

Although Amazon is still the unbeatable giant in the e-commerce industry, the crown is seen slipping through it, thanks to the high-quality competition and better shopping cart facilities.

It's hard to believe but users left items in the cart if there is no proper or clean shopping cart experience. To solve this issue, there is a shopping cart migration tool in the market named Cart2Cart. Let's dive more into this.
What Is Cart2Cart?
Cart2Cart is an advanced and trusted shopping cart migration service that simplifies the process of data transfer to a few easy-to-do steps that simplifies the process.

eCommerce platforms are constantly introducing new features, tools, and capabilities, as well as enhanced responsiveness and performance and a competitive pricing strategy, to keep up with the expansion of eCommerce and the acceptance of online purchase and marketing strategies.

Switching from one cart to another is a common occurrence among online retailers and businesses with eCommerce operations, and the procedure can be inconvenient.

Cart2Cart makes the entire migration process quick, easy, and inexpensive. It works with over 90+ different eCommerce platforms, including some of the major names such as Magento, Shopify, Etsy, and BigCommerce, WooCommerce to mention a few.

A seamless migration technique is made up of simply three easy steps that take only a few minutes to perform.

Technical knowledge is not required. Simply provide the information required to establish the most comprehensive data exchange possible, and immediately you will find your store up and running.

It's that simple to migrate with Cart2Cart. Not only that but, Cart2Cart has a proven record of completing more than 250,000+ migrations, these are huge numbers.

But that's not all, let's look at some of the highly praised features of Cart2Cart.
Cart2Cart Features Overview :-
Cart2Cart is actually considered the most advanced migration tool out there. Being the oldest of them all, it provides the ability to move not only customers, orders, reviews, but also currencies, 301 SEO Redirects, taxes, passwords and a lot more.

Although early entry projects often come with a lot of bugs and malware, Cart2Cart is a pure exception - even though it was one of the earliest services of this kind, it furnishes users with unbeatable features, let's look at the supreme ones.
1. Easiest Migration In The Market
Cart2Cart is popular because of its 3-step migration process. With its easy-to-use Migration Wizard, users can now migrate data between various shopping platforms on their own without the need for complex coding.

Also, there's no need to work on troublesome data imports and exports. The best part is that you don't need to do it manually either. You just need to grant access to it and there you will have your cart migrated successfully without any hustle.

You just need to do one thing at the end, step back, relax and enjoy the process.
2. Migration Insurance Service
The Migration Insurance Service is there to perform as a backup in case your store fails to launch or any other issue arises.

There are a variety of reasons why issues arise after a move. Websites that aren't integrated with their target carts don't work as efficiently as they should.

Another problem may be caused by incorrectly updated data, corrupted modules, etc. It goes on and on.

Let's face it, we're in this together. Every potential danger cannot be eliminated. While Cart2Cart is a dependable migration solution, it is impossible for it to forecast and prevent every issue on the e-commerce platforms it supports.

There is, however, a creative mitigating option. By allowing you to restart the migration process in case of unforeseen issues, their Migration Insurance Service provides you with peace of mind.
3. Services Packages
We can also call it a Lazy Option as it allows users, who don't have enough time or doesn't want to click through the Cart2Cart setup wizard, to easily purchase one of the Data Migration Service Packages.

This package allows you to outsource the setup and migration process to highly qualified technical engineers of Cart2Cart.

Therefore, you won't have to do anything but your site will be migrated by an engineer. It is the most convenient option out there but also the most expensive one.
4. Fastest Migration
Cart2Cart is not only popular for its brand value but also because of the fast migration it provides to the customers.

In just one hour, Cart2Cart can transfer almost a whopping 5000 entities. That's a huge number when you compare it with its competitors.

The Cart2Cart service allows you to transfer all of your store's data, including products, orders, customers, categories, reviews, attributes, MS pages, custom fields, taxes, images, reviews, customer passwords, variants, and other transferable entities with the same high speed.

Also, you can continue selling online even when the migration is happening. You can check more services here.
Benefits Of Cart2Cart :-
With enhancements, modifications, and updates being introduced regularly, electronic commerce is gradually expanding.

A single shopping cart software is not a viable option for online stores, organizations, and firms that do e-commerce work in the dynamic and ever-changing world of online shopping.

The process of switching from one shopping cart vendor to another can prove to be tedious and time-consuming. In addition, this method requires a great deal of time, effort, and money, not to mention the massive risks associated with data loss.

This operation can be simplified, sped up, and cost-effectively done with Cart2Cart. Let's look at some of the key advantages of choosing Cart2Cart.
1. 24/7 Uninterrupted Support Service

Customer service is by far the most crucial aspect of any business. Without a good customer support, nobody would like to interact with the business because we all know, no matter what, there will be some customer issues after all.

Thankfully, Cart2Cart invested heavily in their support service team. Whenever you have a technical question, Cart2Cart is available 24 hours a day, 7 days a week, and is always ready to assist you.

Thus, you will get the benefit of advanced customer support for their queries. You can contact them with chat support, phone or ticket help.
2. High Rated Security Policy
No matter how big your brand is, you always doubt the other party. Well, Cart2Cart provides the best in class security policy.

From server security to Data access control, you will find all the types of security here. Cart2Cart uses HTTPS security and 128-bit SSL encryption which protects your data from being exchanged.

For electronic attacks, it uses a firewall, up-to-date network architecture schema and access restriction.

All the migrations are done on the secured server of Hetzner. Not only that but employees also cannot access the data. Thus, you will get high-level security.
3. Trusted And Recommended By Industry Leaders
It's human nature to trust something which is trusted by many, that's why we always say customer satisfaction is the most important aspect for any business.

Anything which is trusted by industry leaders is trusted by people also. Cart2Cart is no different, it is recommended by some of the industry giants such as Wix, OpenCart, WooCommerce, PrestaShop and the unbeaten king of them all Shopify.

There is no way all these leaders recommend a service if it is not good.
4. Pricing For All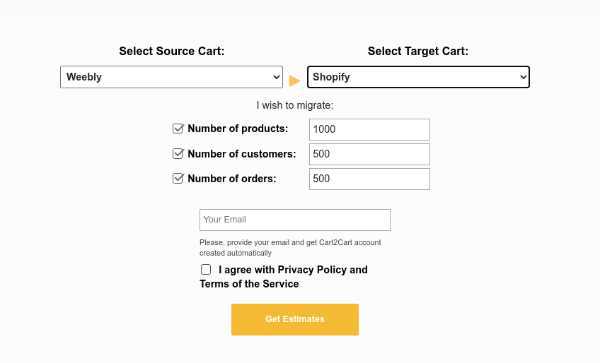 Normally when you get this many features and recommendations from leaders, you assume the price to be very costly.

Well, that is not the case with Cart2Cart - you will get the pricing according to your business type. No fixed price or high costing. Additionally, you will get a migration estimator which will tell you the estimated price for your specific migration needs.

You just need to fill in the number of products, customers, and orders and you will get the estimated cost for your cart migration.

Just to give you a clear idea, the plans start from as low as $29 and you will also have the option to get a free demo before trying out everything. For more pricing details click here.
Conclusion :-
eCommerce is a fast-paced industry, with constant improvements, updates, and new features being added.

Online merchants, corporations, and organizations with eCommerce operations can't stick to one-cart software in the dynamic and ever-changing world of online purchasing and selling.

With the Cart2Cart migration service, you may move shopping entities and their interactions from one shopping cart to another in a matter of minutes/hours (depending on the amount of data that needs to be transferred) and with only a few clicks.

There are about 250,000 active switches on the service's back end. It has the most transferable units of any platform and supports over 90+ platforms.

To relocate data, Cart2Cart does not require any technical knowledge or aid from the designer. It takes no more than 2 hours and has no detrimental influence on your current company's efficiency.