What is VPS?
A Virtual Private Server is just like a dedicated server but with a similar environment like shared hosting. Means it is the blend of both- shared and dedicated server.

This VPS server gives super user-level access to your server. This allows you to install any software or app on that server as per your requirement.

You can host your website on a VPS server with a dedicated amount of resources and you don't need to share this server space or resources with other websites as you do on a shared server. Though there may be other sites on the same VPS server as yours, but they won't affect the performance of your site nor the resources are shared.

Managed and unmanaged VPS are two main categories of a VPS server. In managed VPS server, all the server related tasks will be handled by the service provider. Tasks such as server security, server configuration, server maintenance, software update, etc. are handled in managed VPS hosting. While in unmanaged VPS, you will not get this level of support from their team. Hence, managed VPS hosting is always better to choose than the unmanaged one.

Now that you know what type of VPS hosting to choose, the next step is to decide on the cheap VPS hosting provider. If you are from India and looking for the best VPS hosting provider then you must have come across two common names Bluehost and MilesWeb. Here, we have compared both of these providers that will make your decision easy.
MilesWeb vs Bluehost :-
Plans and Pricing
MilesWeb:-
The VPS plans of MilesWeb start at Rs.860 per month. This plan comprises of 1 TB bandwidth, 1GB RAM, 25 GB SSD disk space and 1vCPU. MilesWeb has more such 13 plans of VPS. Refer below screenshot:



Bluehost:-
The starting plan of Bluehost is Rs.1399 per month that has 2GB RAM, 30GB storage space(RAID), 2 cores and 1 TB bandwidth.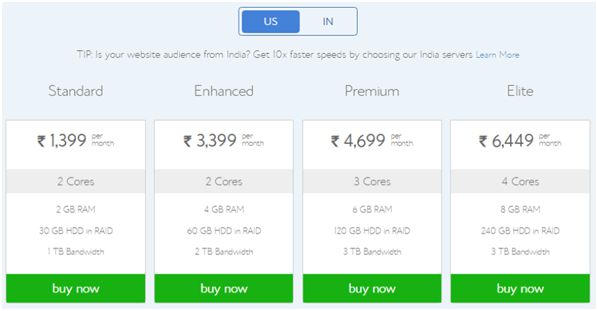 Conclusion:-
MilesWeb offers a wide range of VPS plans for Windows as well as Linux platform. Additionally, it has 14 plans for their Linux platform and 7 plans for Windows platform. Whereas, Bluehost has only 4 plans and only for Linux platform. Thus, with MilesWeb you get to choose a plan that fits the needs of your website. There will be lesser chances of exhausting or overbuying resources.
Speed and Uptime
MilesWeb
SSD storage: All the VPS plans of MilesWeb uses SSD storage to store data. As these SSDs are faster and better as compared to the traditional hard drives because SSDs uses a flash mechanism to store the data. As a result, they give 200% better performance as that of a traditional hard drive.
Datacenter Location: There are multiple choices to choose your own server location. You can pick any from: Bangalore, San Francisco, Singapore, London, Toronto, New York, Amsterdam and Frankfurt.
Infrastructure and Technology: MilesWeb uses Tier-3 and Tier-4 data centers. which ultimately leads to providing maximum uptime which is 99.95%. Cisco, HP, Dell and Supermicro are used to build their infrastructure.

Bluehost
SSD Drives: The data on Bluehost servers is stored using RAID hard disk drives.
Datacenter Location: You can choose your data center location from India and US.
Infrastructure and Technology: They guarantee an uptime of 99.9%. The servers are based on Tier-3 datacenters. They have great uptime and redundancy capabilities. The infrastructure comprises of quad-processor servers, steady power supply, backup generator and depicts storage backup.
Conclusion: MilesWeb provides storage on SSD drives while Bluehost uses RAID HDD. Therefore, clearly, MilesWeb performance is faster than Bluehost. Next, with MilesWeb you get to choose your choice of the data center from at least 8 server locations. Bluehost lets you choose from two datacenter options. Also, the uptime of MilesWeb is greater as compared to Bluehost.
Ease of Use
MilesWeb
You get a cPanel interface with MilesWeb with some basic modifications. You get 2 search bars one above the files and another one at the top right corner. The working of both the search bars is the same. It's just that the first one is helpful for quick searching of functions. Installation of apps is pretty easy with the in-built Softaculous installer which lets you install 400+ apps.

Bluehost
The cPanel of Bluehost is a bit different than MilesWeb. The categories are located to the left side of the cPanel. There is no search bar in the cPanel nor the help center. As these tools are located in the menu, the site management becomes easier.

Conclusion
Both MilesWeb and Bluehost make it easy when it comes to managing your website. Even though the cPanel interface is different and new features are added to their cPanel, both the control panels are easy to use.
Conclusion
Now that we have compared all the 3 pointers that are important in web hosting, you will notice that MilesWeb has more benefits as compared to Bluehost. Let that be plans, features, pricing, speed or uptime we can say that MilesWeb is certainly way ahead. If you still have any doubts, you can check their head to head comparison charts available on the internet or even check real user reviews and then decide on your provider for your website.