SEO is one of the most affordable marketing techniques available because it can give your company hundreds of free targeted leads per day. Take this SEO & traffic growth course to learn how to rank #1 in Google by following a tested, step-by-step process at Adsterra.

Make Money With SEO & Traffic Growth Course: Easy to learn, a lucrative and in-demand skill

A fantastic approach to generating money online is by joining Adsterra's SEO & traffic growth course. You can start ranking your own websites to earn money once you have the appropriate skills, or you can look into other SEO-related business opportunities.

A company may benefit from SEO techniques because of the increase in customers and sales. SEO techniques are one of the most highly compensated online abilities, and the demand for this expertise is only increasing!

You can do SEO internally rather than paying for a costly SEO company or piece of software by investing small money in this training. Moreover, if you wanted to launch a home SEO business and generate recurring monthly income, you would have access to high-paying and in-demand expertise.
Start Your Career In Seo With Adsterra's Seo & Traffic Growth Course :-
Search engine marketing deals with using search engines to attract important customers to a business. Almost everyone frequently uses search engines to locate services or goods on the web. Many people choose the goods and services listed on the first page of their search results.

Every month, many online searches are conducted, and SEO presents many opportunities. Your website should appear on the first few pages of search engine results if search engine optimization is successful. Using a comprehensive approach, Adsterra provides the best SEO & traffic growth course.

Apply to Adsterra right away to start your wonderful journey toward achieving your career goals!
About Adsterra :-
With a distinct Partner Care strategy, Adsterra is a multinational CPA and advertising network. According to many bloggers and affiliates, it is the greatest Adsense substitute and one of the best adtech platforms.
Adsterra SEO & Traffic Growth Course :-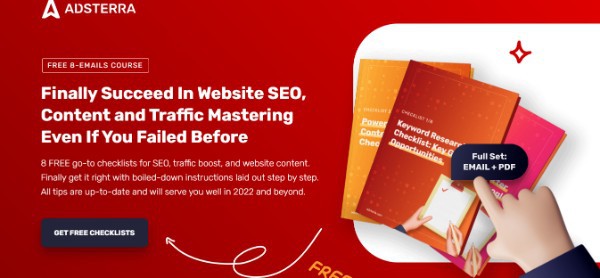 Adsterra is a great traffic network, and its SEO & Traffic Growth Course is a great way to learn more about it.

It's their newest course, jam-packed with everything you need to know about organically growing traffic, making friends with Google, creating effective content, and getting ready for a full moneymaking blast!

ENROLL FOR FREE

The SEO & Traffic Growth Course will teach you everything you need to know about improving the visibility of your website in search engine results pages.

You'll learn how to identify and correct any errors on your website, as well as how to optimize your content for maximum visibility. In addition, the course will cover strategies for increasing website traffic, including tips on optimizing your SEO efforts for increased exposure.

They've broken down the course into 8 emails that you'll get over the next couple of weeks. Each email will have a link to an in-depth video lesson, along with a set of tasks that you can complete along the way.

The best part? They're all free! So you won't have to worry about paying anything extra. This course is to be accessible to everyone who wants to learn how to make their business more successful online.
Benefits Of Working With Adsterra For The Publishers :-
Daily content creation for publishers makes it difficult to build the core competencies required to optimize the content for search engines. Beyond simply targeting keywords, optimization requires a combination of on-page, off-page, and technical SEO tactics. You will discover how to create a content and SEO strategy that not only retains value for current subscribers but also appeals to a new, wider audience.

Adsterra offers publishers a suite of tools that can help them improve their website and drive more traffic to it. They offer a wide range of services, these services include:

1) Start quickly and simply with a one-minute moderation: You can start monetizing your website or blog with Adsterra in a matter of minutes, and you will be paid right away. You may build and run ads on the Adsterra platform in under a minute. Start an advertising campaign with just a few clicks, and you can start earning money from those clicks right now.

2) Outstanding CPM and earnings: Adsterra is a great option for publishers seeking greater CPM rates as well as for affiliates looking to diversify their revenue streams. High eCPM is guaranteed for website owners by AI algorithms. By tracking ad views, clicks, and conversions, eCPM calculates the quality of the traffic.

Publishers who provide us with legitimate traffic that converts will therefore see their income improve over time. Webmasters can earn more by sending fresh ad views at the best CPM rates if their traffic is distributed across multiple regions.

3) Variety of ad formats: Publishers or website owners grab the codes for any (or all) formats, place them on their pages, and then start charging for the privilege of displaying advertising offers that are presented in these ways. An In-Page Push code in conjunction with Banners or a Native Banner code with a Direct Link might be profitable for website owners.

User purchase of goods and services must be persuaded by advertisers. In addition to banners, they also use a ton of other multimedia to load their offerings. These could include banner ads, pop-up windows, VAST movies, native advertisements, push notifications, etc.

4) Easy integration of API: You can immediately retrieve the data from your account using our publisher-specific API without creating a new report or exporting a CSV file. When using analytics dashboards outside of Adsterra, this can be useful. To save time searching through the same data and creating reports, you link your account's statistics with a tracking system. Here are the payment methods available in Adsterra for publishers:
5) There is no malware due to our 3-level Security System: The ecosystem for Adsterra's AI-powered anti-malware advertising protection includes hundreds of anti-malware algorithms and approaches. We shield publishers' websites from potentially unreliable ads and stop efforts to infect them with malware.

Register in Adsterra
Adsterra Advertising Formats :-
Adsterra has a broad range of formats. Some of them are:
Popunders ads
These are short, intrusive ads that automatically play when you load a page or visit an ad unit. They're designed to get your attention and increase conversions by providing valuable content quickly and easily. Popunders ads work well with both desktop and mobile devices. They can be placed anywhere on the site - wherever clicks lead to more pages or products (or whatever goal you desire). And they can be customized with text, images, and even videos.
Social Bar
A social bar is a lucrative ad format that allows users to share content and interact with each other. It's perfect for brands who want to create a more engaging experience for their customers. Social bars allow you to showcase your brand in a fun and engaging way, while also providing user feedback on how the content is being used.
Native Banners
Native Banners are effective because they mimic the look and feel of your website or app. This ensures that users who see your ads feel like they're part of your content experience, which helps them convert more easily.
In-Page Push
In-page push ads are small banner or pop-up ads that appear on the same page as your content. They give you the ability to target your audience even more effectively than traditional banner and pop-up ads since they're located right where your readers are looking. Plus, in-page push ads can be easily removed without any negative impact on your site's performance.
Grow Organic Traffic With Adsterra SEO & Traffic Growth course
This is how you can use Adsterra to get your business booming. But we understand that running ads and managing a website is not enough for the success of your business.

For getting stunning results, it is important to invest in quality content that people will love reading. If this doesn't excite you, try out their SEO & Traffic Growth course

The course comes with an assessment tool where we evaluate your previous performance and also provide personalized suggestions on how you can turn things around by increasing traffic through relevant channels like Google search, Facebook ads, and much more!

GET Adsterra's SEO & Traffic Growth Course FOR FREE