In the modern times when the market is flooded with web hosting companies all promising cheap and reliable services, it is quite challenging to find a reliable one. Today, each and every company promises to provide unlimited disk space, 100% uptime, and good speed. But in reality, they do not stand on their promises.

Therefore, it is crucial to do your fair share of legwork before making the final decision. Since the performance of your web hosting company is directly associated with the performance of your website, a good web host should never be taken a back seat.

Business owners see value in developing rich content and user-friendly platform for their website. However, when it comes to choosing the right web hosting company, most of them know little to nothing about what factors to base their decision on.

That's why they end up making the wrong decision, resulting in the poor performance of their website and revenue as well. Here are few major aspects of web hosting that you must consider before choosing a web hosting company.
Things To Remember Before Choosing Right Web Hosting:-
#1 Uptime:-
Uptime is the calculation of the uninterrupted time of a web hosting system. It explicates how long a website remains available on the web to users. In the simplest word, uptime is the number of hours that a server is working. 100% server uptime is important to your website in various aspects.

If your website suffers from a minor downtime, it may badly affect your earnings. If customers are not able to access your website, they may find your business or brand unreliable. And you may lose on substantial business. In addition to this, regular downtime may also affect your website ranking in the search engine results.

As high uptime percentage is one of the major components to run a successful website. Make sure you have a web hosting partner that has zero downtime. (100% Uptime). However, the ideal uptime for a web hosting server should be somewhere between 99.98 to 100%. There are many companies that guarantee a great percentage of uptime.

Here are some of the names that are leading in terms of Uptime.
BlueHost- 100% Uptime
Hostinger- 100% Uptime
HostGator-99.99% Uptime
SiteGround-99.98% Uptime
A2Hosting-99.94% Uptime
As we can see, BlueHost and Hostinger seems great in this aspect.
#2 Pricing:-
Pricing is an another important aspect that can obviously never be ignored. However, buying a good web hosting does not always mean you have to pay more.

There are numbers of hosting options in the market that provide reliable hosting at affordable pricing, you just need to look for them. Many companies provide heavy discounts offers on their plan time to time, so it is good to do little market research in advance.

Along with their prices, always do check their disk storage space and bandwidth limit, etc. To minimize the budget of hosting plan, you can look for long-term packages instead of 6 months or 1-year packages. Most of the hosting providers provide a huge discount on long-term packages.

Let's see the starting hosting prices of few major leading web hosting companies for 1 month.
GoDaddy-$3.49
Bluehost- $2.95
SiteGround-$3.95
Hostinger- $2.15
HostGator- $3.95
A2Hosting- $3.92
In the above list, you can clearly see that Hostinger and BlueHost offers the cheapest packages. However, all these are the initial packages from the leading web hosting providers.

Each hosting provider has different features and benefits. It is better to choose the best as per your budget and requirements. Always look for an honest and real customer reviews on web hosting providers over the web before choosing a hosting partner.
#3 Speed:-
'Faster hosting is better hosting'. And no one can deny this. In the modern marketing scenario, every entrepreneur needs to develop a dynamic website that can load fast. After the rise in the use of embedded HD, 4K video, and high-resolution images, the need for fast web hosting service has dramatically increased.

Users are more likely to click aways from a web page that takes forever to load. Even if your website has excellent design, smooth user-interface, and quality products, but if your site does not load quickly, users are likely to ditch you.

It is not only the matter of losing few customers, but it can badly affect the reputation of your brand or business. A user who gets bad experience while browsing your site may also leave a bad comment on your site, which may let other users ignore your website as well.

Today, the importance of high web hosting speed has become more complex. Nowadays, websites also rely on Search Engine to drive traffic. Search engines use different algorithms to regulate relevant page for a user's search. Along with content, keyword, etc. they have started taking web host speed one of the factors to manage website rankings.

Therefore, it is crucial to know about the host speed of your hosting partner in different scenarios. As per my personal research, which I hoarded from various official web host sites and real customer reviews, here are the few top web host companies in terms of load time.
HostGator Cloud- 521 ms
SiteGround-368 ms
A2 Hosting-353 ms
InMotion-635 ms
Bluehost-342 ms
DreamHost-834 ms
In this metrics also clearly BlueHost wins the race with a slight margin.
#4 Customer Support:-
When you're the owner of a website you can never predict when you might run into a problem. And when you do, customer support is the first destination you'll turn to. But, what if they are not around at the moment you need them very much! That can be frustrating.

Today, most of us rely on tutorial for self-help. We Google for the answers to our queries. However, sometimes they really can't help you, especially when you're stuck with some technical issue beyond your area of expertise.

And at that point, a good customer support can help you provide the right resolution. Quality customer experience will not only answer your queries, but also lend their knowledge to you.

While looking for a reliable customer support web hosting company, do not rely on just hearsay or fake reviewers.Make a personalized research. Ask questions and test how each hosting providers deal with your query.

You may also sign up on their channel to gain a be better understanding of their different customer support platforms. (Live Chat, Phone Support, Email Support). Here is the list of few top web hosting companies based on my personal experience and research in terms of better customer support.
SiteGround
BlueHost
iPage
GoDaddy
I personally experienced that BlueHost and SiteGround is far ahead of its competitors in terms of customer support. Both the companies have multiple data centres across the world.

Their customer supports consists of three platforms - Phone Support, Ticket Support, Live Chat System. Moreover, they offers 24/7 compliant hosting solutions which means their customer support is accessible round the clock.

They have knowledgeable and open representative who provide prompt response for your queries. I think I should give 10 out of 10 to BlueHost and SiteGround for their exceptional customer support.
#5 Accessibility:-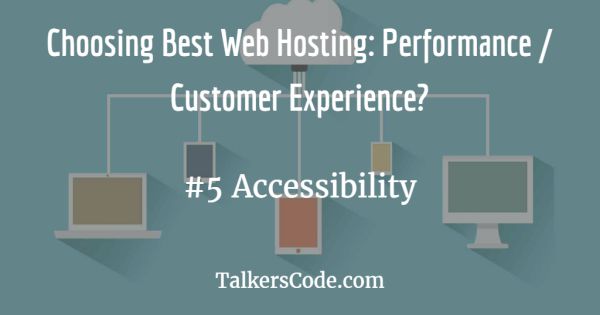 There is no point of choosing a high-performance web hosting company that has tons of features, but is complex to use.

What is the benefit of choosing a high-priced web host if you have to install and update applications manually? Always opt for a company that uses the latest technologies and and offers ease of accessibility.

There are many things you would like to perform yourself such as setting up an email, site back up, etc. Make sure your hosting company gives you easy access to control panel.

To understand the different technical aspects, your hosting partner must have easy to use control panel. Apart from this, a good hosting company should also provide you a 1 click auto installer for their different programs.

Any of their program should not be difficult to comprehend/use even if you are a beginners. Moreover, you should able to be use their features and add-ons like website builder, website transfers, very easily. In short, a web hosting company must have easy to access services. They should be more focused on the user-friendliness.

According to my personal experience some of the web hosting companies that fit in the section are: SiteGround, Bluehost, Hostinger, GoDaddy and Namecheap.
#6 Resources:-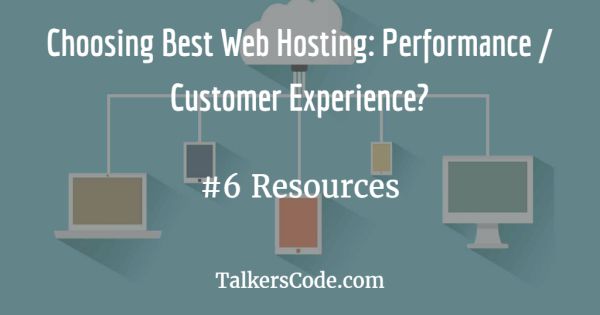 By resources here I mean those active server resources that are crucial to support website's memory, disk space, process limits, etc. Always make sure the web hosting company you have chosen latest technology. They should be using the SSD servers which are specially meant for high performance.

Opposed to older HDDs, SSD servers do not have any moving parts making it more secure. These servers has negligible risk of drive damage and data loss. In addition to this, SSD servers are 3 times more fast than HDD servers. Other thing making SSD server crucial for every web hosting companies to have it is it has way higher disk limits.

If you are planning to launch a website, you may require a high amount of space, and bandwidth limit in future. So always choose a webhosting company that allows you to upgrade your disk space and bandwidth as per your requirement.
#Final Thought
All in all I hope that I have given you some important insight on web hosting. These were few of the major aspects of web-hosting every newbie must consider before choosing a web hosting site.

Hopefully, they will help you make a better decision. Finally, I'd agree that both, BlueHost, Hostinger and Siteground would take the top spots in those aspects and all the host we listed in this article is incredible to use.

Based on the Siteground's ratings, the host is truly loved by its user community, while BlueHost and Hostinger gets the job done at a cheaper price.