Are you going to buy safe, secure and fast VPN services? A virtual private network helps you stay safe while online and keeps your private things away from prying eyes.

Zoog VPN is the cheapest VPN I could find on the internet, you can get it at an affordable price. Here in this review, I will try to explain entire features, pricing, pros and cons of the services and much more.
I signed-up for a paid account so that I can self check and test various tools and features. The sign up process looks already promising, only a few fields you have to fill out, and interesting thing is that you can also pay with bitcoins.
After successful sign up you end up on the page where you can see your subscription model and on the right side, you have an option to download VPN set up and proxy setup for various operating systems compatible for all your mobile , PC and tablet as;
Mac app
Windows app
iPhone app
iPad app
Android app
Fire TV app
Android TV app
Windows Phone (IKev2 config)
Blackberry (IKev2 config)
Linux config
Chromebook config
Routers config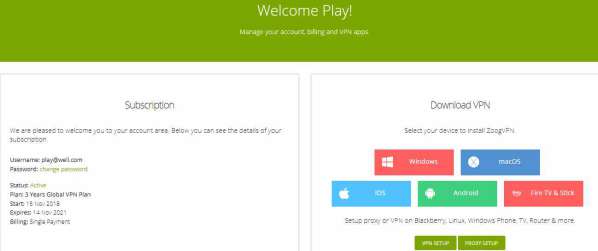 As you scroll down you will see the entire list of servers with the status IP load, P2P and two newly added option of ZoogPlay (streaming services, you can access your restricted content ) and ZoogShadow (you can bypass heavily censored firewalls )
ZoogVPn serves has 38 VPN servers in 23 countries now and does include major cities in America, Europe, and the Asia Pacific.

I set up and downloaded VPN for my windows, after installing again a login window opened in a display and just filled up credentials to log in
Then, the main dashboard will appear: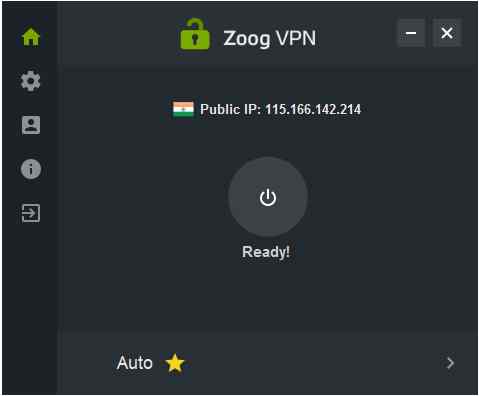 You can see your current IP address here, at the bottom you will see the list of servers and can click/select the required server you want to connect as you are ready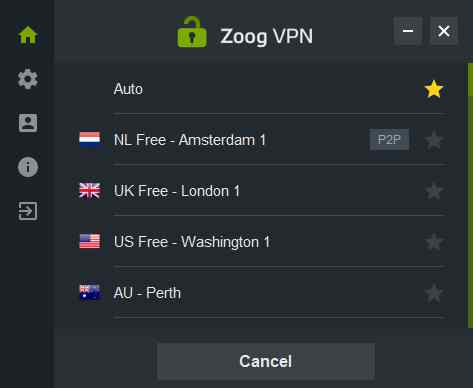 after selecting a server, a power button will display, as you click on power button a notification you will get that "ZoogVPN is connecting you to the server" as you connected the VPN service will start to record the time duration you are on the server.

After the Home tab, now you will see the settings in the second tab.

Here, you can see two option; Launch app with windows and connect VPN on app start
The third tab shows about your subscription, expire date and you can extend your plan if required
On the fourth tab, you will get basic information about ZoogVPN and the as you click on the fifth tab, you will be exit the services.
Zoog VPN Features & Services Overview :-
Bypass Internet Censorship
In some countries, you will see strong censorship and impose restrictions on whatever you do online but Zoog VPN provides you the right to access those popular websites are blocked in your region.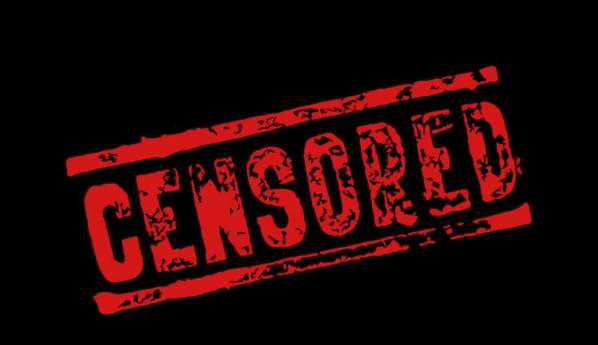 Public Wi-Fi Security
ZoogVPN claims that no one can get hold of your identity, location or IP. Become truly anonymous on the Web, and avoid hackers, ISPs, identity thieves and other bad guys especially when using public Wi-Fi hotspots. ZoogVPN uses 256-bits key length with 14 numbers of hashes which takes a very long time for a hacker to attack your system.

Unblock Streaming Services Websites
No matter wherever you live, you'll be able to tune into a multitude of free and premium streaming services. You can stream millions of channels from anywhere and anytime.
Best VPN Protocols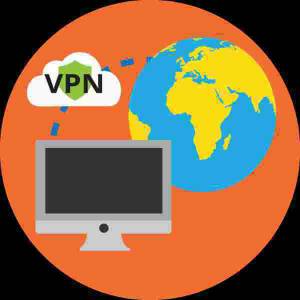 Zoog VPN claims that they are one of a few top VPN providers who offer Socks5 proxy, use their own DNS servers and offer support of the brand-new IKEv2 protocol. Open VPN UDP 1194/TCP 443, L2TP/IPsec, PPTP and brand new IKEv2 they are all supported out of the box with up to with an AES-256-CBC cipher, SHA256 authentication and an RSA-2048 handshake.
Logging Policy
ZoogVPN states that they keep no logs. Some VPN providers pass these onto 3rd parties. Furthermore, ZoogVPN runs its own DNS service on every server, because client's privacy is their number one priority.
High-quality dedicated servers
Unlike many VPN service providers that offer slow, blocked, unreliable servers, ZoogVPN claims the best servers from main locations worldwide. They constantly monitor, upgrade and expand their growing fast VPN network to deliver best VPN service.
Anonymous IP Address
As you make a connection with ZoogVPN network, they give you an anonymous IP and hide your real one. The new IP is used by many other people, which creates a pool of anonymous activity. It's impossible to link anything back to you.
VPN for all your devices
ZoogVPN serves you online freedom, privacy and security at home, while travelling. It works smoothly with your personal PC, Mac, iPad, iPhone or any Android device. ZoogVPN support Apple TV, various VPN routers, Linux, Chrome book and others as well. With ZoogVPN you can set up 5 different simultaneous VPN connections, one for each device.
VPN Setup Wizard
With easy to use ZoogVPN apps, you don't need to be technical. For more advanced options, they provide super easy step by step setup guides via VPN Setup Wizard for all devices that enable you to set up wizard easily and smoothly.
Own VPN apps
It's good to see that ZoogVPN created their own VPN apps and customized existing hardware and software to make the best and most reliable VPN service and you get maximum performance, security and privacy.
What's Good About Zoog VPN :-
Here you will come to know the pros of ZoogVPN. Let's start what exactly they perform well.
Well encrypted
As we all understand that security and privacy matters while choosing a private network. ZoogVPN uses best VPN protocol with standard AES-256-CBC cipher for the paid plans so I can say that if you are a paid client then you will get strong encryption with ZoogVPN. Here I personally recommend do not go with a free plan if privacy is important for you.
Access Torrent
With some paid plans you may access torrent. ZoogVPN can shield your online activity from your ISP that is a good thing so you can easily access torrent and P2P traffic.
Speed
Every VPN services claim to have high speed so I just put them to the test and analyze speed (Download and Upload) on Asia Pacific server and found the speed that is above average, although region wise speed may be different but maximum time connection speeds depend on different factors and the server you are using.

Here is the screenshot of my speed test
Zoog VPN is Cheap & Affordable :-
Unlike others VPN service provider, ZoogVPN provides a free vpn so you can take the services without paying anything (with limited features ).

Even paid plans are not much expensive; they are cheaper than other VPN service provider. ZoogVPN offers one month, six months and two years plans with different payment methods, like PayPal, Visa, and MasterCard

With all the paid plans you will get unlimited data transfer and bandwidth, five simultaneous connections, and full content access. If you are a little bit confused about the plans so here I would recommend starting out with the one month plan. Then, if you satisfy with this, go ahead and boost your package up to have a full year of access.

Most important pros I found that is 7-days money-back guarantee. It means you can take the free plan before paying for the service and if you are not satisfied with the services you may get your money back.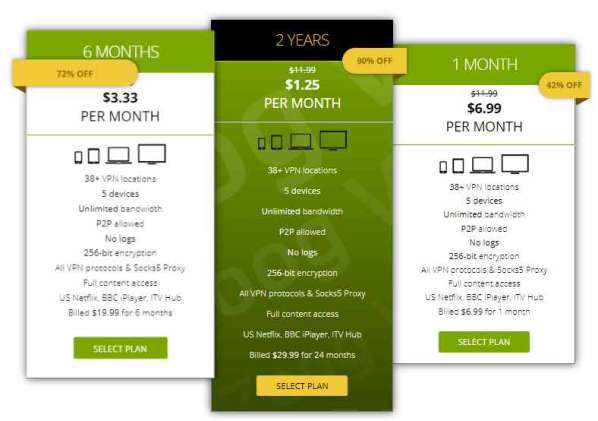 What's Bad About Zoog VPN :-
Although every VPN service providers claim that they are best in the industry but each thing has two sides, here I found some cons of ZoogVPN
ZoogVPN has 38 VPN servers in 23 countries but some other service provider has over 130 servers in many countries, here ZoogVPN claims that new servers are added at all times that is good.
ZoogVPN does not offer a VPN kill switch on Windows app while it's being developed, it sounds great that for macOS app they offer a kill switch service. VPN Kill Switch does not allow all outgoing and incoming traffic if internet connection drops out. If you are thinking to use VPN services for public Wi-Fi's while roaming from one place to another, a kill switch is a must.
Why Zoog VPN? :-
Here I recommend a few features that show, why you should go with ZoogVPN.
Fast speed and high security
With ZoogVPN you will get unlimited bandwidth, military-grade encryption, unlimited server switches, up to 5 devices, 99.9% uptime.
Windows, Mac, iOS & Android apps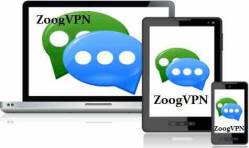 In One-click you can install proprietary apps are available for Windows, macOS, iOS, & android with hassle-free functionality. You do not to be an expert, just install it and execute its services flawlessly
Round the clock 24/7 support
ZoogVPN offers 24/7 support with friendly, supportive and helpful staff available round-the-clock to help by instant chat, email or ticket and make a promise to overcome your query as soon as possible.
Awesome VPN Features
ZoogVPN claims on their website to work with Netflix, Hulu, YouTube, and more. ZoogVPN unblocks services for BBC iPlayer, US Netflix and ITV Hub if you have a premium plan as well.

Overall, ZoogVPN satisfied me and I recommend to take it's services once if you are searching to buy best VPN.