The video is taking content marketing by a storm. Do you actually realize a full online video potential and its importance of video marketing? If you scroll through any of your social media timelines, the most probably you will come across a minimum of one video. It might show the popularity, in fact, it doesn't explain why video content is so popular. Let's dig in some stats:

82% of global traffic will consist of video by 2022 (Cisco) – for comparison, in 2017, the video made up 75% of IP traffic. This happens because search engines are falling for videos as they see them as high-quality content. Regardless of where it is being posted – on the company official site or landing page, at the social media platform or embedded in the email newsletter, search engine bots recognizing the engaging content and ranking companies up high.

You will be surprised, but 88% of the videos appearing in the top 10 pages of Google's blended search are from YouTube. As a result, it drives a 157% increase in organic traffic.
In 2019, 87% of businesses are using video as a marketing tool (Wyzowl) – it's a raise from the previous year by 6%. This shows how critical it is to start creating online videos if you want to stay competitive and relevant to your customer.

We all know the English idiom "A picture is worth a thousand words", McQuivey Forrester revealed the study How Video Will Take Over The World, where stated that video is worth 1.8 million words. Not a surprise, that videos are more engaging over text posts, blogs, infographics or presentations. You can tell so many information in the 15-second clip explaining what your product or service is about, rather than forcing your customer to read a 3-page manual. It becomes a necessity since an average human attention span is 8 seconds, it's even shorter than the average attention span of a goldfish!

Videos are on demand, as almost 50% of Internet users look for videos related to a product or service before visiting the store (Hubspot). When last time have you bought a product without watching an explainer video about it before? People do it constantly to learn the features that are highlighted and decide on benefits the product can provide to them.

However, not every product video is converting. The reason is – it's not good enough. Here are some remarkable tips to overcome this issue: create an engaging dialogue and narration; make it short to keep the customer attention, but be sure to fully explain the benefits of the product; don't overwhelm the viewer with too much information and complicated wording; make it personal and emphatic to your viewer.

Videos on a landing page can increase conversions by 80% or more (EyeViewDigital). In 2017, Neil Patel has been talking about a great case study of e-commerce shop StacksAndStack.com which reported, that integrated product video to the landing page has increased purchases by 144%. Invesp came up with a great infographic summarizing the advantages of E-commerce Product Page Videos where the biggest highlight is that E-commerce product pages with video convert up to 80% better than those without videos.




Live internet videos will account for 13% of the total video traffic by 2021 (Cisco). In 2018, people created more than 3.5 billion Live broadcast on Facebook and more than 500 million people who use Instagram stories and create live videos. Customers are looking for empathy and emotions, they prefer to follow brands that are showing the personality. Live videos have the full potential to show this so much needed personality in the real-time and therefore build trust and loyalty towards the brand. The good news is that you can create live videos at the starting price of $0.

Video production costs are vital for many marketers who are planning to include videos for their businesses, even Wyzowl shared stats where mentioning that 12% of marketers don't use online videos in their marketing content strategy thinking that it is too expensive, 23% said they lack time and 21% just didn't know where to start. This is the reason why we wanted to introduce to you Renderforest and dispel all the doubts about video production being costly and time-consuming.
What is Renderforest? :-
It's a handy online tool in making great-looking videos in a more simplified way. You don't have to be a professional or hold a media degree in producing a high-quality piece, leave it to the Renderforest team. It takes just a few minutes and a little effort from your side to create a professional video ready to share directly from the Renderforest platform. Let's see a step-by-step guide.

Getting Started>>>SignUp




Join the platform by creating your profile via your Facebook or Google account, or enter your email instead. If you choose to sign up via email you will have to fill in your name, email and choose the password. As soon as you hit the "Sign Up" button you will get a confirmation mail from the Renderforest team. After verification is done you are ready to create your first video or Make Logo, or Design Website.

Choosing Template >>> Create Now




You probably still question how is it possible to create a video within a few minutes? It is if you work with pre-made templates. No worries, you still get a unique content as every template from Renderforest library has over 500 animated scenes to choose from. Enter in search the keyword or theme and you will get offered a dozen of suitable templates. You can always upload your images, for example, brand logo, product pictures or stock visuals, or even integrate another available video, play with the color palette and add engaging text. All this process is done online in your browser.

If you don't know where to start then see the tab Inspiration and get inspired by other videos created with this tool, or choose the most popular template in the library. How about Explainer Video Toolkit? According to Wyzowl stats, 96% of people say they've watched an explainer video to learn more about a product or service. Choose the most suitable layout and snatch CREATE NOW. Produce video in 5 easy steps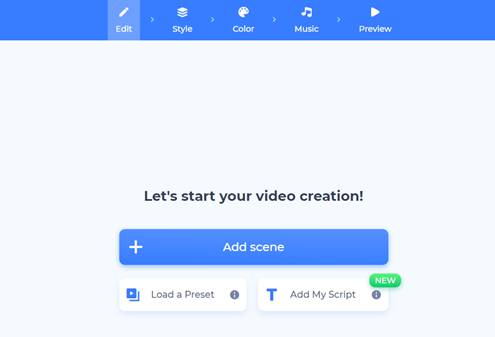 Remember we mentioned that creating videos with Renderforest is simple, this 5-step action proves it:
Edit your video by selecting the scene, characters, background animations, business icons and more, add video if necessary and texts.

Style your creation with the suitable overall look and feel of the animation, as well as choose the most suitable font for your text boxes.

Color is very important in branding as it depends on what emotions and feeling the color will convey towards the brand in customers from the first sight.

Music – grab and keep the attention with background music. Rendeforest has a great playlist to choose from, or you can always upload your own tracks or voice-overs.

Preview – this is almost a finish line. You can always return to the video and edit it, additionally, Renderforest always reminds you if you have missed any files or uploads on the way.
Voila! Your video is ready to be published on social media or downloaded to your PC. It comes with the Renderforest watermark, but you can always remove it for as little as $9.99 per export or starting from $14 via a monthly subscription plan.

If this simple guide is not explanatory enough, you can always watch an official video tutorial from Renderforest, which has everything you need to know before starting creating videos like a pro:
Logo making is simple with Renderforest :-
Another great feature worth to mention is Logo Maker. We all know that logo for your business is like a business card. The customer just glancing at the logo can recognize what your brand is about, or by mentioning the brand name first what comes to your mind is the logo. Let's try it now: Nike, McDonald's, Android.

You definitely have pictured all three brands in your head as the famous swoosh, gold arches, and green robot. Logos have to be simple and this is the most complicated part to create a simple but recognizable logo. Renderforest helps to create high-quality logos online. All you need to do is to add your logo name, tell the team what your brand is about and let the team work on it.

Look at the logo examples created by the Renderforest team:




If you are still questioning where to start with video or logo creation, we suggest to just start acting and as a first move – sign up at Renderforest. The Renderforest team will be always by your side to answer your question and help if you are struggling on your way for professional videos.