If you want to stay anonymous while browsing and scraping any website for data whether the websites are built using different platform and with full of JavaScript, the ProxyCrawl is here that crawl any web page and helps you scraping all websites you require without showing your identification and keeps you anonymous.

What is Website Scraping?

It is a method used by web developers to extracts large amounts of data from any website you need. This method helps to save the time of developers so that they do not need to visit these sites and manually log all of the data themselves.

Why Scrape a Website is needed?

To not waste your time if you need to make a calculation using massive amounts of data of any given websites example-Finding median income of a particular state or region.

Scrape a website the best method to get required data from given websites and ProxyCrawl helps to do this while being anonymous and bypass restriction by using networks of worldwide proxies.

So today in this article we will review ProxyCrawl which provides best services in scrape almost all website and keep you safe and secure while crawling. ProxyCrawl serves various tools and amazing features with very economical charges.

ProxyCrawl is trusted and more than 1 Billion unique websites have been anonymously crawled safely. So If you are beginner or expert, just sign up and start data extraction from all over the website you need with the most trusted and featured services provider that is ProxyCrawl.
How to start with ProxyCrawl:-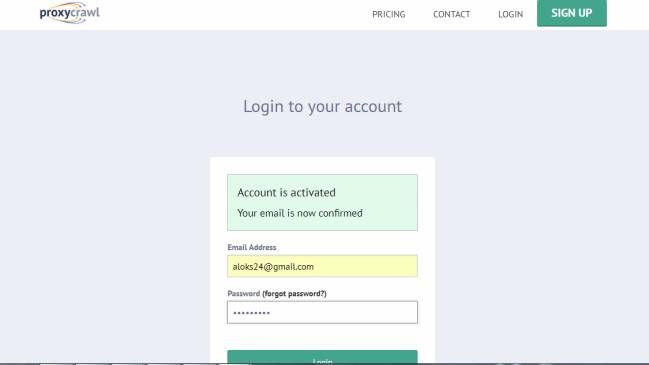 Starting with ProxyCrawl and creating your first crawling project is very easy, after successfully sign up you will have to follow instructions accordingly as per your requirements.
API Integration
To start service, first we need to proceed API integration to making anonymous and safe request
ProxyCrawl provides API documentation in seconds.
They have created such an integrating ProxyCrawl tools in terms of making our scraping projects very easy and understandable.
As first 1k requests are free so you can test the system before executing heavy crawling.
The rate of API is 20 request/sec/token (JavaScript & Normal requests are different)
If you request more limit than it can be increased
As request limit is exceed the API will respond 429 status codes
Proxycrawl recommends use API in concurrent mode
Base URL
All API URL's would be look like this or you can say it start with this https://api.proxycrawl.com
URL Parameters
Make sure the structure of URL must be starts with HTTP or HTTPS. For both request (Normal & JavaScript requests) you have 2 authentication tokens. Use JavaScript token where the content of crawled website is Java scripted or dynamically generated.
Format
It indicates 2 response format "Json" or "HTML" (HTML is default)
User Agent
After passing request with custom user agent ProxyCrawl server forwards it to the requested URL.
Device
Here you have two available options "Desktop" & "Mobile". This is an optional parameter use if you want request from a specific device.
Response
After sending request to ProxyCrawl you will get a response either "Json" or "html" (html is default: as we discussed above)

Example of Json response


Example of html response
Original Status
Here status indicates response received by ProxyCrawl during crawling the URL sent in request
Body
This parameter is found only in Json format , in case of html this format will be the body of the response itself.
Account Settings:-
After completing API Integration you will be here on Account setting where you must choose tokens (Account tokens). These two authentication token are available; one for normal and second one for JavaScript requests.

Billing Information:-
As you completed account tokens process, you need to fill your billing information with your Debit or Credit card (Payment transaction is completely safe and secure).
ProxyCrawl Web Crawling / scraping Features Overview:-
Easy To Use
Whether you are beginner and thinking to get the services for web scraping, ProxyCrawl serves you easiest way to execute the process with full customer support and notifications. After signing up and activate your account, you will get easy user interface where you can get step by step information on how to access.
Hide Your Identity
It provides you safe and secure web crawling process. It keeps you anonymous while crawling and scraping data from given websites.
Supports All Websites
With massively crawl websites, ProxyCrawl helps to get you data mining projects with no worry about proxies . It supports all websites for data extracting/web scraping such as scrape Amazon, Yandex, Facebook and Yahoo and many more.
Extract Data From Dynamic Website
Using ProxyCrawl web scraper, JavaScript dynamically pages (React, Angular, Vue, Ember, Meteor, etc) can be crawled easily. Web scraper navigates the site and extracts required data in form of table, text images and many more.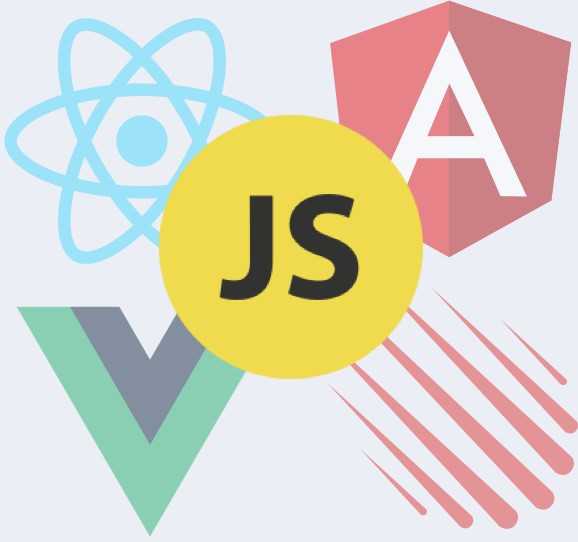 Easily Use API & Instant Validation
It serves you fast crawling services because of easy to use API built and instant validation that helps to crawl the web in minutes and save the time of Developer.
ProxyCrawl Affiliates
This feature is cool you get free requests and may earn money by sharing ProxyCrawl.
ProxyCrawl Plans & Pricing:-
As we know that many of web scraping service providers charge a lot but ProxyCrawl charges cheap, economical and easily affordable prices and plans that fits according your requirements. For regular pages and java Scripts pages charges are different.
It sounds great that ProxyCrawl gives you various offers and plans with simple pricing
There is no hidden fees and charges for small and big projects
No long-term contracts
You may pause your work at any time, there will be no charge for this
You will be charge as you resume your work again
First 1,000 requests are completely free for active subscribers
All payments gateway are safe and secure for any transaction
You will be charge only for successfully requests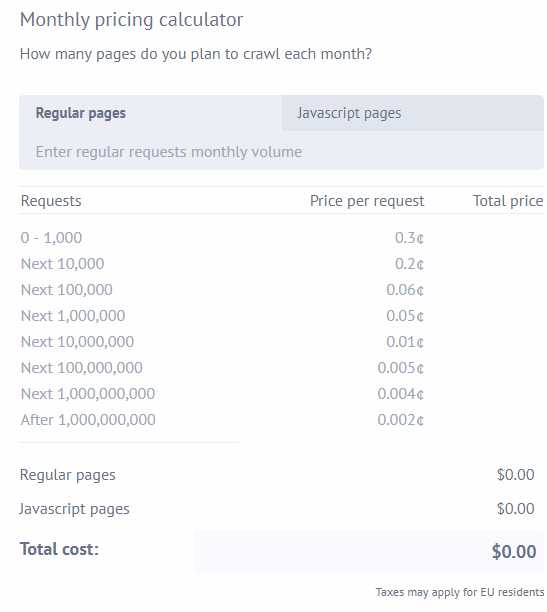 What's Good About ProxyCrawl:-
ProxyCrawl seemed interesting, keep you anonymous while web crawling
ProxyCrawl is a amazing tool that provides satisfactory services with great features.
All the operations are easy to use and fulfills terms and norms legally
They offer JavaScript pages parsing, that enable crawling website built with react.js or angular
Tried different services that were expensive but ProxyCrawl charges are affordable.
An API endpoint enables you to crawl web anonymously whenever you call
Last but not least, they protect and serve you safe and secure functionality along with 24*7 experienced customer support.