Businesses need to flourish now and people are charging towards various business models nowadays and many start-ups and new businesses are also in the making.

To start these things from the bottom many things are required and one of them is graphic designs. Yes, you need them! People might say that the writer is not in good health that's why he has wrote such thing but it's true.

Obviously, you need other important things too but graphic designs are also important for your advertisements, for your labelling, for your seminars and there are many other scenarios too.

In this article we will tell you about a service which is perfect for this work and will lift such a load from your shoulders! You will just literally fall in love with this service.

The services name is 'Penji', so what they do is they will provide you your graphic designs with unlimited revisions by which you and your business can flourish. Sometimes graphic designs play such crucial roles in the development of a company that nothing else matters.

We know that humans are attracted to visual attracting or pleasing things, that's why if your company has graphic design which can please people then it will help your business to increase or work more properly or reach out to more people.
What Is Penji?
So Penji is an on demand graphic design service which provides unlimited graphic design to you. What is Unlimited graphic design? Unlimited graphic design means that you can get unlimited graphic designs and unlimited revisions for a monthly fee, of course they have various plans for you.

On Penji you can get various designs for logos, marketing, packaging, pitch desks, landing pages, blog banners etc. and what they provide is best and If somehow you don't like the result then you can ask to change it as you have the option of 'unlimited revision'. Most of the times you get your result within the window of 24 to 48 hours.

"But I have a question, can the designers of Penji meet my requirements?" yes they can, the designers are highly talented and you will get what you are asking for and result will be errorless.

As a matter of fact, penji only hires from the top 2 percent of designers, so yeah it is obvious that you will get only professional result from this service.
Penji As A Company :-
Penji is an effective on-demand design service that provides unlimited selections of custom designs at a flat monthly cost. Clients are given unlimited design hours and revisions that undergo each project.

With dedication to client interaction, Penji is dependable and responsive to all forms of work. Once a project is submitted, we are quick to deliver the design in 24-48 hours.

Penji is uniquely rewarded for their social impact, in providing internships and opportunities to low income areas. Penji leverages on talent by collaborating with experts in Camden.
Penji Plans & Pricing Overview :-
Well, for some people this is one of the most important thing, Price. So, for the pricing we have three plans to choose from and they are 'Pro', Team' and 'Agency'.

At most 10 users can gain access to the account of penji and can get benefitted from the epic graphic designing skills of the designers.

You have way too many options to opt from like app design, logos, websites, banners and others things also. You can check more about their plans and pricing here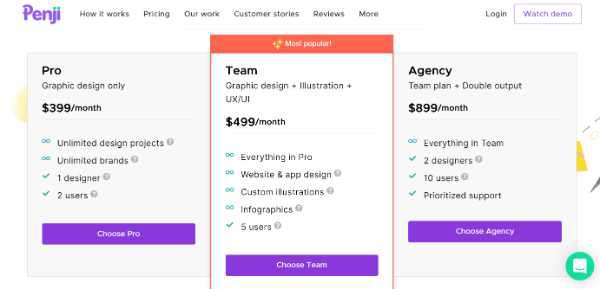 How Does It Work?
Since you know what Penji is and some other information about it, you should know how this thing works. When someone is using a specific thing then the knowledge about it's working should also be known by people.

So, for starters you have to sign-up with the service and hence, you will have an account made for you and after that you have to create your design project on Penji's dashboard.

After you have done this, you will have to fill a form with information like title, description, attachments, when you will finish the form your request will be assigned.

After some time, a designer will provide you with the result, you can either provide your feedback for revision or can approve it to download for usage if you like it in the first go.
Types Of Designs Penji Can Provide :-
Logos
Websites
Print Material
Packaging
Brochure
App Design
Advantages Of Penji :-
Unlimited Design Project
What we know is Penji provides us unlimited design project, we can request for unlimited projects against a fee for every month. This can be useful for many businesses.
High Quality
The result provided by Penji is high quality and we can use it for our various purposes.
No Contract
Since you have no contract with Penji, that means you are not bind with it to the end. You can end you subscription whenever you want.
Customer Support
Support is also good, you can be in touch with your designer and also can mail to the company if you have any complaints. They generally will reply within 24-48 hour window.
No hidden Fee
Since, the company says that they will provide you unlimited service then it means they will provide you unlimited service. They will not ask you for any money in the future apart from the monthly fee.
14-Day Money Back Guarantee
If you do not like the service provided by the company then you can also get your money back.
Penji Membership Benefit :-
Unlimited Design Project
Vetted Designer
Fast Turnaround
Human Support
Invite your team
No hidden fee
Who Can Get The Most Out Of Penji?
Well, almost anyone can benefit from the epic designers of penji, but still who will get the most benefit from this service.
Agency
If you have an agency, then you can use penji for your purposes. Up to 10 users can get access to the service and can enjoy the benefits of unlimited graphic design and revision.
Merch Sellers
If you have a social standing or political, you can create a merch and can make money off of it, or if you are representing a natural cause. Penji can provide the best design for your merch and will provide multiple ideas to you too.
Start-Ups And Small Businesses
Start-ups and businesses which are small need amazing designs to expand and visually attract people, penji can help with this matter and can totally advance the business.
Marketing Teams
Teams like this can use penji for their purposes too. Penji can create attractive banners and attractive designs for teams.
Penji Privacy Policy :-
The service has many privacy policy for their users:
Collection Of Information
Voluntarily provided information which may include your name, address, email address, billing and/or credit card information, etc., which may be used when you purchase products and/or services and to deliver the services you have requested.

Information automatically collected when visiting our website, which may include cookies, third party tracking technologies and server logs.
Unsubscribe Or Opt-Out
All users have the liberty to discontinue receiving communication from them and newsletters too.
Links To Other Sites
Their website does not contain links to affiliate and other websites. Penji INC. does not claim nor accept responsibility for any privacy policies, practices and/or procedures of other such websites.

Therefore, we encourage all users and visitors to be aware when they leave our website and to read the privacy statements of each and every website that collects personally identifiable information.
And like this there are some more important points that should be known by their users. You must visit the site and read everything thoroughly for your own safety and understanding of the company.
Penji Review Section :-
The Review section of the company is very good, you can visit the company's site to read the reviews by yourself. Otherwise, we have attached a picture of reviews below:
Conclusion :-
The result provided by this service is really amazing. Businesses should come to this service for their projects to get done.

The designs provided are really high quality and can be used for various purposes. Different businesses can also use this service and also small businesses too and start-ups included.

Graphic design escalates the marketing of a particular company and companies should use a service which can provide them epic graphic designs.