monday.com is a group project management solution that lives in the cloud. The online platform helps businesses manage their projects and share knowledge between teammates.

monday.com helps teams to create a cooperative environment among them, and allows them to communicate and share their files, images, services and knowledge. The solution integrates smoothly with most of the popular cloud services, like Google Drive, Dropbox, MailChimp, JIRA, etc.

It also allows external clients as well as freelancers to share their knowledge and information about specific topics. monday.com also has an excellent REST JSON API. This API system is totally based on cross-origin resource sharing (CORS) requests. It lets developers customize the system according to their needs and expand on its features.
monday.com Overview
monday.com, formerly known as dapulse, is dominating the list of leading collaboration and communication tools for business teams. The system synchronizes information and puts it in an accessible hub, giving agents, clients and teammates a single place to communicate and make smarter decisions together.

Because of its compactness and ease of use, monday.com is currently leading the market of project management software. The UI is efficient and smooth, which helps the team members and departments perform in their best possible manner.

monday.com keep tracks of member incentives to contribute to the project, even if they are not directly connected to the project. monday.com users enjoy their well-developed and organized interface which helps them to easily access the teammates data in case of any occasion or emergency.

Whether you have used similar project management solutions, once you'll use monday.com, it would probably mark a great impression without any preparation or training. The company also had provided various training materials for newbies, which you can check on their YouTube channel.

One of the most remarkable merits of monday.com as compared to other similar solutions is their advanced scheduling capacity. The feature applies to all types of project and task management which helps many businesses get rid of the secret paperwork.

Altogether, this capability doesn't allow manual error entries, which makes the company more trustworthy and reliable from the view of serious buyers.

We also appreciate their speedy and responsive suggestions, along with their combination of project management and collaboration features. Assembling all the team members on a single board, keeping track of the operations completed in a project, smart notifications and alerts are some of the most-liked features of monday.com.

monday.com is connected to most of the leading softwares of this kind to make the matters even more better. The system is fairly priced (starting from $25/month), and is packed with high quality searching features and unlimited storage.

monday.com automatically applies new and shift premium features as your business grows and expand readily. They also provide a free trial for those buyers who wants to check the system prior to purchasing.
monday.com Features Overview :-
monday.com consists of many salient attributes that enhance any business.They highlight these remarkable features to make it more preferable than other similar software.

Their incredible success in the industry is based largely on their collaboration features and easy interactions between team members. monday.com provides the following notable features:
Simple accessibility and sustained monitoring
monday.com deploys a simple and unique idea of boards, to provide in-depth insights about the projects and even the entire company's performance reports. It consists of a prime board which lists all the projects and tasks; and interacts with all the members in charge.

It also connects with all the guest users who are directly or indirectly connected to the project. Anyone who is interested in the project or is a project beneficiary can be invited and added to the group, even if they don't have a monday.com account. monday.com also helps in monitoring the overall performance of the team as well as individually, which indeed saves the time and efforts of the manager to devote more operations.
A system you can adapt to your requirements
monday.com is an extremely customization-sensitive website, which lets the users make any change according to their needs. They list the tasks and projects in the same way and categorize them in pulses.

monday.com classifies tasks in custom groups and sections and obeys your policies and rules. monday.com truly portrays something that you have created by yourself and helps you connect with your team members in your own way.
Easy Collaborations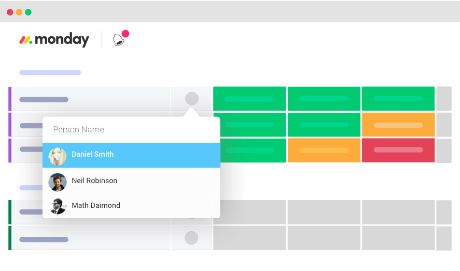 monday.com shines the most in the area of team collaboration. Users can easily discuss and change any section of the project or task with just a click.

Collaborators can easily make changes and add their valuable thoughts, ask questions and gather information on particular topics. monday.com have also started easy information sharing by allowing members to upload various types of files and notes.
Perfect reports and analytics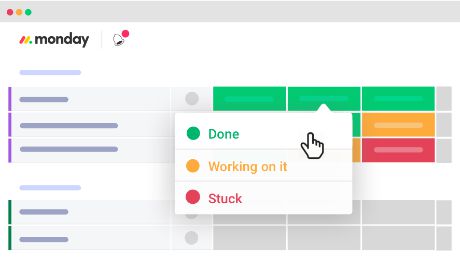 On monday.com, reports and performance analytics are highly executed and are able to relate with other connected projects and tasks. They keep the reports highly organized in spreadsheets and are easily discoverable for users.

The figures and data they've chosen to display are clearly optimized to operable metrics. Once you start using it frequently, you'll find it's a breeze. The data and figures on the spreadsheets are updated almost every day and are exported to the third party client.
Smart Integration
monday.com is connected to well-known apps like Dropbox, Zapier, Google Drive, and similar management & collaboration tools, which comes with API open architecture that lets developers build their own integrations.
Some More Important Features Of monday.com:-
A many-to-many communication tool
A visual display of progress
A large screen execution board
Easy collaboration
Simpler communication
Updates based on relevance
Notification emails
Email updates
Smart integrations: Google Drive, Dropbox, JIRA
Higher knowledge base
Motivational tool
Freshers can also hit the ground
Personal and prime boards
Easy copy and paste from Adobe
You can leave visual comments easily
Zero overhead emails and meetings
Problems solved by monday.com :-
Puts everyone on the same page
In a huge company, all departments could set up a board to portray their major tasks and projects for the upcoming time. Everyone in the company could visit the board to see what the other members are working on and what level of the project they are working on.

If there's any issue in the project, anyone can easily manage it by going into the individual line item (called a pulse) and the manager can directly interact with the person-in-charge.
Highly customizable interface
Customization is one of the most important factors in using any tool or service. Altogether, one should be very familiar to the theme, functions, features and every parameters. Another important thing to be noticed is the user interface of the website or tools.

As mentioned earlier, monday.com allows the users to customize the interface according to their needs. You can also modify all the data saved on the portal, whether you have a monday.com account or not. These are some high-quality features that are only provided by monday com.
monday.com Plans & Pricing Details :-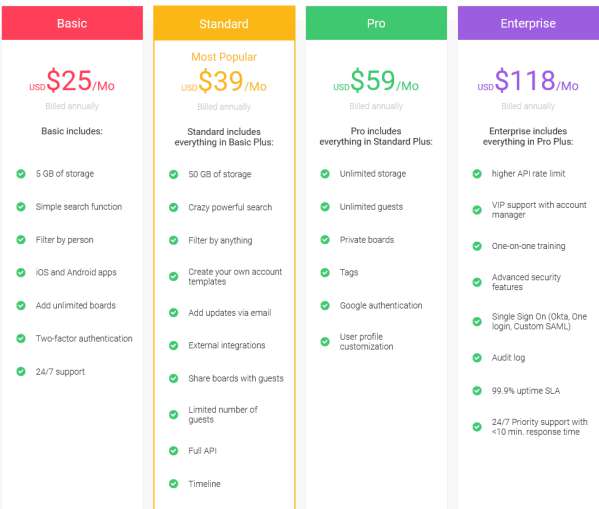 monday.com also have to put too much effort in providing that much service to you and your team members. For all the communication, information sharing and various collaborations, they also charge some incentive which are comparatively very low. Altogether, monday.com provides one month free trial to their buyers. The pricing plans of monday.com are as follows:
Basic plan - $25/month
monday.com takes its fees on an annual basis. On this plan you will get 5 GB of storage, highly simpler function for searching. You can search for different person with the help of filter by person. The software is compatible and available on iOS and Android. You can also add unlimited number boards. For better prospects and security, two factor authentication is provided. 24/7 support will be provided to the users.
Standard plan - $39/month
In this plan, you will get everything present in the Basic plan. Instead of 5 GB you would be given 50 GB of storage. In this plan, you would have more crazy and powerful search for various parameters. Unlike basic plan, you can find anything by filter by anything feature.

You will be able to provide and create your own account templates for those aspects. You can add updates via email. In this plan, external integrations can be added like guest freelancer, etc. As said earlier, you can share your private as well as prime boards with guest freelancers. In this plan you will be able to add only limited number of guests.
Pro - $59/month
In the pro plan, you will be provided with everything present in the standard plan. In this plan you will be provided unlimited storage as well as unlimited guests. Private boards are available in this plan. Tags can be added easily. Detailed summary of performance analytics. Google authentication can be added. User profile customization is possible in this plan.
Enterprise - $118/month
In this plan, you will be provided everything present in Pro plan along with higher API rate limit. VIP support with account manager is available in this plan plus one-on-one training. Two-factor authentication is also provided for better security purposes. Advanced security features like phone verification is also provided in this plan.
Our Conclusion :-
When you are about to get collaborations with some huge businesses, you must check check out some reviews from the expert, but not only experts' review is enough to decide a service as good or bad. Many people have positive reviews, as well as negative feedback about any product.

It is just the same with monday.com. According to my review, monday.com is probably the best platform to manage and collaborate with team members for various projects and tasks. We strongly recommend monday.com to each and every businesses. It would definitely help you in collaborating with your team members, as well as other guest clients and freelancers all over the world.