How To Disable Comments On WordPress
Last Updated : Jul 1, 2023
IN - WordPress | Written & Updated By - Dikshita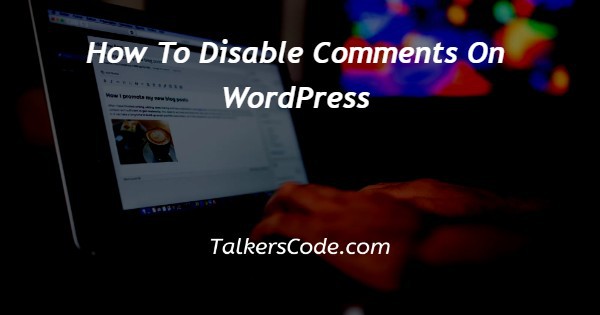 In this article we will show you the solution of how to disable comments on WordPress, on only one hand, they may work well for attracting visitors and creating a sense of community on your Web site.
A comment section, however, can also serve as a haven for spam, dangerous links, and occasionally, self-promotional or even hateful remarks.
Additionally, some WordPress websites just don't require comments. Fortunately, WordPress gives clients with the Administrator function easy access to control comment sections of their website and, if necessary, disable them entirely or partially.
While comments might be a wonderful addition to your website's content, they are in no way necessary for a successful internet persona.
Here are possible justifications for disabling comments on a WordPress page, post, or website as a whole:
To avoid spam: Unreliable bots account for about 25% of internet traffic.
Consider removing your comment section entirely or adding a security plugin to stop these attempts from impacting it.
Saving time It takes time, but moderating and replying to comments is necessary to keep the conversation lively and secure.
You set aside another location, such as a WordPress forum or a social media platform, for comments.
This isn't a problem unless you've modified the default configuration for WordPress, which automatically bans comments on pages.
As an alternative to WordPress' built-in commenting system, you opt to utilise a commenting plugin. to improve page performance speed.
Instead of eliminating comments, you might want to think about lazy loading them to improve performance.
Step By Step Guide On How To Disable Comments On WordPress :-
You can completely disable comments on your website by using the "Completely Disable Comments" code snippet, which is available in the library of pre-configured source code included with the free WPCode plugin.
Simply download and activate WPCode, then go to Coding Snippets » Libraries under your WordPress admin side. Hover your cursor over the search result titled "totally deactivate comments" to find it here.
Then you may select "Use Snippet."
The 'Edit Snippet' page, in which the plugins has already configured it all for you, will then be displayed to you by WPCode.
Simply set the option to "Active" and click "Update" to complete the process.
All functionalities on your website that are linked to comments will now be turned off by WPCode.
Conclusion :-
As a result, we have successfully learned how to disable comments on WordPress.
WordPress is frequently used by small business owners to build their websites.
These company websites frequently lack a blog component in favour of having static pages such as services, about us, contacts, etc. It makes no sense to enable comments under such circumstances.
I hope this article on how to disable comments on WordPress helps you and the steps and method mentioned above are easy to follow and implement.