How To Create Custom Post Type In WordPress Without Plugin
Last Updated : Jul 1, 2023
IN - WordPress | Written & Updated By - Anjali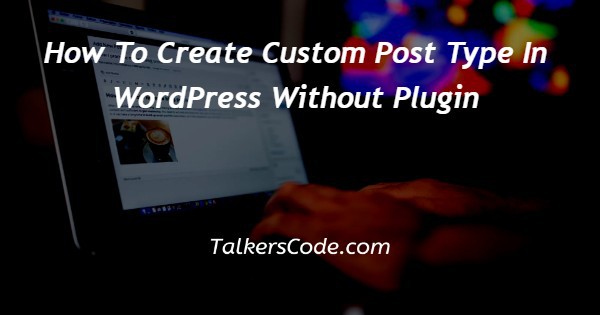 In this article we will show you the solution of how to create custom post type in WordPress without plugin, the posts, pages, and media visitors add to WordPress all are merely different types of "posts."
That is, you can make your own post types. You can more effectively organize your content by using different post types.
You don't have to list all these blog posts but also recipes under "Posts" if you have a blog and wish to add extra recipes to it, for instance.
Visitors can keep their blog posts in "Posts" while creating recipes in a new "Recipes" post type.
Additionally, this enables you to change how recipes are displayed in comparison to posts by customizing the page templates.
You can create content types for your website other than pages or posts using custom post types.
By doing so, they turn your WordPress website from a simple blogging platform into an efficient content management system.
Custom post types can always be created using plugins. (Numerous plugins are available to accomplish this.)
However, adding more plugins can increase your site's overhead and expose security gaps to hackers.Writing your own custom code is always preferable.
Now that you can make your own, it will be clear what kind of content was produced.
Custom post types could be created for books,movies,reviews, products, and so on.
Step By Step Guide On How To Create Custom Post Type In WordPress Without Plugin :-
A custom link can be added to your menu by first going to Appearance » Menus. Someone's custom post type can be accessed through this custom link.
When you use SEO-friendly permalinks,the URL for your custom post type will probably look something like this: http://example.com/movies
If you do not use SEO-friendly permalinks, their custom post type URL will look like this: http://example.com/?post type=movies
Remember to replace 'example.com' with your individual domain name and 'movies' with the name of your custom post type.
Visit your website's front end after saving your menu. When you click the newly added menu item, the archive page for your custom post type will be displayed using the theme's archive.php template file.
Conclusion :-
This same custom post type mechanism,which allows for the creation of a variety of content, was indeed the real game-changer for WordPress, which has been making advances in the field of share of public management systems for a few years.
Let's examine the history of this and the many possibilities that this fantastic functionality presents.
I hope this article on how to create custom post type in WordPress without plugin helps you and the steps and method mentioned above are easy to follow and implement.