How To Create A Landing Page On WordPress
Last Updated : Apr 9, 2023
IN - WordPress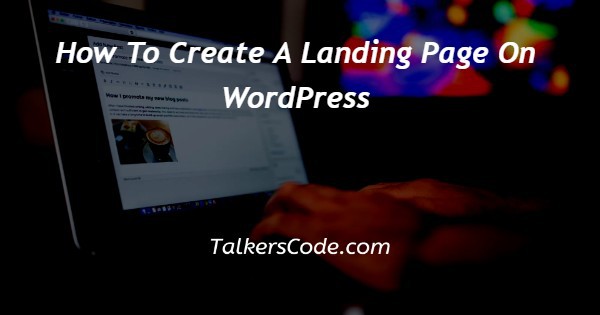 In this article we will show you the solution of how to create a landing page on WordPress, after launch, there are numerous strategies to advertise a new WordPress website.
Yet, very few website owners use the pre-launch phase to promote their brands.In this circumstance, the upcoming page is useful.
A great lead generation tactic for upcoming websites is a coming soon page.
This page type provides details about the website and its offerings. The pre-launch page can aid in increasing site traffic and securing future revenues if it is constructed carefully.
As we explore the significance of such a coming very soon page for just a WordPress website, keep reading.
Also, you'll discover how to build a coming soon page utilizing one of our recommended plugins.
An upcoming page as well as a maintenance page have different functions while having a similar appearance.
While developing a website, the former creates buzz and generates leads, whilst the latter preserves customer experience while updating an existing WordPress site.
Websites that are still under development typically act as placeholders with such a WordPress coming very soon page.
It provides information on the website's launch date and contents. A coming soon page on a business website typically advertises that brand it represents.
You may maintain customer experience & brand credibility by referring users to a lovely and informative coming soon website rather than showing an incomplete one.
An effective lead generation tool from a marketing viewpoint is a coming soon page.
As an illustration, including a signup form on the page aids in growing their email list for upcoming promotions.
Step By Step Guide On How To Create A Landing Page On WordPress :-
From your WordPress dashboard, select Plugins Add New. By entering the name of the plugin in the search box, you can find SeedProd and then install or activate it.
Follow the setup process.When setting the plugin, be careful to uncheck the all Pro features as we're using the Free version.
Launch the Landing Pages tab in SeedProd. To create a new landing page, click the button.
A Coming Soon filter should be chosen. Choose one starter page template via selecting the checkmark icon while it is in your cursor. To view a preview of a coming soon page template, click the magnifying glass button.
An pre-built WordPress coming very soon landing page template is an option, or you may create one from scratch to suit your website's niche. Consider upgrading for SeedProd Pro to gain access to more starter page layouts since the Lite version are possibly more restricted.
The plugin will request the URL and name of the page. Later, you can modify them in the page settings.
To alter the coming soon template, click Save and Begin Editing the Page.
You can add and move elements at will from the Blocks tab to a page preview using the drag-and-drop page editor. Drag and drop a Contact Form block, for instance, on the page to help WPForms' email list-building efforts.
Clicking on the landing page will enable the Content option under the Design menu, allowing you to modify the background picture or colour. Configure your Background settings after that.
To combine SeedProd using the All-In-One SEO plugin, go to Page Settings SEO. Create SEO title tags and meta description with the plugin.
With Page Settings Analytics, this plugin also supports MonsterInsights Google Analytics plugin.
To view the landing page in coming soon mode, click Preview in the top right corner. Click a Save button & publish the page when you are satisfied with the design.
Re-open the SeedProd tab, then turn on the Coming Soon Mode checkbox. When a visitor accesses your website, they should see the just constructed page. After your complete website is prepared to be viewed online, disable the mode.
Conclusion :-
Users of Hostinger can activate WordPress maintenance mode through hPanel to create a page automatically.
The maintenance mode page's content and layout cannot be altered using this way, though.
If you want the freedom to customize your coming soon page, we advise installing a WordPress plugin.
I hope this article on how to create a landing page on WordPress helps you and the steps and method mentioned above are easy to follow and implement.