InMotion Review - Best Budget Web Hosting
Sunday, May 21, 2017
InMotion hosting is one of the oldest and largest hosting provider in the world it is founded in 2001 and since then it developed very high position in this web hosting market because of its services and commitment towards there customer.

InMotion hosting provide Shared Hosting, VPS Hosting, Dedicated Hosting, Reseller Hosting and WordPress Hosting all have very attractive plans and pricing that fits in almost every customer need and if your are not satisfied they also have 90-day money back guarantee.

InMotion also provides web designing service to there customers.You may also like A2 Hosting Review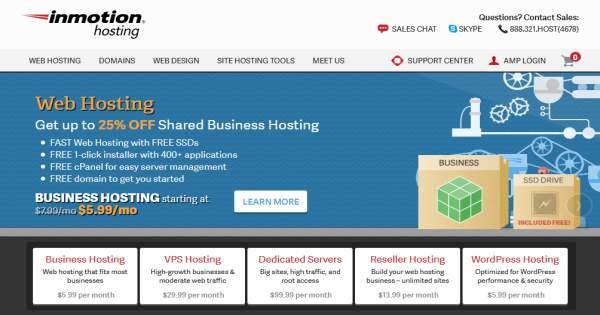 InMotion Products/Services Overview:- :-
Shared Hosting
InMotion shared hosting or shared business hosting is for those who has small or medium visitor base website for large visitor base website they provide dedicated hosting.

InMotion shared hosting plan gives various services like free SSD drives which is included in all hosting plans which will boost your website speed, tranfer your website for free without any downtime, free data backups and install over 400 application in just 1 click for free.

There hosting plans are powered by cPanel control panel where you can easily download and install some of the most popular application like WordPress, Joomla, Magento and Osclass.

Currently InMotion shared web hosting provide three plans to there customers - Launch ($3.49/mo*), Power ($4.49/mo*), Pro ($7.49/mo*).
You may also like HostGator Web Hosting
WordPress Hosting
InMotion wordpress hosting provides very good features there serves uses SSD storage which is built to deliver speed to there customers website.

Host your website on there powerful servers, supported by there WordPress experts and designed to provide the best WordPress Hosting.

Whether you need to transfer a WordPress website or need to install a new WordPress site, there friendly support team has all your hosting needs covered.

Forget about security leave this for them they provide premium security like free automatic backups, 24/7 server monitoring and more.

With there wordpress hosting you get unlimited hosting, use any plugins, free themes, drag and drop builder and regular ssystem upgrades that will bring more latest features to improve your website.

Currently InMotion wordpress hosting provide three plans to there customers - Launch ($3.49/mo*), Power ($4.49/mo*), Pro ($7.49/mo*).
You may also like HostPapa Hosting Review
What's Good About InMotion :-
Uptime And Speed
InMotion servers uptime and speed is one of their biggest advantage.They used SSD storage to increase server speed which make your website super fast and there hi-tech servers works so efficiently that they provide the best uptime in the market.
Plans And Pricing
InMotion plans and pricing are very competitive most of the features like disk space, monthly transfers, email accounts, email storage all these things are unlimited and included in all there plans.
90-Day Money Back Guarantee
InMotion provides 90-Day money back guarantee which is higher than its competition most of the web hosting provider provides 30-day or 45-day but InMotion provides 90-Day which is a big thing.

So if you use there service and not satisfied with them then you take the 90-day money back gurantee offer.
Apps Integration
InMotion hosting supports and integrated tons of application like wordpress, joomla, magento, osclass and many google apps that will create the best possible experience for you.
Free Advertising Credit
Most probably every website needs some kind of advertising whether it search engine or social media and if you get any kind of adverting service of free it's a big big bonus for anyone.

InMotion provides up to $250 in FREE Advertising Credits with any Business Hosting package or WordPress Hosting package.
Free Data Backups
InMotion provides free data backups automatically and regularly so that in case to lost your data you can get your data back from them and most other hosting provider charge this service but InMotion provides this serive to every plan for absolutely free.
Ecommerce Features
With InMotion business web hosting plan you can easily transfer or start your ecommerce website by taking the advantage of there supported ecommerce apps like WooCommerce, PrestaShop, Magento, OpenCart, osCommerce, DrupalCommerce, and more.
Customer Support
InMotion customer support is also one of their biggest advantage they solve any issue as soon as possible they known for their customer service that's why they become so popular.

They have highly trained professional that will serve 24/7 via phone, chat or email.
What's Bad About InMotion :-
InMotion is very unique we try so hard to get all the advantages and disadvantages of every web hosting provider but in this case we did not find any disadvantages of InMotion Hosting.

If you found any disadvantages please share with us.
Final Verdict About InMotion :-
Yes we definitely recommend InMotion hosting trust me you get every things at very competitive price and you can also choose there VPS hosting and dedicated hosting they are also very good as compared to their competitors.