Adsterra Review - A Reliable Ad Network Platform For Publishers And Advertisers
Friday, Jan 5, 2018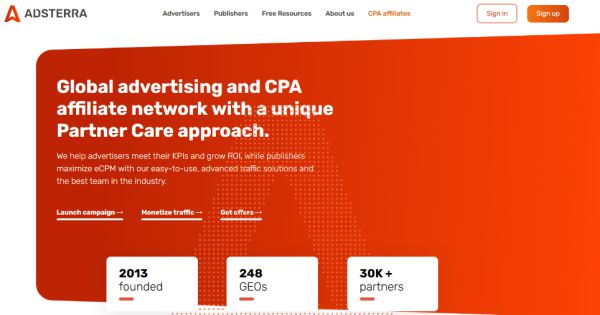 Here I am going to review about Adsterra, a premium ad network.

Advertising is an essential part of every brand, blog or business. Through advertisements you can give information to your customers about your products, offers, and new brands. To advertise your website or your brand you need a reliable and affordable ad network to start with.

Adsterra is one of the best advertising networks to collaborate with.

Adsterra was launched in 2013. It gained popularity quickly for its new approach towards advertising industry. It provides many ad formats like display ads, direct ads, direct links, video ads, popunder etc. and offer its services to both publishers and advertisers so that you can advertise and monetize your products and website effectively.

Adsterra creates digital advertising for web, mobile and social platforms to make it creative. They help their partners grow with some modern approaches. Adsterra is a premium ad network serving geo-targeted ad impressions. This ad service helps advertisers to increase brand awareness and improve ROI.

Visit Adsterra Network for more details.
Adsterra for Advertisers :-
Adsterra is a good Popunder ad network for advertisers. It is a very trusted ad network. It supports all type of websites. This ad network specifically masters Popunder ad formats.

This can help to hike your profit. Popad can be run on any kind of websites. You can plan, launch and manage your advertising campaigns with this Popunder ad network in an easy and affordable way.

You can consult the Adsterra professionals for free to achieve the best service. This ad network gives the premium quality of traffic to your website.
Specifications for advertisers
Retargeting : You can convert your website visitors to your customers by retargeting system. Adsterra uses most effective and innovative formats of online advertising.

Maximize ROI : Return on investment is the main aim of every business or advertisers. A good ROI is a power booster to your business. You advertising campaigns will target more efficient audience by Popunder or popad ad service of Adsterra. This can increase the customer engagement which will help your business to get good ROI.

Real-Time Reporting : The results or statistics of your ad campaigns can be viewed in real time. You can monitor the number of views and other activities about your brand on Adsterra advertiser's dashboard.

Anti-Spam : It uses latest technologies to detect fake traffic, spam or malicious activities on your website. This will control the misuse and fraud of your website.

Attain Targeted Audience : You can reach a large number of targeted audiences by Adsterra ad campaigns. You can specify your campaign according to customer's choice, needs, language and country etc. This will help you increase your productivity.

Advertise on Top Websites : Adsterra gives you the opportunity to promote your advertisement on top quality websites. You can increase your sales by running ad campaigns on the websites with quality traffic.

Mobile System Integration : Adsterra helps in easy integration process and detailed tracking of all traffic sources by HasOffers, Voluum, Tune, Cake, Appsflyer and other partners.

Advanced Optimization : Adsterra has the option to optimize the ad campaigns in effective ways. It allows you to set a budget cap for advertisement campaigns. Set specific daily, hourly or total caps for your campaigns. You can manage how many times you want to show your advertisement. You can set specific date or time to display your ads. Adsterra also helps you by suggesting the optimal bid.

Real Time Bidding : Adsterra always tries to provide their clients the quality traffic they need. For that they sell traffic also through RTB. For this they use integration via Open RTB v2.4, XML and JSON feeds. The format for this is Popunder Ad. By this you can get traffic specified by such parameters as GEOs, mobile and desktop, advanced targeting.

Adsterra allows to access to 190 GEOs, 10 BN impression per month, 4000k+ direct publishers.
Self Service Platform
Adsterra self-service platform or SSP allows advertisers to launch, manage and analyze advertising campaigns themselves.

1. Adsterra SSP is simple to use. Its user-friendly interface and tools will help you to launch campaigns without any hassle.

2. It is automatic and fast. You don't need to get the things done by personal manager.

3. It is clear and transparent. You won't face any difficulties to set it up. You can choose all settings, bid adjustments and limitations yourself.

4. You can monitor all the performance by yourself.

Settings for SSP :

1. Choose settings for your campaign: pricing type, Ad formats, Traffic type, pricing settings, GEO, Budget limits.

2. Target your campaign by operating system, browser, language Etc.

3. Then add some advanced settings for your convenience like, frequency capping, impression and budget limits, blacklist, whitelist Etc.

4. Control performance by adjusting your settings, track performance, add blacklist for low performing placements, pause, restart and deactivate campaigns, clone campaigns.

Visit Adsterra ad network and become Adsterra advertiser to advertise your products or service online.
Adsterra for Publishers :-
Adsterra helps you to monetize your website fast and easy with the smart technology.

Just follow three simple steps and you are ready to go with Adsterra. Register with Adsterra, place the code on your website, you are ready to monetize your website.
Specifications for Publishers
Highest CPM Rates : Highest CPM gives you the maximum amount of quality traffic. CPM rates depend on GEO. Adsterra monetize your website's every impression with 100% fill rates. It also provides customized CPMs according to your needs.

Quality Ads : Adsterra provides you the highest security and protection against malware and bad ads by their experts and third party fraud detection system.
Features of Adsterra :-
There are some features of Adsterra as under

Multilingual Support : Adsterra provides you great support from its experienced and qualified support team to get your problems solved without any hassle. This helps you in getting your target revenue achieved soon.

Adsterra Ad Formats : Adsterra provides you most popular and effective ad formats for better performance. Adsterra gives a better experience of displaying the popad. You will be able to customize your popad, including how large the window is, and where you want to appear it on the screen.

For desktop there are different types of display banners are available: leader board, rectangle, skyscraper, Popunder, interstitial, direct links, video banners.

For mobile there are also some display banners are available: leader board, rectangle, skyscraper, Popunder, interstitial, direct links, video banners, push-up ads, sticky footer.

On time Payments: Adsterra is particular with its payment process. They assured that all the payments are made on time. They use the convenient payment process such as PayPal, Payoneer, Paxum, Payza, Web money, Wire transfer and most excitingly Bitcoin!

User Friendly Control Panel : Adsterra control panel is very clean and easy to use. You won't face any confusion with dozens of different options. The features are really easy to work with. Instead they keep it clear and minimum things easy to use. Which leads you to concentrate on your work and you won't be distracted by the different types of options.

Real-Time Stats Reporting System : Adsterra offers real time stats reporting system to its users. By which you can track real time ad campaign performance and can maximize your ROI.

Analysis and Optimization : Adsterra allows you to analyze the campaigns and optimizes them to gain maximum results.

Ad Type : Adsterra is giving you various plans to choose from: CPM, CPA, CPL, CPO, CPI (PPI).

1. CPM: CPM is the most popular among all the pricing models. CPM stands for Cost per Mile. This means you pay a given price per 1000 advertisement that appear on the user's screen

2. CPA and CPL: You can start sale based campaigns.

3. CPO: This is perfect for E-commerce business to track conversion.

4. PPI: To install products like apps, software, add-ons Etc. you need to choose this one.

There are also some different prices for different formats:

1. Display Banner: For tier-1 $0.15, for tier-2 $0.10, for tier-3 $0.05.

2. Popunder Desktop: For tier-1 $0.50, for tier-2 $0.35, for tier-3 $0.25

3. Popunder Mobile: For tier-1 $0.60, for tier-2 $0.45, for tier-3 $0.35

Visit Adsterra ad network and become Adsterra publisher to start monetizing your website with a premium ad network with lots of monetizing techniques which can ultimately increase your website revenue.
Adsterra Ad Network Advantage :-
Specialized in pop-under advertising which is nowadays very popular both for mobiles and desktops and also helps to earn more revenue and advertise your things effectively.
If you ever want any kind of help related to their advertising they are available 24/7 customer support, personal managers for registered clients and also their support team is very friendly and quickly solve the issues
Provides 5% Referral program which is also a plus point of Adsterra because apart from showing ads on your website you can also earn by referring Adsterra to other publishers and when they join Adsterra you can earn more.
On time payment is the most important thing for any ad network and Adsterra always do payment timely.
They offer advertisement service for both desktop and mobile which is very good thing so you can advertise your product to much more larger audience
Adsterra works with quality clients, and it is good both for advertisers and publishers as one would profit from another.